Develop an Instagram marketing strategy holds a top priority in any recent online advertising activities thanks to the results it generates to the businesses. The evolution of social media usage is fascinating. From posting a scrap on Orkut to publishing today's meal in the Instagram story, our social media activities have come a long way.
Today, people's mindset and thought process are heavily influenced by what they perceive from different social media platforms. There are hundreds of social media platforms available today and the major ones are Facebook, Instagram, YouTube, Twitter, LinkedIn, and Pinterest.
In 2012, two third of internet users were believing that Facebook is the most important social media platform for them, and now that number is just 15%. The rise of Instagram, Twitter, YouTube, etc. holds a significant role in changing people's choice for the favorite social media platform.
However, Facebook still has the highest active users on the planet (source) and its photo and video sharing app, Instagram, is also engaging people online. Unlike other social media channels, Instagram has successfully maintained its fan base and audiences.
Why Instagram Marketing Strategy for Small Business is Important?
Since its launch on 6th October 2010, Instagram is not only providing refreshment to its users but also builds a lucrative platform for advertisers to sell their products and services.
Instagram has part of people's day to day activities. More than 20% of teens say that they are using Instagram the most out of other platforms. Their affection clearly shows how satisfying Instagram is when it comes to their daily social media requirements.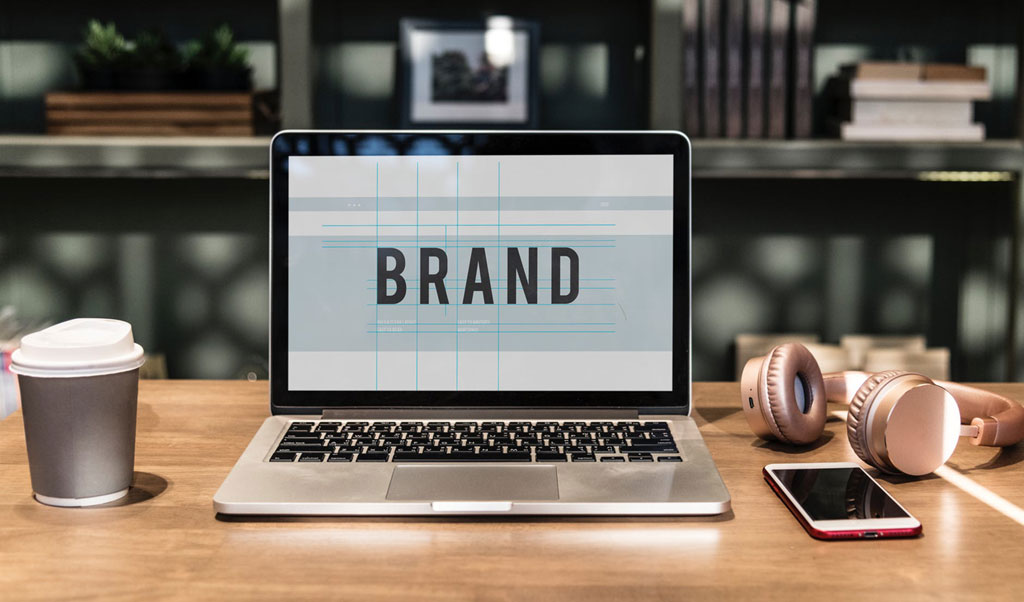 So, a marketer should realize potential the platform and pitch relevant products to the right audience. Creating a scalable Instagram Marketing strategy will help you build a strong brand image online and Instagram's demographic will surely cover your targeted customer segment. Its unique style of representing will elevate your advertising efforts to a whole new level.
Instagram offers two types of profiles – personal and business and organizations often go with the business profile. A year ago, Instagram reported 25 million active business profiles. So, a brand without robust Instagram marketing strategy won't get much recognition because there would be dozens of other brands who are doing aggressive Instagram marketing for their business.
That's why a small business should have a researched Instagram marketing strategy to sustain and flourish in the trend.
Here are the basic tips you need to consider before starting your Instagram Marketing Strategy
Set Clear Goals for Your Marketing Campaigns
Although setting goals are one of the fundamental steps before starting your campaign, they should be achievable and measurable. It will set a path to achieve your business goals and motivate you to focus on productive developments of your campaign.
To decide your goals, you should ask yourself a couple of questions as what do you need at the end of your campaign.
Do you need more followers?
Do you need more people visiting your website?
Do you want to promote a product launch?
Do you want to promote an event?
Do you want to increase your sales?
Do you want to increase your brand awareness?
Do you want to promote your product?
These are the usual objectives behind running an Instagram marketing campaign. Just by publishing pictures and stories related to your brand won't give you excellent ROI. You need to involve your creative thought process to outperform in the photo-sharing app.
Moreover, setting the goals of your social marketing campaign will allow you to classify which type of users you want to target out of 1 billion Instagram active monthly users. Furthermore, based on the goals, you can plan and decide how can you utilize your resources to work to their fullest potential to achieve those goals.
Understand Your Audience
Remember that at least 200 million users visit one business profile each day. So, you need to ensure that you are giving them unique and excellent content to engage with.
To do that, a marketer needs to know its targeted audience. Whether it is traditional marketing or digital marketing, advertisers should know that their ad will reach to thousands of people but only a handful of people will only find it relevant and interesting. Those people are likely to engage and have higher chances of converted as your consumers.
Decide what specific customer segment you want to target. Based on your services, you can go ahead with the location-based audience, target different age groups or people share a unique interest, occupation, and designation.
Research Your Competitors
Observing the activities of your competitors will help you analyze current trends and user behavior. You will know what type of content works best in your niche. It could be creative Instagram stories, videos, live sessions or weekly post. Anything can work if you know what the targeted audience finds engaging.
Check how frequently your competitors are posting and how engaging their posts are to their audience. You should also check the few comments on recent posts and the number of likes to see how much people liked the particular post.
Analyzing other Instagram profiles will help you decide how can you provide similar or better content with your available resources. You can also take inspiration from the posts to generate better content and contribute creatively on Instagram.
Create Your Instagram Posts' Calendar
As of 2018, 50 billion photos are uploaded so far and 100 million+ pictures are being uploaded every day on Instagram. So if you want to deliver your marketing messages through the best photo sharing app, strategize your campaign is essential to ensure maximum success.
Ideal practice is to make a monthly calendar. Say if you want to post 3-4 posts a week, make a calendar and mark on which day of the week you would post.
Through calendar, your designing team will know which creative is next to design and plan their tasks accordingly. Moreover, the account manager or you can have a robust plan to show your clients and proficiently manage social media marketing.
Furthermore, planning beforehand through a calendar will give you time to be prepared for any special days or festivals. It will help you do effective future planning for your Instagram marketing strategies.
Use Productive Tools for Your Instagram Marketing
You can streamline the whole procedure of Instagram marketing strategy with productive and interactive tools.
Tasks like client onboarding, adding a team member, making social media calendar, client feedback, finding Instagram influencers, contact those profiles, take follow-ups and convince them, track your Instagram campaign, etc; a single dashboard allows you to productively manage everything.
Social Media management tools will help you monetize and manage your campaign of not only Instagram but other social media platforms too. They will help you, your team and the client to be on the same page.
Sending reports and editing campaigns would be easier as everything you will ever need is available at one place.
Use Cross-Platform for Instagram Marketing Strategy
Although Instagram is one of the most engaging social media platforms on the web, it has its own limitations. So, you should incorporate other platforms in your Instagram marketing activities.
Use your Instagram account to let your followers know your brand's overall activities across the globe. If you have published a new blog post on your website, encourage them to read your new article through a post or a story. If a new product is launched or your company is hosting a conference, share the news through Instagram stories.
If you have recently published a new video on your YouTube channel, share it's URL in your Instagram bio so that your new and existing users can see while they surf your Instagram profile. These minor activities will help you build trust and make you a leading brand of your industry.
While sharing URL in your bio, try to use short URL and incorporate UTM code to get a better analysis of your website traffic in Google Analytics.
Focus on Metrics That Matter
As already discussed, your Instagram marketing campaign can have one of several objectives. Based on the goals, you need to filter which specific set of metrics you should focus to better analyze your campaign.
If your campaign was supposed to generate awareness of your brand or a product, you should focus on impressions that a post generates.
You can also know during which hour of a particular day your users are most active and they are located to which geographical location. Moreover, you can also have an idea of the age groups of the users who are responding to your content.
Here're the steps mentioned where business profiles can check the data.
In your profile screen, tap on the top right corner mentioned in the screenshot below.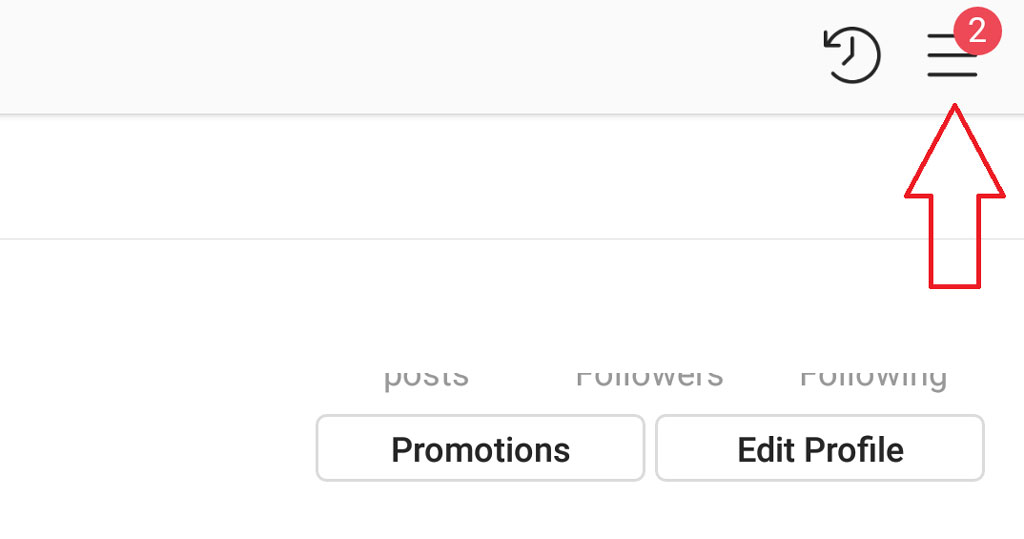 After that tap on Insights.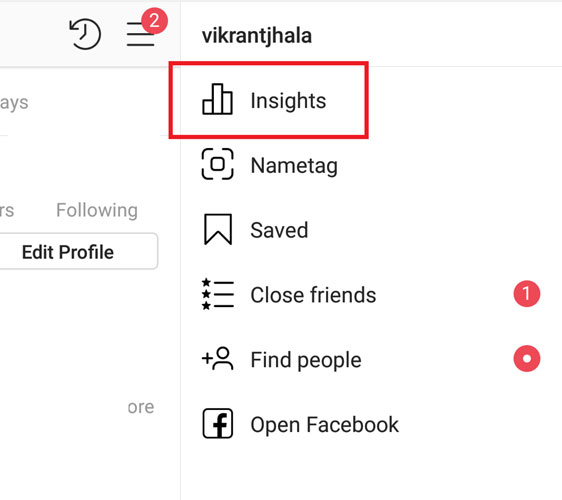 Then, you will have another screen where you will have all the data you need for the analysis.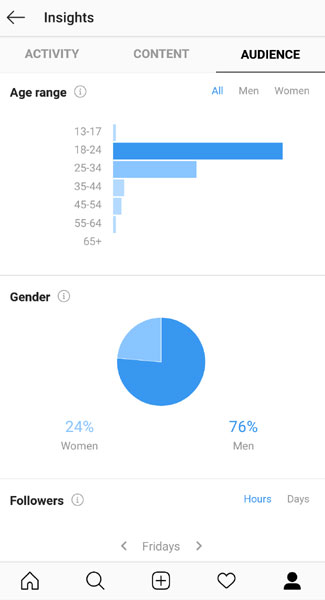 Please note that Instagram tracks this information after you convert or make your profile as a business. Personal profiles don't get any data.
Host a Contest with the Influencer
Hosting a contest or a giveaway with the influencer will give you a major boost in your media reach as brands collaborate with influencers and host a giveaway contest where the winners are given the products influencers are promoting.
This way, your products, and brand are advertised through the post by an Influencer and you will have more people using your products after the contest is over.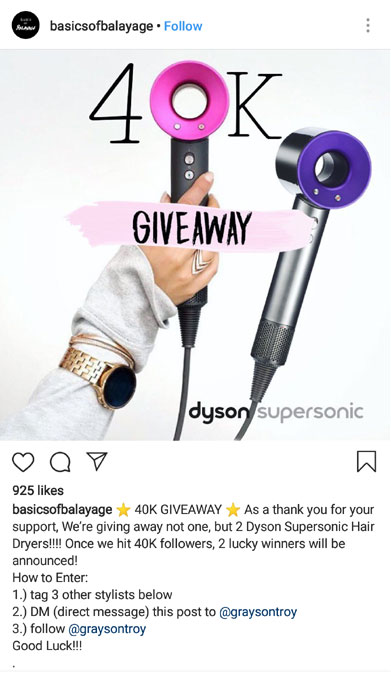 For example, as a part of the celebration of 40,000 followers, a brand hosted a giveaway on their account. See how they have set the rules. They made their followers tag three people and follow another Instagram account.
Make Productive Use of Hashtag
Hashtags are the most powerful tool to build brand awareness and explore content on Instagram. You should also develop a unique hashtag for your Instagram marketing campaigns. It will help you align your branding activities and promote your products creatively because unique and creative hashtags give the brand a digital identity.
Hashtags will help you find relevant posts and show you other relevant hashtags of that particular niche. For example, if you search #yoga, you will have a screen like below, the first few posts will be highest engaging Instagram posts related to #Yoga. These posts often shared by the influencers or highest engaging accounts.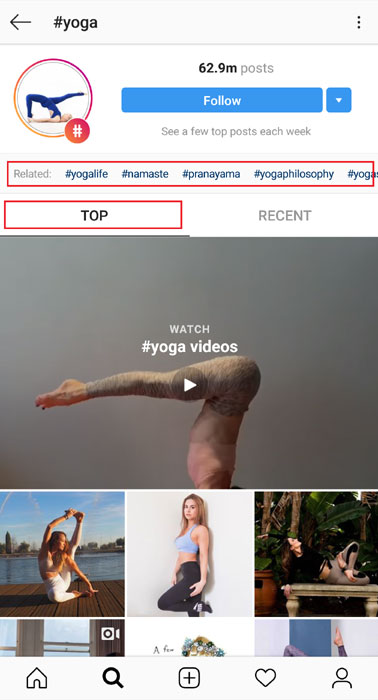 Schedule to Reshare Influencers' Post
Let's face it, everyone loves their business being talked everywhere. In Instagram, you can do that too through re-sharing other people's content through your stories or posts. These days, Instagram also allows you to re-share someone's story on your own.
Resharing someone's work on your profile will build trust and make a cheerful gesture with the other business. Moreover, your users will genuinely know other business who is creatively publishing great content. However, think smartly of whose content you are sharing.
Write Persuasive Captions for the Post
Copywriting is a different segment altogether. Try to write persuasive and engaging captions for your posts to better deliver your message to your audience.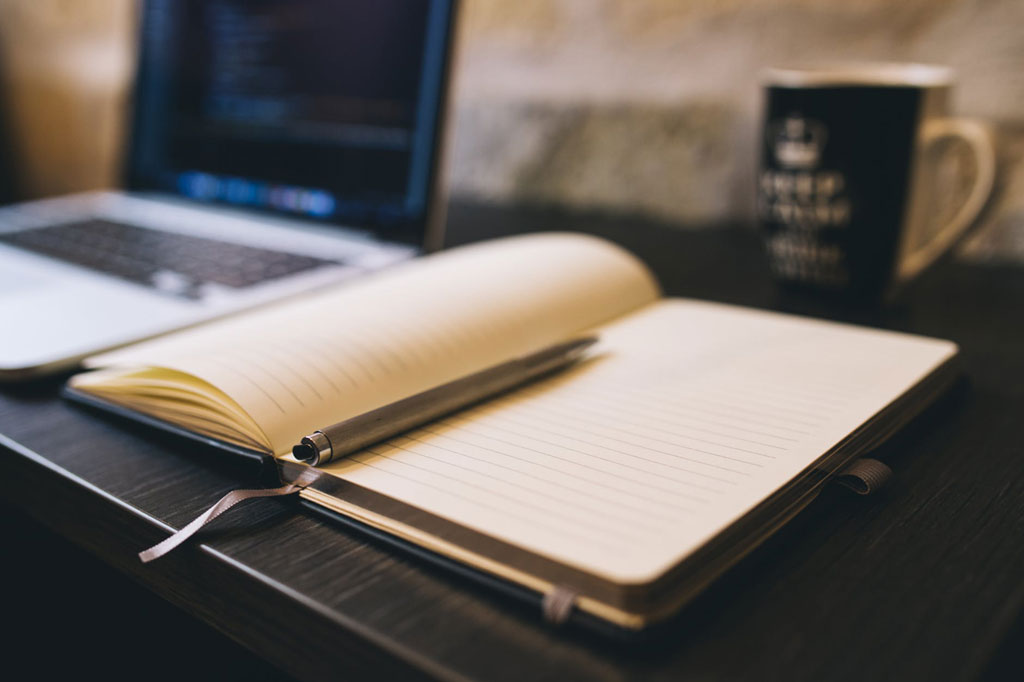 However, avoid writing long captions with formal English by using heavy vocabulary. Ideal practice is to use plain English, use a conversational tone and send your message across genuinely.
Don't forget that Instagram allows you to add 30 hashtags which will give you more impressions and engagement. To know which hashtags are relevant for your posts, you can use hashtagify or all-hashtag.
Conclusion
Instagram has 5x faster growth in the social media landscape in the United States. It is crucial to give this platform some attention and build a trustworthy brand image to elevate your business.
The uniqueness of the platform allows marketers to use their creativity and publish excellent content on the platform. The techniques shared in this article will help you build a robust Instagram marketing strategy to increase your ROI.
Let us know in the comments what do you think about these strategies.
If you have any experiences with either of the ideas suggested in this article, share that too in the comments. Your valuable insights and experiences will help others excel in their marketing activities.