Online SEO tools can help marketers brainstorm, plan, create and strategise engaging marketing campaigns.
Online marketing is one of the growing industries from the past couple of years. As more and more updates are coming on the internet, digital marketing activities are also evolving with each passing day.
As per e-consultancy's report, out of 240 B2B and B2C companies, 39% admitted that they have a digital strategy in place to generate ROI. This clearly shows how brands are taking online marketing seriously for selling their products.
Out of every medium, search engine optimization is still one of the favorites of the marketers. As per research, 93% online experience begins with a search engine. Companies battle to get a position in the top 10 results of the 1st page.
However, as more and more companies are turning online, it becomes hard to rank on the first page of Google because it's free, it's long-term and it's genuine. It requires skill, resources, time and strategy to be the leading brand of your niche when it comes to search engine marketing.
There are premium tools available that can help you outperform everyone and lock your customers before anyone does. These tools give you accurate suggestions that would help to improve your SEO for your website.
These tools just give a suggestion, the execution part is still pending even though you use these tools. As a matter of fact, those tools are extravagant for small to medium size organizations as they cannot invest thousands of dollars in an SEO tool.
At that time some of the free online SEO tools come in very handy for the business owners as these tools provide suggestions and advice on a silver platter.
Yes, no need to give the credit card details or sign up for 30 days for free usage. You can use the free online SEO tools anytime and anywhere to and keep improving your Google ranking.
So, here are the top 15 free online SEO tools that can help in search ranking.
1. Neil Patel's Ubersuggest
Acquired by Neil Patel, Ubersuggest is a free SEO tool that mostly used for location-based keyword research.

You can export the data in a file with values like keyword phrase, keyword trend, monthly search volume, and SEO difficulty. SEO difficulty here denotes how competitive that keyword is to rank organically. Meaning, the higher the number, the higher the competitiveness.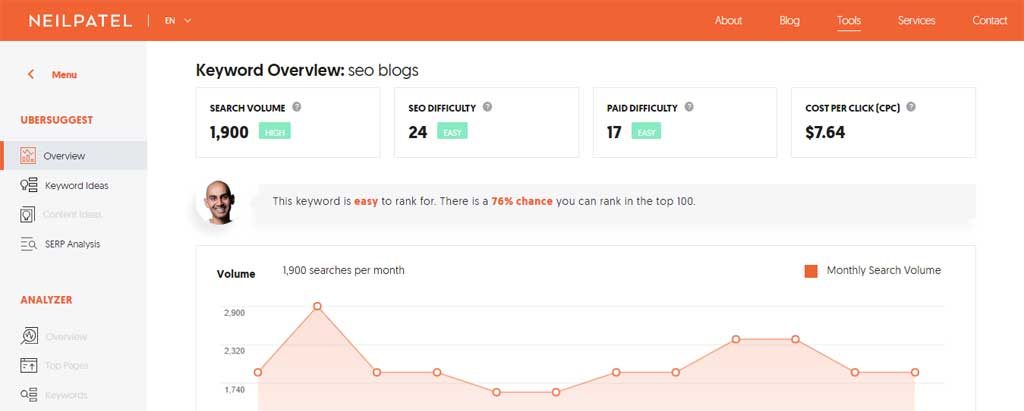 Moreover, this report also shows data for paid advertisers. It gives an estimated cost per click, monthly search volume and paid difficulty to show how favorite that keyword is for the advertisers. Again, the higher the paid competitive number, more the competitiveness.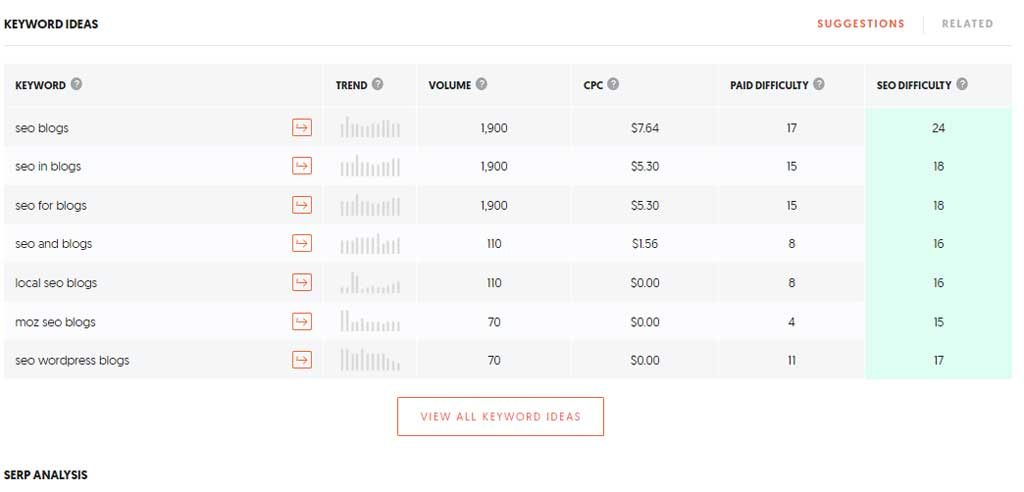 In this era of semantic search, Google has become very smart to comprehend the intent of its user's search. Thanks to Ubersuggest, while researching a particular type of keyword, you can also know other related keywords that are users' favorite.
You can include those keywords in your on-page strategy in order to target the whole segment of the keywords.
One of the other major benefits of using this tool is that it shows the current search engine result page of a particular keyword.
Meaning, it gives top 10 results for a particular keyword that you are analyzing. So, you can know who you are competing with if you want to rank your website for that keyword phrase.
In a blog, Neil Patel has stated that he is developing a complete package in a tool where you can get the functionalities offered by the other premium tools like Buzzsumo, SEMRush, Ahrefs, etc.
Hence, he is currently working on developing Ubersuggest by including new functionalities that can be found only on the paid tools. It would be interesting to see how the future updates of Ubersuggest would impact the industry.
A couple of months back, Google gave an affirmation that it checks mobile-friendliness of a website before ranking it.
Hence, if your website is not mobile responsive, please don't expect to increase your website's ranking as Google might not consider your website to be worthy of ranking higher in the search engine result page.

Hence, it becomes crucial to check whether your website is mobile friendly. Now, what you need to do is you can enter your website URL in the box of this tool and it will give its confirmation regarding the mobile-friendliness of your website.
It is easy for not only marketers but developers as they can easily do R&D of their code and can check if it is mobile responsive thanks to this tool.
3. SEOptimer
SEOptimer is one of my favorite SEO tools out there. It gives you a detailed yet clean report for your website's SEO condition.

The one thing I like about SEOptimer is the way they showcase the whole data. The on-page suggestions are on-point and easily understandable even for a non-technical person.
They have a grading system so that one can have a rough idea regarding the current SEO condition of his website.
4. Structured Data Markup by J. D. Flynn
Structured data is one of the major addition in Google SERP to help Google bots in bifurcating information and rank accordingly. The search engine will know what the particular set of data actually represents through the schema.
On a website, there is an enormous type of content like blogs and pages like home, blogs, services, product descriptions, about us, etc.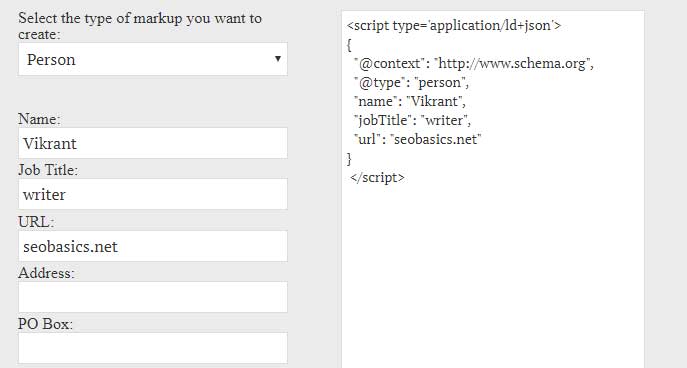 However, some of the information is important than the rest and that information will encourage a visitor to convert to the customers.
That information can be optimized through schema markup so Google will know about those data and display them on SERP to get more conversions.
It could be address, phone number, email address, reviews, etc.
With that being said, developing structured data is not as easy as it seems. Hence, it is better to get help from an expert like Structured Data Markup by J. D. Flynn.
5. Similar Web
Similar Web is one of the hot-favorite pics of any webmaster. It provides the number of how many visitors are coming on the website. It also shows a graph that depicts the rate of traffic over a few months.
This productive tool also shows one of other crucial metrics which show the credibility of a website. Metrics like bounce rate, average visit time and an average number of pages a user visit while browsing the website, etc. are tracked by this tool.
Get such data for free on your browser thanks to Similar Web's browser extension for Chrome and Firefox which gives easy insights of almost every website.
6. Keywords Everywhere
Keywords Everywhere is also one of the favorite keyword researching tools. Founded by Akash Mansukhani, this tool provides enhanced keyword analysis along with the monthly search, CPC, keyword competition, etc.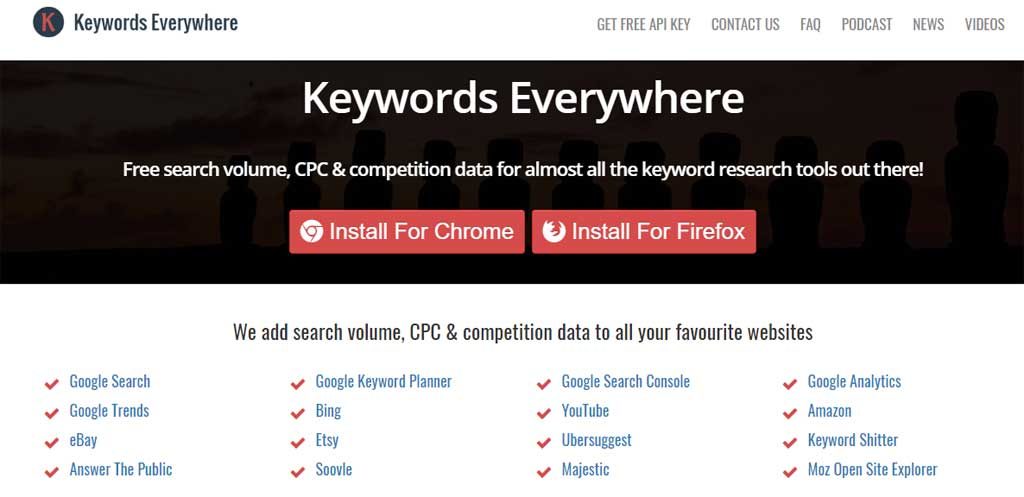 Both paid and organic advertisers can leverage this tool to get the idea of how their PPC or SEO campaign will perform and what results they can expect if they target a particular keyword.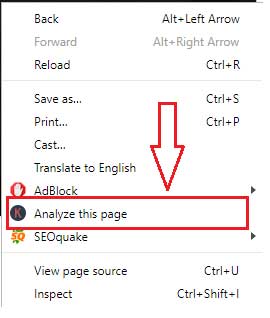 Keywords Everywhere also has its browser extension. You can hit right click on any webpage and then click "analyze this page" from the options.
You will be redirected to the new tab where you will have every potential keyword phrases written on the webpage and can be targeted.

Moreover, you can also filter one-phrase keyword, two-phrase keywords, three-phrase keywords, etc. for enhanced keyword analysis. Keywords everywhere has also got browser extension for Chrome and Firefox.
7. Google Analytics
Google Analytics is arguably one of the best online SEO tools for improving Google ranking. It gives everything that a marketer can ask for to monetize the performance of his website.
It allows customization as per advertiser's requirements to track certain visitors' behavior across the website.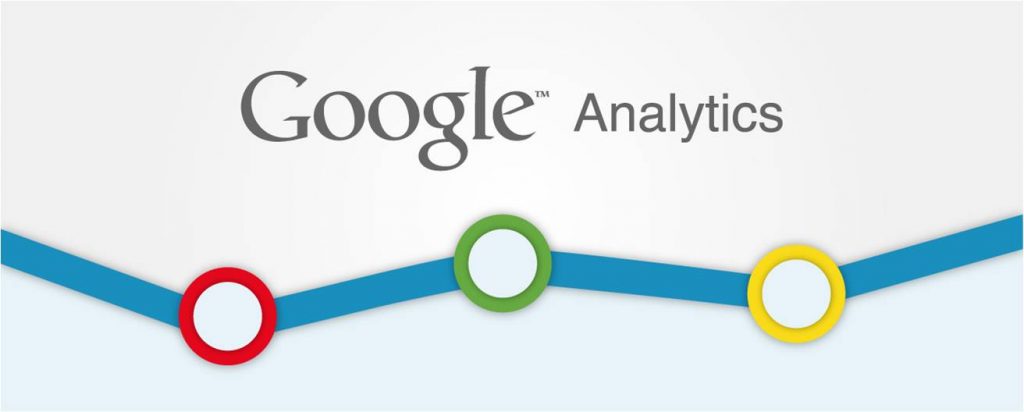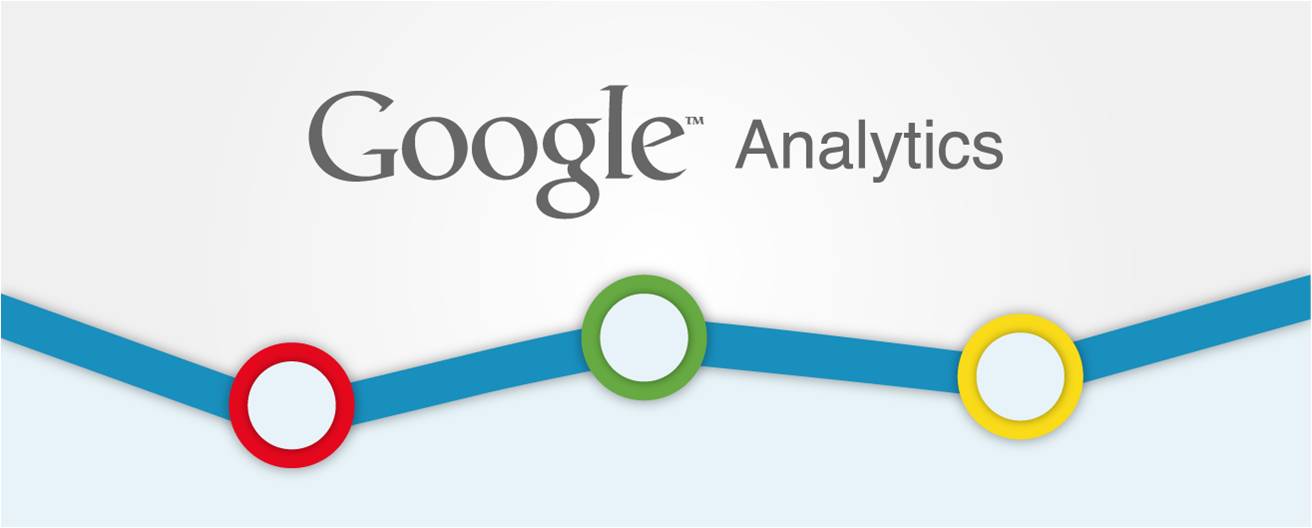 One can claim that it is impossible to run a digital campaign without Google Analytics. Because Google Analytics gives the basic data like a number of users visiting the site, which web pages are performing better, which 3rd party websites are generating the traffic, what is the bounce rate and so on?
You can also create a funnel where you can dynamically track the cycle of the user behavior. Like user is navigating through a session and which webpage he visited during the time, etc.
8. Google Search Console
Google search console is also one of very useful free online SEO tools that can help you to know about your website's crawl status, indexed pages, how people are linking to your website pages, sitemaps, interconnected pages, and your website's presence in searches.
9. GTmetrix

GTmetrix, as it's home page's title suggests, is a website speed and performance optimization tool.
It gives not only the page's loading speed but the page optimization tips to improve the existing on-page SEO condition of the website.
10. Ahrefs Backlink Checker

Ahrefs is one of the leading paid tools in the SEO sphere. They also have a backlink checker tool where you can enter your competitor's website URL and can check top 100 backlinks along with Ahrefs' own quality ratings for free.
11. Google Keyword Planner and Google Trends
Google Keyword Planner is one of the oldest online SEO tools. As you may know, it gives tremendous keyword data to the user.
Some of the other perks of this tool are filtering results as per a location, excluding a particular keyword phrase, exporting the keyword results in a spreadsheet, and so on.
On the other hand, Google Trends allows you to have an idea about what is currently going on over the web and what users are searching.



You can have a quick overview of the recent topics that are being heavily searched and interacted by users all around the world.
Moreover, you can filter the location to get an enhanced understanding of the users' behavior of a particular geographical location.
Google Trends also shows the trending videos that are being heavily engaging over the web.
Both Google Trends and Google Keyword Planner give deeper knowledge regarding the content ideas and articles that you can craft for your readers.
Based on your niche, demographics, audience, you can have authentic data to lay the foundation of your further content marketing and SEO plans.
Robots.txt is one of the fundamental elements of any website's SEO activity. It tells the Google bots about which pages to avoid from crawling.
You can block unnecessary information about your website to Google through this file.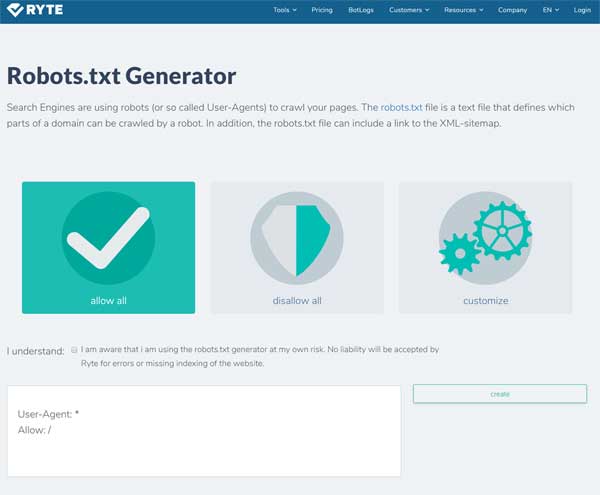 Hence if there is the slightest mistake in the robots.txt file, your whole website will have different index results altogether.
Hence, it should be assured that robots.txt is made properly.
To do this process seamlessly, there is a tool available online that helps the webmasters to tell which pages google bots should not consider for crawling.
Hence, you can generate your robots.txt within a few seconds with this useful free online SEO tool.
Acclaimed by the industry leaders like Brian Dean and Ahrefs, this tool helps you find long tail keywords and questions users ask in search queries.
You can say that it fetches Google's autocomplete search queries into one place.
At the end of your research, you will have advanced long tail keywords through which you can write persuasive content for the readers.
14. Screaming Frog
Screaming Frog is a computer program which you have to download and install on your system. Then you have to insert your website URL in the tool and it will do the rest of the task.

The specialty of this tool is that it has its own bot that goes from page to page and bring enhanced SEO analysis of the whole website.
You can also export the data in the excel file to deeply monetize every aspect and make changes accordingly to your website.
15. XML Sitemap Generator
There are many alternatives available to generate an XML sitemap for a website. My suggestion is Small SEO Tools' XML Sitemap Generator. It is easy and genuine.
Anyone can instantly generate a perfect sitemap to boost search engine visibility and eventually, google ranking.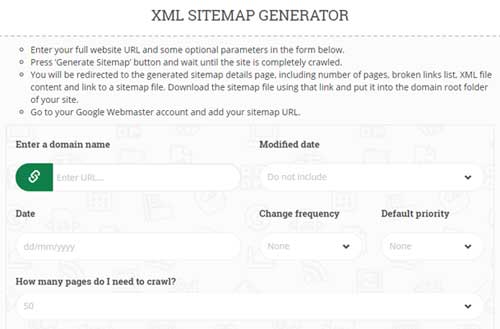 The idea here is to get an error-free sitemap generator so that Google bots do not need to face any hardship while crawling the web pages.
The sitemap provides validation to the Google bots for exploring the web pages. So, the sitemap has to be error-free in order to crawl every necessary page on the website.
Hence, through this tool, you can generate perfect XML sitemap within a minute.
Conclusion
To improve Google rankings, a webmaster needs to get comfortable in managing certain tasks like keyword research, competitor analysis, loading speed test, meta tags, content optimization and so on.
To do such tasks, a webmaster should have its arsenal on a place that can get the ball rolling instantly. Hence, these free online SEO tools are true gems for every search engine marketer.
There are tons of online tools available based on various requirements.
Based on the requirement and comfort these tools are very helpful in executing any SEO tasks without paying a single penny.
Which free SEO tool do you use in your day to day activities to improve your Google ranking? Have you tried any of the above? Let us know in the comments.