What are backlinks in SEO? Why this is important? And, how to get backlinks? These are the common questions to them who are willing to get enough traffic to their website or blog. Maybe you have a new website or blog. Or on your old website or blog on a certain page or post, you are not getting enough traffic.
Because you are not getting your websites/blog page or post ranked on the search engines. All well-known search engines such as Google, Bing, and Yahoo. They all use some parameters to declare which pages are best to rank on the first page of the search engine.
Like if you search the term "healthy food list" on Google then you will find more than 143 million results. This resulting number it sounds crazy, but it's the reality.
According to an advanced web ranking research. The researcher has found that 95% of people stay on the first page of search engine result. And 5% goes to the remained page. And 67% click goes on the top five search result.
Top search engine Google ranking factors are more than 200. They use to determine the top pages on the search result. But the reality is, to make sure your ranking you can't focus on every ranking factor. But there have some most important ranking factors. You must focus on these to ensure your website ranking. And here backlinks is the vital ranking factors; you must focus on this to ensure your ranking.
So, in this article, I'm going to tell you, what are backlinks in SEO? Why backlinks are important? And, how you can get this for your website to boost your website ranking.
What are Backlinks in SEO?
In simple SEO words, when a webpage gets links from any other webpage, then it's called backlink. When a website gives the link, then it is called an outbound link. And when a website receives a link, then it is called an inbound link.
Like a website or blog, 'A' is writing about foods. And it gives an outbound link to another website 'B' who wrote about how to stay healthy or healthy foods. Here, website 'A' gave the backlink and website 'B' received the backlink.
The backlinks have a vital role in webpage ranking. Although, you can rank your webpage without any backlink (in case of high authority website or easy keywords). The most important point, when you are getting backlinks then it must be from a relevant website. Because, this important backlink can be a nightmare for your website if you got from irrelevant, spammy websites. Because irrelevant and spammy backlinks can hamper your website ranking. Even you can get a penalty.
How to Get Backlinks?
But for most of the people, the difficult work is to get quality full backlinks those help on webpage ranking. So, here I'm going to tell you about 14 ways to get a quality backlink to boost your webpage ranking.
Top 14 Ways to Get Quality Backlinks
1. Write Outstanding Content
For better SEO, normally when we write any content, we give some outbound links to quality content and quality web pages. So, if you can write high-quality content, then you can also get lots of relevant backlinks. Maybe someone can mention or give reference to your webpage.
And this the way how high authority website gets tons of backlinks from relevant websites. But for this, your website has to be an authority website that has high domain authority (DA), page authority (PA), trust flow (TF).
But if your website or blog is new, then what you need to do? Then try to write something new or unique. Those people won't find somewhere else. Then they will be forced to give you a backlink.
Remind one thing, if you can get backlink through this way then it is a bonus for your website or blog. Because for better ranking you must write quality content. And when you can get backlinks through this, then it's not bad.
Google gives more priority to this kind of backlinks. Because normally these come from a relevant website or blog. And day by day amount will be high.
2. Create Infographics
Normally a person loves the infographics more than an article. Because it is easy to read or to get the information than an article. That's the reason you can get backlink through this. And in this section, there are two ways to get backlink using infographics.
Firstly, upload your infographics with the embedded code. Because if someone like this, or think it's useful. Then there is a chance that they will use this embedded code on their website. If their website has the same kind of article without infographics.
Through this, you can also get lots of social shares. When the social signal is an important ranking factor, then this also can help you with ranking.
Secondly, find out websites that also have the article on the same topics but haven't any infographics. So, offer them your infographics in exchange for a link. All the people won't give you the backlinks. But there is a chance that most of the people will give you a backlink if you can give a quality infographic, and if you can contact them properly.
To find the relevant article you can follow some ways. Firstly, using Buzzsumo you can find the most shared content on your topics. In the search box search your topic, then you will find the most socially shared content on the topics.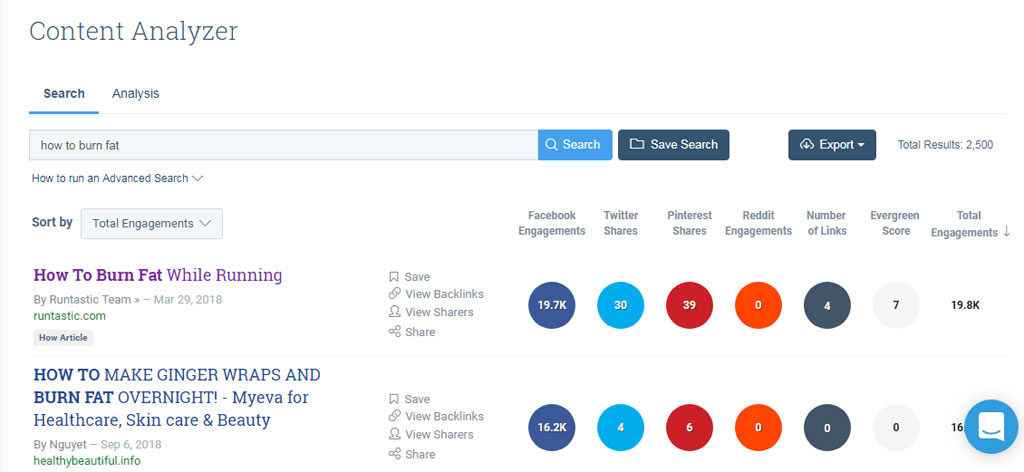 Also, you can check your competitors' backlinks. From where they get a relevant backlink but the source hasn't any infographics. For this, you can use Open Site Explorer (Moz) free version. Put your competitor's URL on the search box, and get all dofollow backlinks source. Then try to find out the best website to offer your infographics.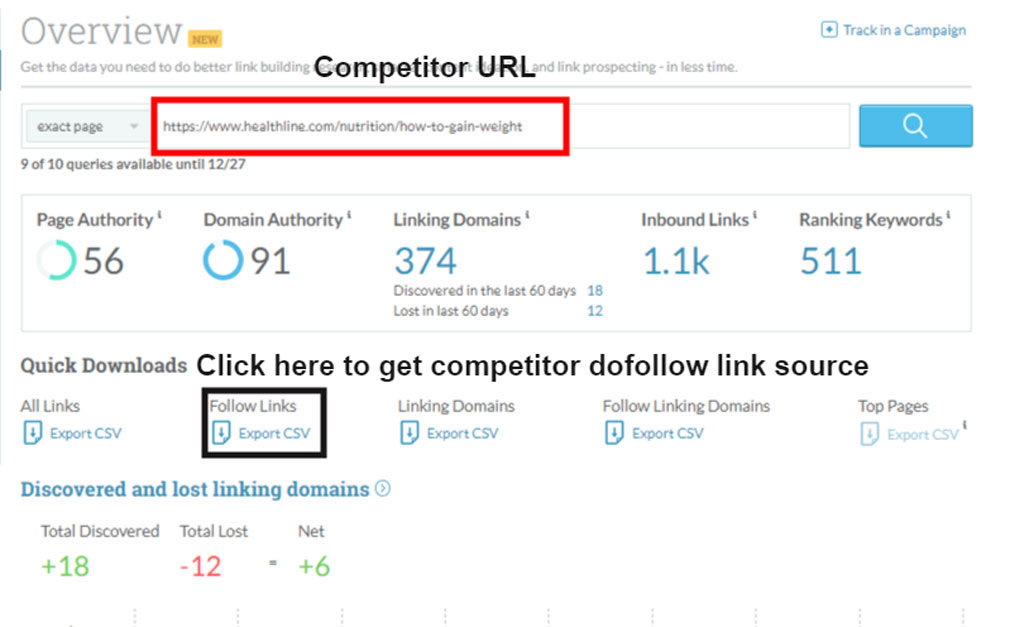 If you are not a professional on making infographics, then you can use Canva, Infogram, Venngage to make a beautiful infographic.
3. Comment on Relevant Blog
Comment on your niche relevant blog. But before commenting make sure that it's not a new or spammy blog. It will be better if it has high domain authority (DA), page authority (PA), trust flow (TF) is more than you.
When you're commenting make sure that you're making a valuable comment. Don't make just like "Nice post" "Thanks for this article". Write something valuable, and leave your webpage link in Website or URL box. Your valuable and well-described comments will lead them to approve your comments. When you're making comments keep at least 3-4 sentences.
Look at the following comment. It was a well-described comment, which one leads them to approve the comments.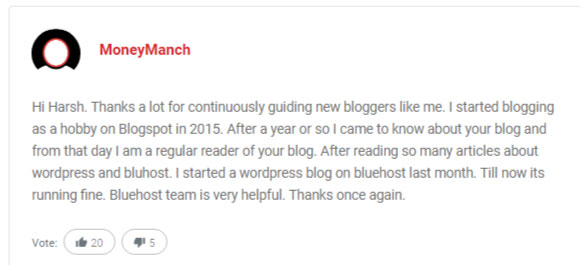 To find out niche relevant blog post you can follow some ways like visit: http://alltop.com, http://dropmylink.com, https://www.google.com/alerts and find out your niche or keyword relevant content to comments. Also, you can use a search term to manually find out: allintitle:"keyword" blog or allinurl:"keyword" blog.
4. Social Share
Social media sites can play a vital role in your search engine ranking. By sharing your webpage or content on social media sites, not only you will take the benefits of backlinks, you can gain some other important benefits. Regular activeness on social media site can drive huge traffic on your site.
Regular social share tells Google that your site is active and updated. Which one is an effective ranking factor?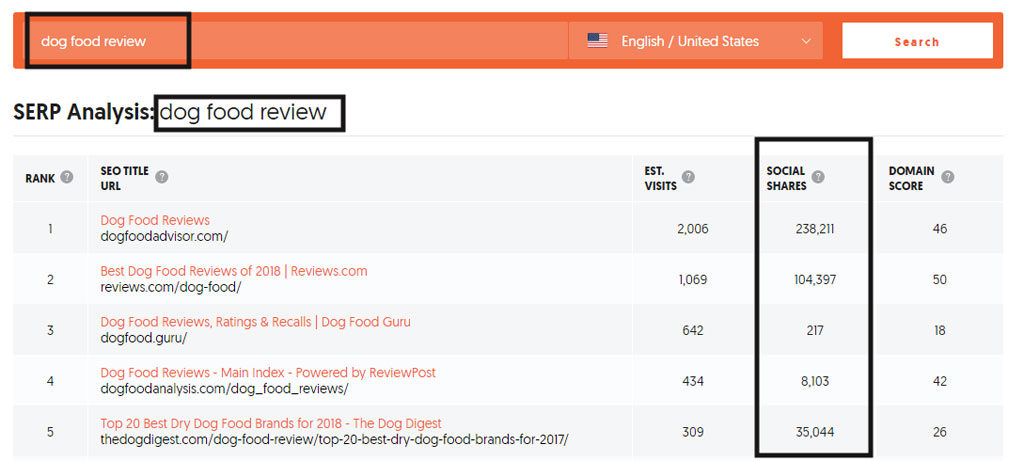 According to Ubersuggest tool, here you can see that for the keyword "dog food review" four websites have a huge social share from the top five search engine result. Which one easily tells us how much important is social sharing backlinks for better ranking.
Most popular social media sites to get backlinks are Twitter, Pinterest, Mix, Digg, Folkbd, Reddit, Scoop.it, Facebook, Google+, LinkedIn, etc.
5. Broken Link Building
Those outbound links don't exist anymore, that known as a broken link or dead link.
Like webpage 'A' gives an outbound link to webpage 'B', here this link is a backlink for webpage 'B'. But now webpage 'B' doesn't exist anymore. So, now if you click on this link you will see "This page doesn't exist anymore" or "Error 404".
Now you have to find out your targeted keyword relevant webpage where now broken or dead link has.
You can easily check the broken link of any content or the whole blog, by using broken link checker (search on Google for available free tool).
If you found any broken link, then reach the editor of the blog. And tell them in the certain page there is a broken link, and you have a quality content which one is similar to the broken link. They might replace the broken link with your link.
This process isn't easy to find out broken link and convince the editor to replace the dead link with your link. But these backlinks are more powerful than other backlinks.
6. Write for Others
You can easily get quality backlinks from your niche relevant websites by writing a guest post for them. This is an evergreen SEO technique that helps on backlinks and on drive traffic.
For this, you first need to find out the blog that is your niche related and taking the guest post. Then check their requirement to publish a guest post. Then reach the blog owner or editor and tell that you have a quality content which one is related to their blog. And you want to publish on their blog in exchange for a backlink.
You can use the following search terms to find out your niche relevant blog that taking guest post:
your keyword + inurl:write-for-us
your keyword + guest-posts
your keyword + inurl:guest-post-guidelines
your keyword + become a contributor
your keyword + submit an article
your keyword + want to write for
your keyword + contribute
your keyword + become an author
7. Infographics Submission
I already talked about how to get backlink through the infographic. But here you will find another method.
You can get backlink by submitting infographics on infographics submitting site. People always love colorful infographics. So, create the infographics that relevant your content and share on top infographics sites.
Top infographics submitting sites are Visual.ly, Daily Infographic, Cool Infographics, Infographics Showcase, Infographics Archive, etc.
8. Video Marketing
Video marketing benefits are plenty. Video marketing will not only help you in getting backlinks, but it will also help you to create brand awareness. Your regular activity on video sharing websites can help you to drive traffic to your website also.
First, create a video about your content or website or service then publish it on different video sharing websites. There have lots of high authority websites from where you can get quality backlinks like YouTube, My Vidster, etc.
If you're not a professional video maker then you can use online tool Animaker, Biteable, etc. Also, you can use video editing software such as Camtasia, Filmora, etc.
9. Forum Posting
Start giving the answer to your niche related forums or niche related topics. You can generate backlinks easily if you stay active on the forums. This one will also help you to drive traffic to your website.
You can use the following search terms to find out your niche related forums:
Your keyword + "forums"
Your keyword + "discussion board"
10. PDF Sharing
It's time to use your article in another way. Make PDF using your outdated article. Now share these on different popular and high authority PDF sharing websites. You can create brand awareness, traffic to your site and obviously quality backlinks.
There are lots of authority PDF sharing websites like Edocr, Issuu, Flipsnack, Anyflip, etc.
11. Question Answering
Now it's time to show your intelligence. Start giving the question's answer on popular question answer sites like Quora, Yahoo Answers, etc. These activities must be from your niche related question.
Question answering sites also can help you on drive traffic to your site or increase your sale.
12. Audio Sharing
Convert your content on audio. Now share it on different audio sharing websites in order to generate backlinks. Also, you can create the podcast on your niche, then share it on the different podcast sharing websites.
There are lots of free audio and podcast sharing websites are available where you can share yours. Like Soundcloud, Simplecast, Audiomack, Themusichutch, Podbean, Djpod, etc.
13. Get Interviewed
Online interview is a popular thing and you can use it to generate backlinks. Get interviewed on a different website or blog. For this, you need to find out a website or blog which one is suitable for your industry. Then send an email to its editor in order to get interviewed.
14. Follow Your Competitors
It's an important part when you're creating backlinks. Start spying on your competitors, from where they are getting backlinks. From your competitors' backlinks, select all the best backlinks. Then follow the all best backlinks' sources to get backlinks to your site.
And you can easily get your competitors' backlinks' source through free tool Moz Open Site Explorer.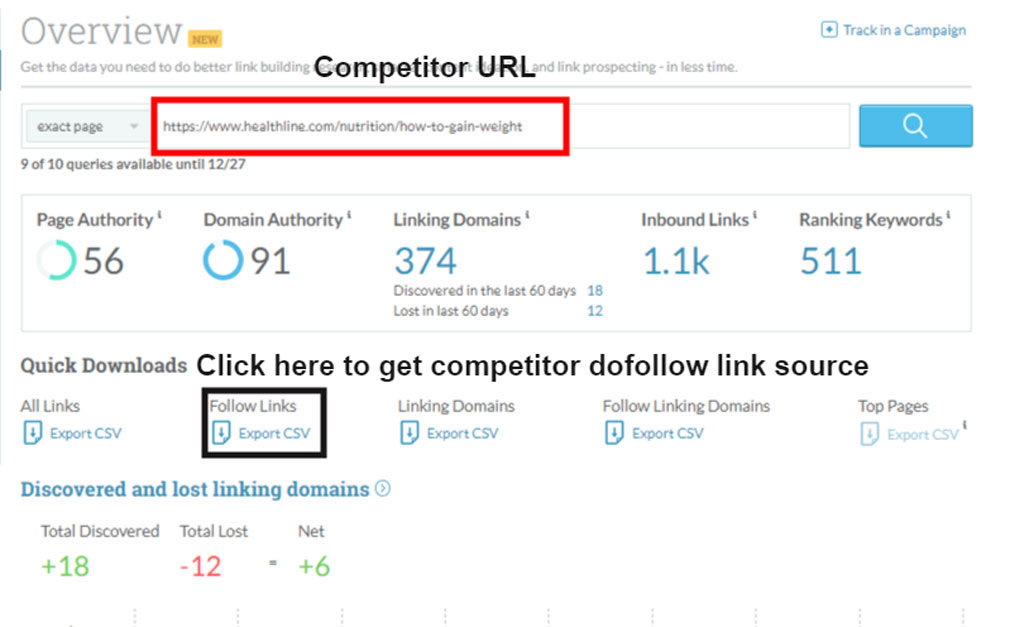 Conclusion
We make backlinks in order to get some benefits. So, don't do anything as though your website get hampered. When you're making backlinks, give the first priority to the quality of backlinks.
In this article, I tried to explain, what are backlinks in SEO? And, how to get quality backlinks? In the comment section tell me, which one is your favorite method to get a backlink, and which one you think the best method that every blogger or website owner should follow. Even it's not listed in this article.
Also, tell me what is the other thing that you think will play an important factor in website ranking in 2019.