Normally Search Engine Optimization (SEO) is divided into two major parts on-page SEO and off-page SEO. If you are working in the SEO industry or if you have a website or blog, then I am sure that you had heard this term "off-page SEO" millions of times.
What is Off-Page SEO?
In order to rank our website or blog on search engine top page, when we do any work outside of the website, but it makes an effect in website ranking in search engine search result, then the works are known as off-page SEO.
Off-page SEO can be divided into few parts like link building, social media activities, e-mail outreaching, branding, influence marketing, guest blogging, blogger outreaching, etc.
Off-page SEO is an indicator by those Google can understand, how much enrich is our website or blog, what people are thinking about our website or blog, etc. That's the reason it's important for ranking in search engine search results.
Why Off-Page SEO is Important?
Off-page SEO is an effective ranking factor, which tells Google about your website or blog authority, trustworthiness.
Like when a website or blog get a link from other relevant and authority blog or website or get some social mention or social shares, it's authority and trustworthiness increase.
Benefits of Off-Page SEO
A website or blog with a higher amount reference link (backlinks) ranks higher in search engine search results.

Reference link (backlink) from authority website or blog help to increase domain authority (DA), page authority (PA), trust flow (TF).

The high amount of social share or mention helps to get more exposure. Which help to get higher ranking and more traffic. And it's Google another important ranking factors.
There have so many off-page SEO benefits those help to boost ranking on SERPs.
Here I am going to tell you some best off-page SEO techniques, those will help you to get huge traffic and ranked higher on search engine results.
Top 18 Off-Page SEO Techniques
1. Blog Commenting
Do blog comment on the relevant blogs, even if you can't get backlinks. But if you can get backlinks, then it's really good. Because Google gives priority on this kind of backlinks from the relevant blog.
To do this, first read the complete article wisely, and then make a standard comment about the article. As if the blog moderator is forced to approve your comment. Don't finish your comment in a few words.
If you can leave your URL on the specific box for the website, then it's better. But if you can't do this at least try to leave your URL in the comment.
If you can make an interesting comment then people will be lead to visit your website. In most of case, you will also get backlinks.
2. Guest Posting
Contribute to a different blog with your guest post. This will give you an authority backlinks. Because guest posting is still now a useful backlink technique. And if you can write something really good then interesting people must visit your blog or website. Which will give you an amount of traffic to your blog or website.
If you look over the Neil Patel, Brian Dean, Rand Fishkin, who are some most popular person in the SEO industry. They are writing on others blog on a regular basis. Those not only giving a backlink to their sites, these giving lots of traffic and branding.
So, start writing quality and unique content on others blog.
3. Forum Posting
Forum posting is an evergreen technique of off-page SEO. You can easily meet peoples who are also interested in your topics.
So, start posting and answering, but don't do anything spammy. Because regular activity can help you to grow traffic.
4. Video Marketing
According to the Alexa report, YouTube is the second most visited website after Google. When lots of people watching videos on YouTube, then why you are not taking the benefit of this.
So, make a video according to your content, website or service and upload them on YouTube. And obviously, give your link in the video and the top of the description box. If you can make a useful, informative or interesting video then your video must drive traffic to your site through your link.
As a result, you can get traffic from the world's largest video platform. But if you want to get this benefit in huge amount, then you should stay active on this platform and should upload a video on a regular basis.
If you're doing this make sure that, you're embedding your video on your text content. Because this will really help you search engine better ranking.
5. Build a Relationship
Build a relationship with the people of the same industry. It's not an easy and short-cut method but if you can do this you can benefit from this. Be connected with top influencers of your industry, mention them in your content, make this slowly but effectively. As if your activities force them to share your content and website.
6. Share PPT Slide
Every day lots of people visit the PPT slide sharing website. So, you can easily reach them, if you work properly. Make PPT slide on your topic or service, and give your URL on the top page of your PPT slide.
When you are sharing your PPT slide give an effective description of your PPT slide, and don't forget to provide your URL. Because from lots of websites you will also be able to get backlinks.
There have lots of popular PPT sharing websites like Slide Share, Authorstream, Issuu, Scribd, Slide Serve, Edocr, Calameo, Speaker Deck, etc.
7. Share PDF
The reason and benefits of PDF sharing are the same as PPT slide sharing. You will find lots of PDF that are making a thousand views. So, you can easily create brand awareness and can drive traffic to your site.
Make a PDF about your content, service or website, also give your URL on the top page of PDF and then share it across the PDF sharing websites. Same as PPT slide sharing give an effective description with your URL.
8. Publish PR
You can easily attract public attention by publishing a press release about your blog, website, and service or about something new. Make this as if your press releases draw them to visit your site. As well as, you can also get backlinks for your website from most of the sites.
9. Be Expert on Question Answering Sites
Yes, you heard the right thing; you have to be an expert in your subject on question answering sites. There have lots of question answering sites like Quora, Yahoo Answers, etc.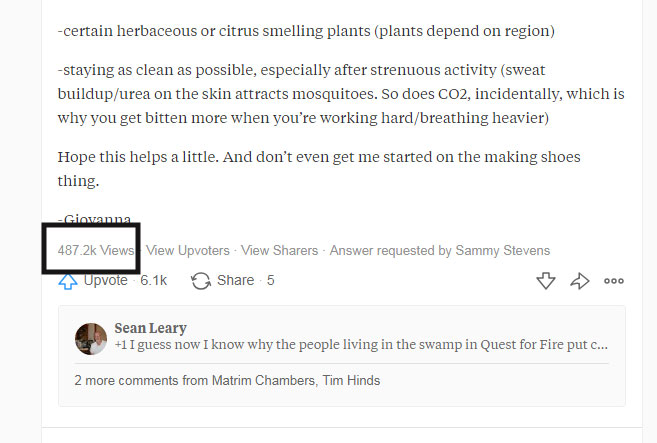 If you look over this answer, you will find a huge answer view. As a newbie, it will be tough for you to get this kind of answer view. But your regular activities can help you to get enough answer views.
So, first, make an account on Quora, and then give an interesting intro bio with your important URL like your blog address. Then start answering on your subject related question and give URL on your answer with hyperlink or source. But before this must know how Quora define spamming, because if Quora can understand that you are promoting something, then they will ban you temporarily or permanently.
Also, start answering the questions on other question answering sites also.
10. Business Profile Backlinks
If you have the business sites, then you must create a profile on business listing websites like Yellow Pages, Yelp, Foursquare, etc. Then in your profile give your URL with all other details. If you can make an interesting profile, if people feel interested after viewed then they will visit your website.
11. Photo Sharing
Every month millions of millions of people visit photo sharing websites like Flickr, 500px, Pinterest, etc. So, there have a chance to engage with the people who keep the same interest as you.
Then, why you're not sharing your photo on the popular photo sharing sites? On a regular basis, share your photo on these sites with your URL. Your regular activities must help you to get traffic.
There have lots of photo sharing website like Flickr, 500px, Pinterest, DropShots, Imgur, Fotothing, etc.
12. Infographic Sharing
It's a creative way of off-page SEO to earn backlinks and traffic to your sites. You can easily create and submit your infographic to infographics websites as an off-page SEO technique.
Infographic is popular to the reader because people get information easily through this.
There have lots of infographics sharing website where huge peoples visit, and you can meet the people who keep interested in your subject.
Few infographics sharing sites are Visual.ly, Infographic Reviews, Infographics Showcase, Infographic Bee, etc.
If you're not a graphics designer then you can use an online tool to create infographic like Canva.
13. Use Profile Backlinks
In term of backlinks, profile backlinks are not so much powerful and useful like other backlinks. But it can help you to get traffic to your sites. And it's an easy way to get traffic.
All of us use social website or community to remain connected with the different community. Millions of people use this in these days. We all have at least a little community on social websites.
Add your URL on your FaceBook, Twitter, LinkedIn, Google+, Github, Goodreads, Wattpad, Minds, Flickr, MySpace, Pinterest, CouchSurfing, Ask.fm account.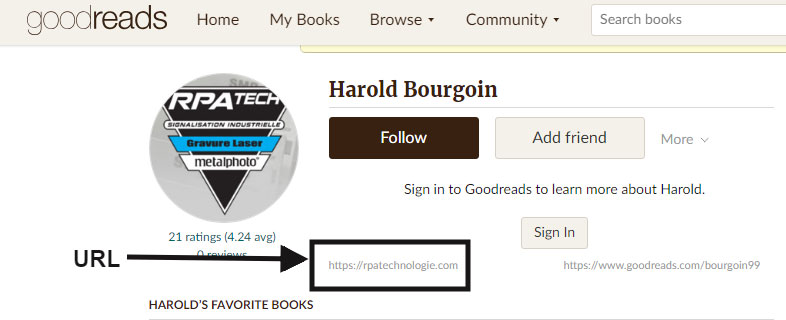 So, now add your website or blog URL on every social and community account you have.
14. Use Group and Community
There are thousands of peoples stay active and share their thought in the Facebook Groups, LinkedIn Group, Yahoo Groups, Google Groups, Google+ Communities. First, find out your niche related group, and then get joined.
I am not telling you that your traffic will be increased rapidly with this activity. But your regular activity on these groups must lead some traffic to your sites.
So, your first work will join others group and community. Then create your own group and community and take care of them to grow.
In long-term result, your group and community will help to grow traffic.
15. Create a Facebook Page
Facebook is one of the most popular social networking websites. They have millions of people who are using on a regular basis. Although in late 2018 Facebook lost lots of users for some reasons.
But still, you can get lots of traffic from Facebook. If you look over the website BrightSide, and their Facebook page, you will understand why I am saying this.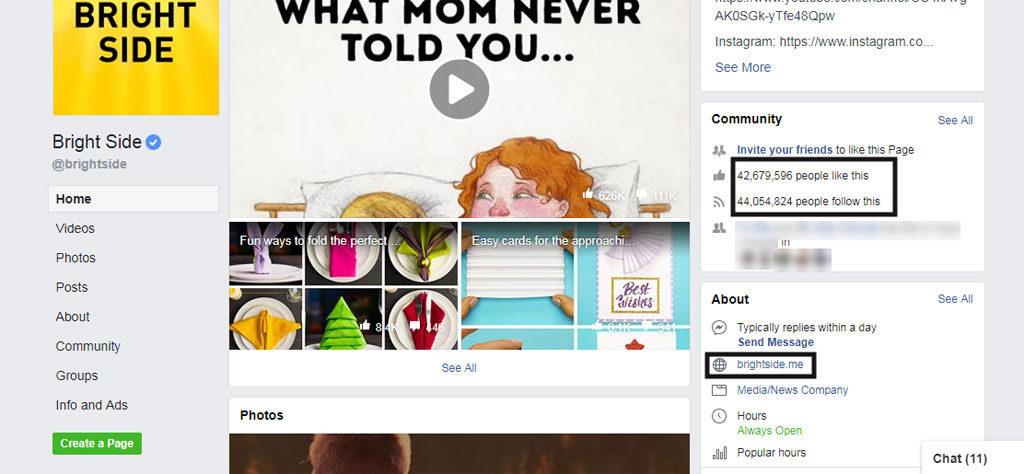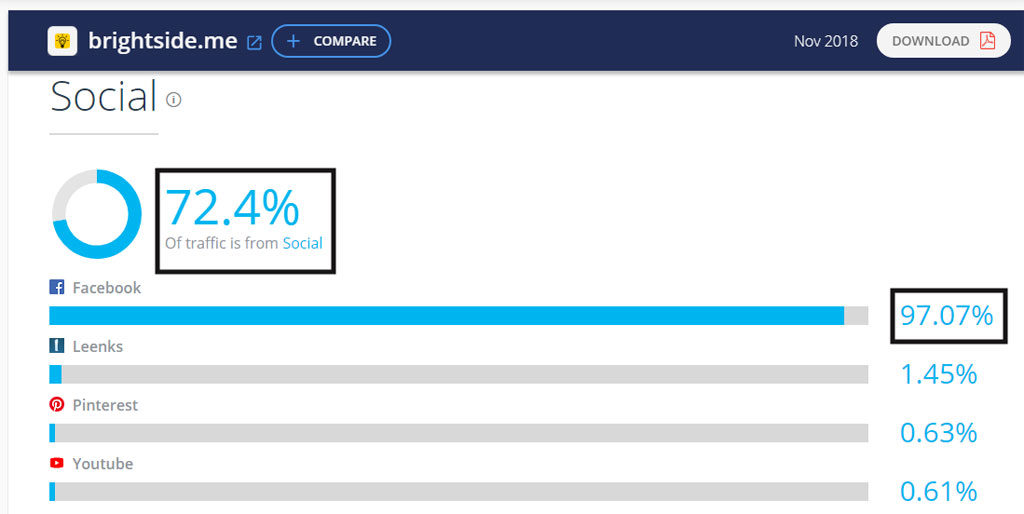 They have 44 Million followers on their Facebook page. And according to Similar Web report, from their millions of traffic, they got 72.4% traffic from social and most of them are from Facebook. More than 97% of the traffic of their social traffic comes from Facebook.
I am not telling you that you can make something like them. But you can get traffic if you use it. For this make sure that you embedded your Facebook page on your website or blog.
16. Submitting to Aggregators
Submit your site or content aggregators website like Digg, AlTop, etc. Lots of people visit to find interested and quality content. So, you can easily get them, if your content meets with their interest.
17. Use Secondary Websites
Write an interesting title, with an interesting description, also if it possible add some interesting points about your topic. Then publish it on the websites like Medium, Bloglovin, Minds, etc with a link like "for more click here".
18. Social Bookmarking
The social bookmarking website also can be used as for off-page SEO. There have lots of popular social bookmarking websites like Reddit, Mix, Scoop.it, etc. Where you can easily submit your website or content and can get SEO benefits as well as traffic.
Conclusion
Link building is a major part of off-page SEO. You can call link building method as off-page SEO but all off-page SEO techniques are not link building methods.
In this article, I tried to tell you the best 18 off-page SEO techniques to drive traffic to your site. Here, most of the techniques was a link building technique. So, if you can do these properly, your SERP ranking will be improved and your website traffic must increase.
In the comment section tell me, which technique you're thinking that you should focus more to increase your traffic? Or is there having any other technique should I add?
Before start off-page SEO, first do on-page SEO properly, to get a better result.
And don't forget to monitor your work, as if you can understand from where you're getting a better result and where you should focus more.