Keyword research is among the critical components in any digital marketing strategy.
This is because It is extremely important to know which keywords your customers are using to search for products or services in your niche.
It's good to get visitors to your website, but it's even better if you get the right visitors, therefore ranking for the right keywords can make or break your website.
Keyword research involves researching the appropriate search terms customers will use to reach your products or services.
Key Definitions
Keywords
Keywords are words or phrases that are used to match your adverts with search terms that people are using to get to your products or services.
They should strategically be placed within your content so that search engines such as Google can find and index your content.
However, you should maintain a balance between having relevant keywords and user readability.
Keyword Research
These are the tasks involved in identifying search terms that your target audience will use to search for products or services within your niche or domain.
Keyword Strategy
These are the steps you will implement to achieve your desired content ranking goals and will be based on your keyword research results.
Keyphrases
These are keywords containing multiple words.
The use of the term keyword doesn't necessarily mean that it's one word but it can also be a representative of many words such as: 'Definitive guide to keyword research', 'WordPress Plugins', 'WhatsApp Marketing'.
Long-Tail Keywords
These are search terms that contain multiple search terms and usually focus on a niche.
Focus Keyphrase
The focus keyphrase is the word or phrase you want your content to rank on and therefore be found by customers' search terms.
Search Intent
These are the underlying goals of driving customers to search using specific search terms.
Example: Whether for information purposes only, to buy, etc.
Importance of Keyword Research
The ability to perform effective keyword research on a particular niche is an important feature within the SEO community and this is why?
Provides You with Data Insights
Keyword research provides you with the knowledge to know which key phrases your target audience is using.
There are many businesses that use certain names to describe their products which unfortunately their target audience doesn't use them when searching for those products or services.
This results in their website not being found by their targeted audience because of a mismatch in word use.
Cost-Effective
A business is able to save on digital marketing expenses by optimizing only on those keyphrases that are bringing in the most conversions.
A Step by Step Guide to Perform Keyword Research
Keyword research is a process that involves a number of tasks to effectively come up with appropriate search terms for your intended niche.
I will guide you, step by step through the entire process of keyword research and even provide you with practical tips that you can use and start immediately.
Step 1: Define Your Mission
You should be able to describe what your website is all about.
Its mission, what makes it special or makes it stand out from the crowd.
Once you're able to fully articulate the purpose of your website effectively you will have succeeded in completing the first step in your keyword strategy.
Step 2: Make a List of Keywords
The second step is to start creating a list of possible search terms your target audience would use to look for your products or services.
It's at this point that you really have to try and enter into the heads of your potential buyers so as to be able to come up with relevant search terms.
Step 3: Identify Tools to Help You
Making a list of possible search terms that you think your target audience will use is easy.
The hard part is knowing the actual search terms they will use to look up your product, and the failure of your business being able to identify the correct search terms will result in a word mismatch.
A word mismatch prevents your products or services being found by your targeted audience.
Luckily, there are a number of tools that can help you come up with the correct keywords to use such as:
Google Keyword Planner
Google's tool for keyword research – Google Keyword Planner was initially designed for advertising but the tool proved itself as an effective tool you can use perform organic research.


There are a number of things you can do with Google Keyword Planner and these include:
Allows you to customize your search results to spy on your competitors' keywords
Ability to search for new keywords and ad group ideas
Getting access to a list of keywords and group into ad groups
Provides data insights on web traffic of keywords
Allows you to know about competition levels such as High, Medium, and Low
What's The Importance of An Ad Group Idea You May Ask?
Well, an ad group idea contains a set of related keywords that don't appear in general keyword ideas.
Google Keyword Planner's suggestions can also be used in conjunction with other keyword planner tools to build long-tail keywords.
KWFinder


KWFinder is a long-tail keyword research tool consisting of a variety of innovative features that show your search volume, CPC, trends and a feature with the ability to provide you with a score showcasing your level of difficulty for keywords in SERPs.
Clicking on an individual keyword will open a new panel showcasing that keyword's difficulty level between one and a hundred.
MOZ Keyword Explorer

MOZ Keyword Explorer is a much sought-after tool providing a wide variety of features as outlined below:
Search Volume
Ranking Difficulty
Opportunities available of relative CTR of keyword results on a SERP
The importance of a keyword in an advertising campaign
Provides data insights into the potential of combining all keyword metrics helping you prioritize and optimize relevant keywords
Among its' many strengths the Moz Keyword Explorer offers users the opportunity to upload keyword lists created with another tool with the aim of getting more insights on them.
Keyword Tool
This tool uses Google auto-complete data to create its database of long-tail keyword suggestions for the user.
It is usually recommended that users should use the Keyword Tool together with Google's Keyword Planner when doing their keyword research.
These two tools complement each other since Google Keyword Planner doesn't show long-tail keywords in its search.
Its free offer on the first 750+ keyword suggestions is definitely a game-changer for people looking for a budget-friendly keyword research tool.
SEMrush
No article can be complete without talking about SEMrush.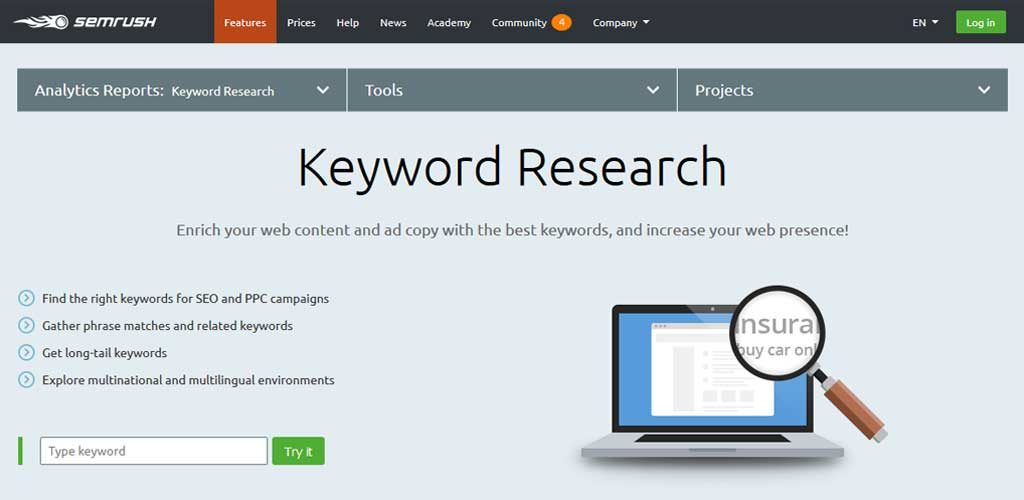 Regarded as the best in their field, this application comes bundled with innovative keyword research features which include the following:
SEO and PPC research
Ability to find related keywords and phrase matches
Can research long-tail keywords
Provides users with the ability to use regional databases for international SEO strategies
Ability to spy on your competitor's keyword metrics
SEMrush is offered on subscription-based pricing.
Step 4: Get to Know the Search Intent
Search queries on search engines entered by users are usually structured to answer specific questions.
That's the reason why the majority of SEO strategies revolve around answering questions posted by the users.
Your content should be created in such a way that it addresses these four types of intent here.
Informational Intent
Users utilize search engines to find information on specific topics, products or services.
Navigational Intent
Users with knowledge of a website's name will simply enter that name into the search engine to access it.
Commercial Intent
Many users perform an online query on a product they want to purchase: product, reviews, pricing, quality issues, etc.
Transactional Intent
After performing a commercial intent, the user searches for that particular product with the intention of purchasing it.
Step 5: Create a Landing Page
A landing page is a standalone webpage designed with a single focused objective.
These objectives would be getting customers to subscribing to a newsletter, purchasing an item, downloading an e-book, etc.
Landing pages can be a great way for your business to seek innovative ways of increasing its website conversion rate.
Your landing page should contain your focus keywords which improve the chances of your website being found by your target audience.
Good Keyword Research Strategies
There are a number of available keyword strategies a business can use to increase web traffic to their website.
The ranking of keywords isn't a one-time task but an on-going process that goes on over a period of time.
Below are keyword strategies you can use to drive traffic towards your website.
Focus on Long-Tail Keywords
Websites should have multiple keywords in their content to increase their ranking chances.
Tools such as Google Trends can be used to identify which keywords are related to search terms most likely to rank during the current period.
Even though long-tail keywords get less search traffic as compared to single keywords, they usually have a higher conversion rate as they mostly focus on specific products or topics.
Spy on Your Competitors
That's right, you read it correctly. You need to spy on your competitors.
Choosing the most effective keyword strategy will largely depend on your competition.
Let me explain
If the competition in your niche is high, you'll definitely have a hard time ranking on single focus keywords, but if your competition is low, it will be much easier to rank on single focus keywords.
Here are the two main strategies you can use to determine your competition.
Analyze Your Competitors
Perform keyword research on the Google search engine and have a keen look at the results.
The websites and online resources that turn up are those that your website will be competing against.
Analyze your competitors on the following things to see how you can effectively compete.
Are they professional websites or company websites? And if they are company websites, how do you gauge your company against their company?
Check to see whether the SERPs display well-known brands. This is because it's much more difficult to rank if your competitors are well-known brands especially if the brands have got radio and television commercials.
How is their content written? If your competitors have got a short form and poorly written content, it will be much easier to rank against them.
Do your search terms attract Google ads? Search terms with Google ads and high pay-per-click Google ads are usually harder to rank within organic results.
You would also perform an analysis with a keyphrase with multiple keywords. Longer keyphrases with multiple keywords generate less traffic but it's much easier to rank on those search terms.
Try, Test and Evaluate
Once you are done with your analysis and you got your preferred keywords, it's now time to create content, optimize and publish it.
Wait for a couple of weeks and see how your content is fairing on Google SERPs.
If it's on the 3- 5 pages, try again to optimize your content by implementing good On-page SEO techniques and check out the results again after a couple of weeks.
Continue this process until you hit the first page of Google SERPs.
Final Thoughts
Keyword research should be the foundation of any sustainable SEO strategy.
Knowing the exact and most appropriate keywords is hard, but the hardest part is creating content consisting of your relevant keywords still maintaining a high readability score in your content.
Understanding keyword research gives your content an edge over your competitors.