Do you want to know how to start Facebook ads and how to optimize them to get maximum ROI from your Facebook ad spend?
In this article, you'll find everything about Facebook ads from how to start Facebook ads to how to choose ads type according to your objectives to get maximum conversion.
Without spending more time, let's dive into it.
It's hard to believe that once just a campus dating site, Facebook now has taken the whole world by storm and is now counted as the top social media site.
Facebook connects millions of people online every day.
In the last quarter of 2018, Facebook reported having 2.2 billion users.
But what's even harder to believe is the fact that the world's most popular social networking site has also turned into a hotspot for marketing efforts of businesses.
The reason you ask? Because of its 2.2 billion users!
The Facebook algorithm doesn't always make it easy for brands to bring their posts in front of their potential customers.
Therefore, brands mostly turn to the best option that promises them increased visibility i.e. Facebook Ads.
Here, we have compiled all the information that a beginner would need to successfully start a Facebook advertisement campaign.
Steps to Run Facebook Ads
To start advertising on Facebook, brands first need to create their business page on Facebook.
If you already have a business page then you can jump right to the option of Facebook Ads Manager to begin your ad campaign.
1. Define Goals
To start a new Facebook Ad campaign you need to first select an objective for your campaign from a list that contains around 11 marketing objectives.
After deciding what your goals are you need to select one objective that aligns well with your business goals.
Some of the objectives out of the 11 marketing objectives are Brand Awareness, Traffic, Reach, Engagement, Video Views, Conversions, and Lead Generation.
You will have to pay for action in the conversion type objective, while for exposure type objectives you need to pay per impression.
2. Give Your Campaign a Name
We are taking the objective as Engagement for our demo campaign.
Once you select your objective, the next thing to do is give a name to your campaign.
While scrolling down the menu on Facebook ad campaign you will see the option of conducting A/B split test and budget optimization.
You can choose to opt for them.
However, we recommend not choosing the budget optimization at this stage if you are not looking to run multiple ad sets.
Again, in the Engagement objective, we can also choose on which point our ad should mainly focus on.
This can either be Page likes, engagements on a post, or event responses.
3. Create an Ad Account
When you are new to the world of Facebook advertisement you will need to create an ad account.

For that, you need to fill in some details like country name, time zone, currency, and others.
Once you are done creating the ad account follow the next steps.
4. Specify the Target Audience
Now, it's time to define your target market and specify their details in the ad account.
You will get two options in the Facebook ad account.
One option will be that of selecting custom target audience parameters and the second option will be of selecting some predefined parameters to specify your target audience.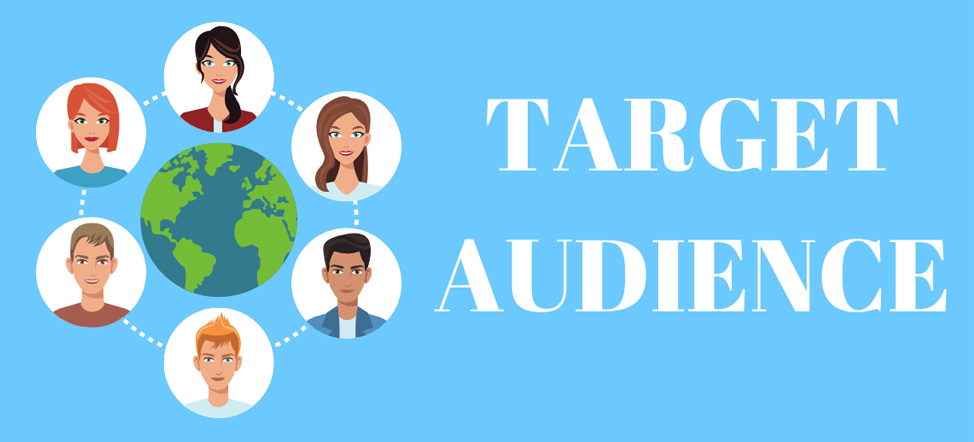 These specified parameters are age, gender, location, language, etc.
Here you can also see the reach your advertisement is going to have through the audience size indicator.
Facebook enables you to perform a very refined audience targeting and you will get a lot of options too in refining the reach of your advertisement.
You can also choose to include or exclude people who are connected to you via your Facebook page and apps.
This can be done when your objective is to reach a new audience.
5. Facebook Ad Placement
You get 3 types of ad placement categories to choose from in your Facebook advertisement account.
They are Device type, Platform, and Operating Systems.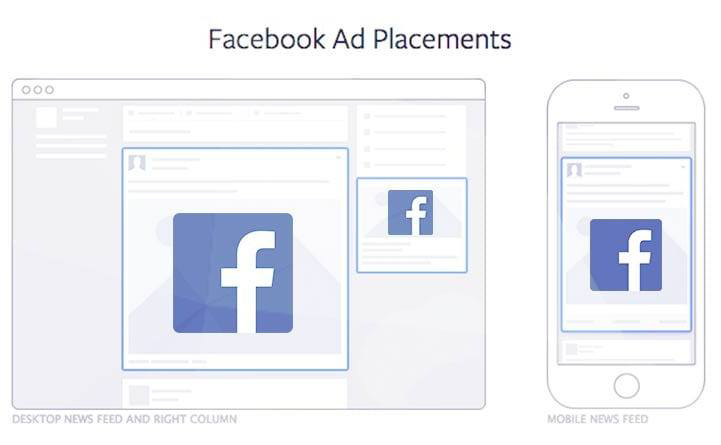 If this is your first time with Facebook ads we would recommend you go with the automatic placement option.
When you select the automatic placements, Facebook takes care of the placement of your ads on Facebook, Facebook Messenger, and Instagram.
After you have gained a little experience with running Facebook ads you will be ready to take over the reins of ad placement.
6. Budget and Schedule
When you have provided all the specifications for your ads, it's now time to decide the budget and schedule to achieve your business objectives.
Facebook ads give you the option to control your budget based on your requirements.
Therefore, you are going to have good control over how your money is going to be spent.
When it comes to fixing a schedule to display your ads, it's best that you make the decision.
All you have to do is figure out the time when your target audience is active on Facebook and just set that time for the ads to show.
Facebook ads provide you the options between daily and lifetime budgets.
It also allows you to make future ad schedules.
7. The Ad Creation
In this step, you will be selecting an ad format.
Note that ad format changes based upon your campaign objectives.
After selecting the ad format, you need to upload your photo, video, or text.
After that see the preview of the ad, if you are satisfied with the previews on different devices and on the news feed, you can click to confirm the created ad.
Once your ad is approved, Facebook will notify you through an email.
Types of Facebook Advertisements
1. Lead Ads
Lead ads as the name suggests are Facebook ads that are focused on the generation of leads.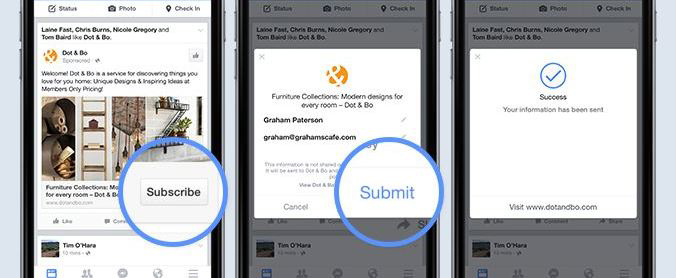 Since they are used for generating leads they have been designed only for mobile devices so that people can easily fill up their contact information without the need for much typing.
These are best for sign-ups and getting newsletter subscriptions from people.
2. Photo Ads
Photo ads are one of the first ads that beginners can start using.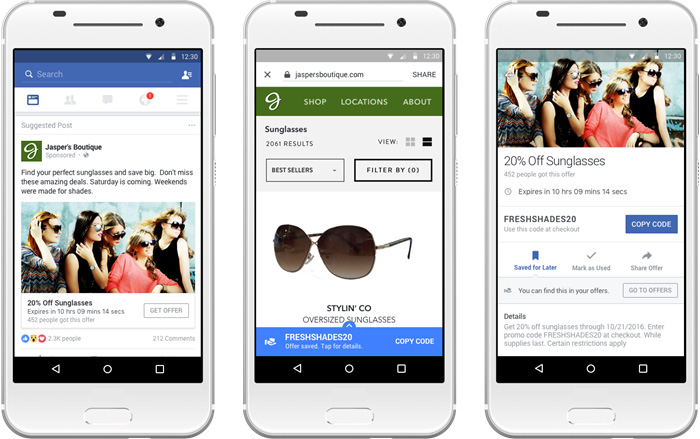 It is simple and can convey different messages in a fun way.
If you wish to start with the photo ads you can also choose to revamp an older post by adding a photo for the advertisement.
3. Carousel Ads
Carousel ads are a great option to showcase your different products or all the features of a product.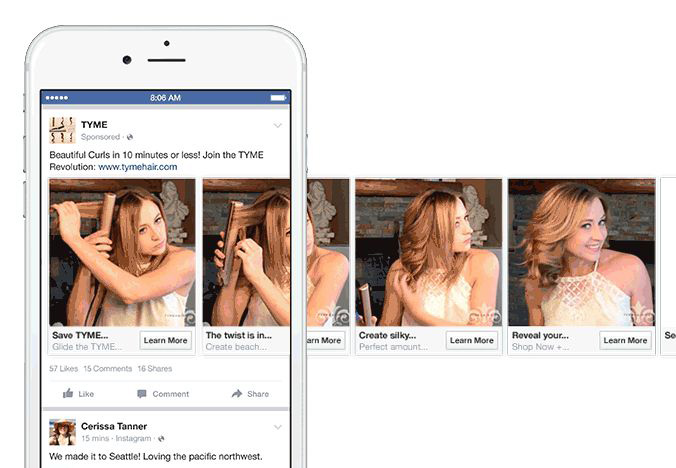 These types of ads would need around 10 photos or even videos from you.
It is one of the most popular ad formats for e-commerce businesses.
4. Instant Experience Ads
This ad format involves a full-screen experience of ads.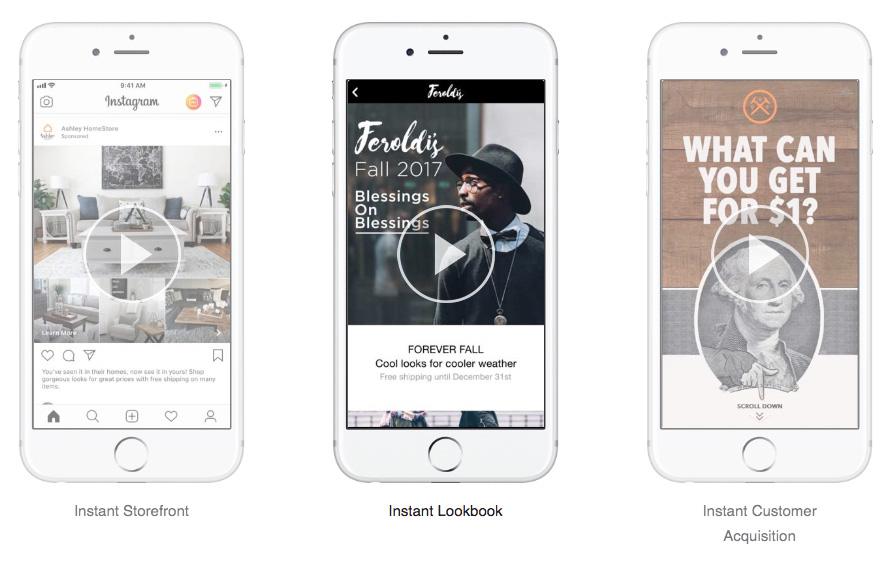 Formerly known as Canvas, Instant Experience Ads have an advantage of loading faster than most mobile websites.
This is again a mobile-focused ad format.
5. Collection Ads
Collection ads are another top pick for the e-commerce business.
These ads are specifically available for mobiles.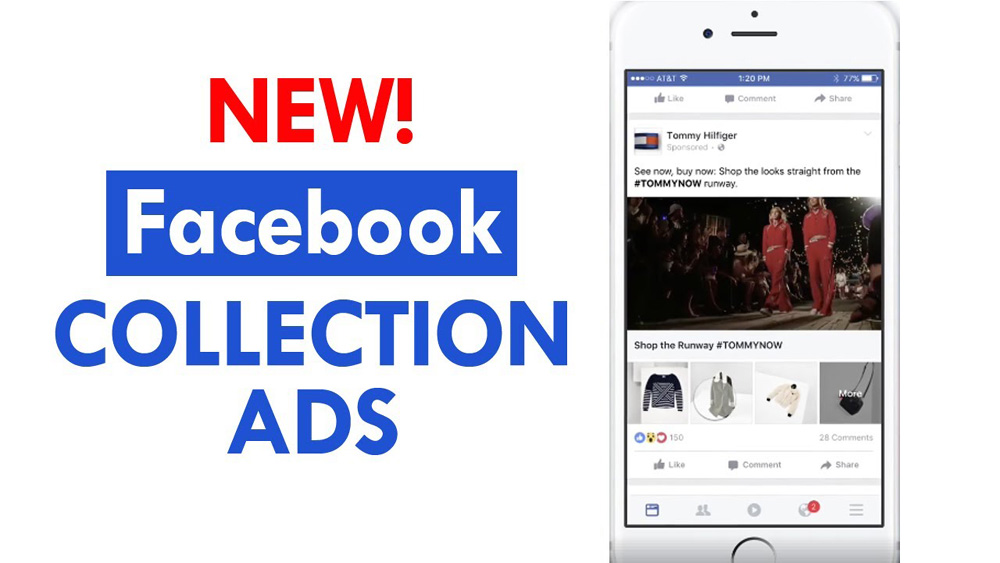 Here, the brand can showcase its products by teaming up with the Instant Experience ad.
These are perfect for people on the go who can buy a product without leaving their Facebook page.
6. Messenger Ads
When creating an ad for Facebook, you can also choose to display the ad on Facebook messenger.
This gives marketers access to a huge number of people who use the messenger app.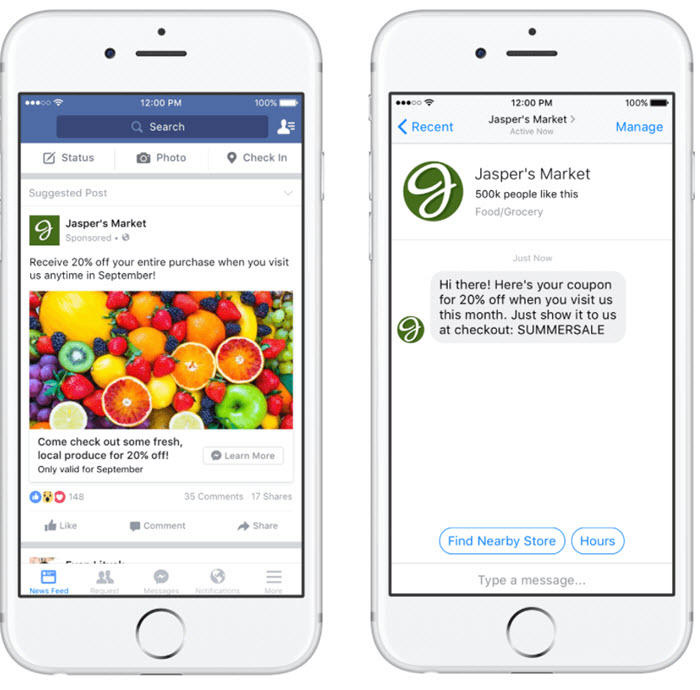 The ads that can be displayed on messenger are photo ads, dynamic ads, video ads, and carousel ads.
Here the only catch is that you also need to choose the Facebook feed ad to opt for the messenger ads.
7. Video Ads
Video ads as the name suggest features videos.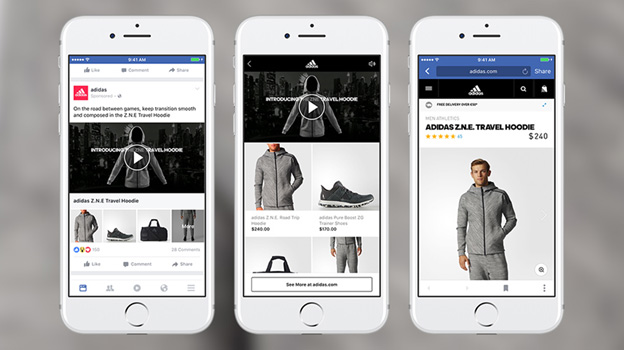 It is a great option for brands who want to share with their audience what they are up to or want to introduce new products in an elaborate way.
8. Dynamic Ads
Dynamic ads are a very effective promotion strategy.
It is displayed when a person has viewed a product or has added a product to his shopping cart on an e-commerce website.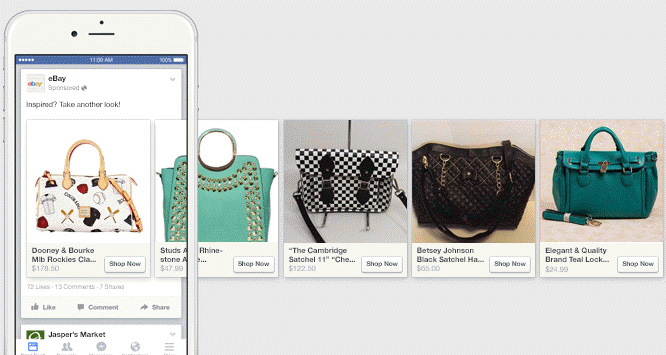 The dynamic ads show these same products on their Facebook feed.
It works as a reminder for the person and nudges him to complete the purchase process.
9. Slideshow Ads
Slideshow ads are the next best thing after the video ads.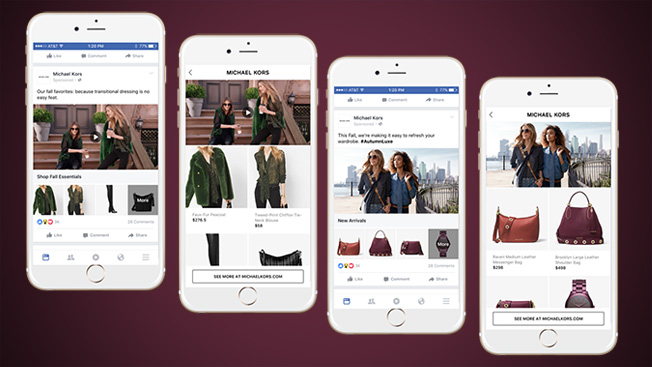 This option is suitable when you want your ads to load faster in mobiles that have slower connections.
To create Slideshow Ads you can use a bunch of still photos or short videos clips with some music and text.
Facebook Ads Size
When you are designing or uploading photos and videos for the ad, you need to keep the size limit in mind.
There are a lot of size specifications given for each type of ad- be it photos, text, and videos.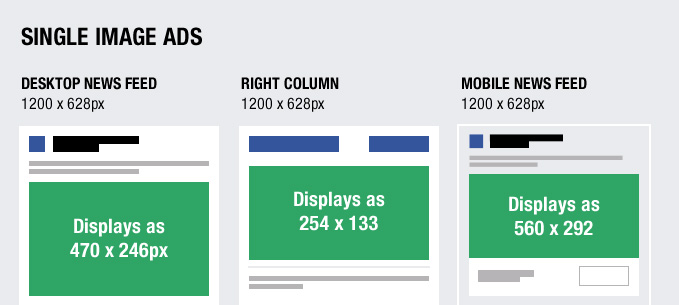 Be careful to create your ad within these size limits or else they will be cut or compromised in some way to fit into the specified size limit.
To give you an idea we are mentioning the size requirements for the following types of ads.
Photo Ads
The headline should be of 25 characters
Link description within 30 characters
125 characters of body text
Video Ads
The headline should be of 25 characters
Link description within 30 characters
125 characters of body text
Slideshow Ads
The headline should be of 25 characters
Link description within 30 characters
125 characters of body text
Carousel Ads
The headline should be of 40 characters
Link description within 20 characters
125 characters of body text
Instant Experience Ads
There is no such limit of headline characters here
Link description is also not applicable in this case
90 characters of body text
Collection Ads
The headline should be of 25 characters
Here link description is not applicable
90 characters of body text
Messenger Ads
The headline should be of 25 characters
Link description is not applicable in this case
125 characters of body text
Lead Ads
The headline should be of 25 characters
Link description within 30 characters
125 characters of body text
Right Type of Facebook Ad Based Upon the Ad Objectives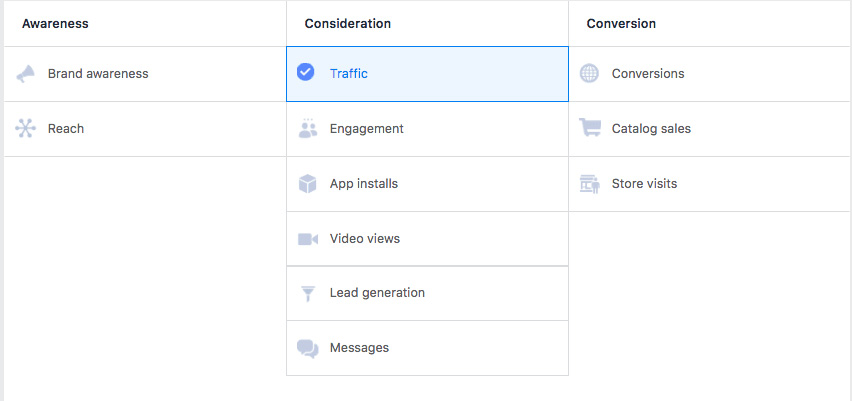 Objective #1: For Increased Traffic to a Website
Page Post Link Advertisements
With big display pictures and scope for a thorough link and text description, this type of ad is perfect to attract attention to your external website.
Domain Ads
These are the most inexpensive ads that are usually displayed on the right-hand side column on the mobile screen.
However, this gives a lower click-through rate (CTR).
Mobile support is not available for this type of ad.
Objective #2: To Sell Product or Service
Carousel Ad
One of the perfect choices for e-commerce business, this ad type will allow the audience to view multiple products in an ad.
This has a high CTR rate.
These are displayed on the mobile newsfeed.
Dynamic Ad
These ads also appear in the right side column of the mobile feed.
They can be perceived as remarketing ads.
Dynamic ads are displayed based on a person's past activities and are often used as a reminder to complete an action.
Lead Ad
Lead ads are displayed both on mobiles and desktop.
These ads make it easy for people to fill in their information like email addresses and phone numbers without leaving Facebook.
This is a great ad option for increasing product sales.
Instant Experience Ads
This ad type is one of the most interactive ads on Facebook.
Here the ads displayed can be zoomed in and out and can be viewed by the audience in multiple ways.
This is one of the fastest loading ads.
Therefore, this is a perfect option for marketing products to people on the go.
Objective #3: Boosting Page Likes and Engagements
Photo Ads
When it comes to increasing your popularity among masses, photo ads are the simplest option.
With the right photo and right call to action in your photo ads, you can be sure to boost your likes and engagements in no time.
Video Ads
When you want to connect with your customers more closely, video ads are your best option.
These types of ads get a huge engagement and are loved by the audience for their entertainment quotient.
Just remember to make your videos mobile-friendly as a whopping 65% of video ads are actually viewed on mobiles.
Objective #4: Attracting Visitors to Events or Store
Event Ads
When you want to attract visitors to your store or events, event ads should be your ad of choice.
Here, you can give a brief description of your event or store.
State some important aspects of the event like date and timings.
Further, your ad should convey that you are inviting people to your event or store.
Based on the location of your event or store you can specify the geographical reach of the ad.
 Offer Ads
You can attract visitors to your brick and mortar shop by choosing to offer ads on Facebook.
This ad option would only be available to those businesses that have a minimum of 50 likes on their Facebook business page.
These ads will display the offer your shop is providing.
Once clicked, the ad will send information or the terms of use of the offer via email.
Useful Tips for Facebook Advertising
The chances of getting positive results from Facebook advertising can be increased if the following ad strategies are implemented.
(i) Slowly Expand Your Target Market
When you are just starting with Facebook advertising you may not have a clear idea on which group of population or which interest group to target.
That is absolutely fine! What you have to do in such cases is start with a narrow target market.
As you start seeing some success with the narrow market, you can then decide to include a broader group of population.
This will enable you to compare the results when you go with a narrow target group versus when you opt to go for a wider audience base.
If the outcome of targeting a broader market furnished positive result then you can keep that group included in your target market.
However, if the outcome was negative you can either stick with your narrow target group or keep on experimenting with other population groups.
(ii) Make Use of Facebook Pixel
For your Facebook ad campaign using Facebook Pixel can prove highly beneficial for you.
Facebook Pixel is a shortcode that can be placed on your website.
This code can provide you data on conversions, help you create lookalike audiences, and establish remarketing advertising that targets people who have already viewed your products once.
It is a good idea to install Facebook Pixel right now itself.
It will later assist you or make it easy for you to implement the said goals like remarketing when you are ready.
(iii) Good Quality Media is a Must
When you plan on using media files like photos or videos make sure that they are of the top quality.
No one likes to view an image that is unclear and a video that suddenly starts out of nowhere.
Similar to words, you should also pay great attention to your media.
The main purpose of photos and videos is to attract the attention of the audience, inform them and engage them.
If your media files are not of good quality they will not achieve these rather they will leave a negative impact on the minds of the audience.
To ensure that all your photos are of fine quality you may choose to pick photos from the stock photo gallery.
Additionally, if your business is about selling products, do not just load pictures of the products alone.
Show your audience photos of how your products are being used by customers or customers talking about the benefit it brings.
(iv) Have a Trial Run for Everything
Whenever you want to try something new in your Facebook ads you should have a trial run.
Executing something just on the basis of assumptions can take a wrong turn for your Facebook ads.
Therefore we recommend testing out everything on a small scale first.
After running your first test run, you should immediately compare the data with the previous facebook ads results.
If you see improvements in the Facebook metrics that are important for your business only then choose to adopt this new idea.
However, if the important metrics show a negative impact due to the new trial run then maybe it is a good idea to drop it for now.
You should always keep on changing your Facebook ad strategies and tactics.
Just be sure to first test it out on a small scale and then include it into your main Facebook ad campaign.
(v) Optimize Performance
Monitoring the performance of the various Facebook ads is a very important task.
This will tell you if an ad type or ad strategy is working or not.
Based on the result that each ad type generates, you can either choose to continue running the ad or can choose to discontinue it.
Suppose you had started an ad campaign, but after tracking and monitoring it you found that it is not making any positive difference.
In such cases, you can choose to discontinue the Facebook ad and reallocate the budget for that ad into the ad groups that are working well.
When someone is just starting out, running several ad groups to see which one works is a good idea.
With the trial and error technique along with tracking, it will be possible to know which ad group is the best option for the business.
The tracking and optimization of ads can also be done via several tools.
The advantage of these tools is that they can also be utilized to monitor the ads of different social media platforms.
AdEspresso is a great option for businesses of small to medium size to optimize their ads.
For large enterprises, Hootsuite Ads is a more suitable option.
The tools can provide you a range of features such as the ability to manage multiple ads over various platforms, simplified analytics data, the ability to start new campaigns, and the provision of presetting the performance triggers.
Conclusion
A variety of ads are available on Facebook.
Choose the ad type wisely to fulfill your business objectives.
Using the right types of Facebook Ads will help you meet your most relevant audiences on Facebook.
Hence this will assist in lead generations and conversions that will ultimately boost your sales and revenues.
In case of any doubts about the Facebook Ads, feel free to ask us questions in the comments below.