The strategy of a PPC campaign can help you generate your desired results quickly compared to the results of other social media platforms like social media, search engine optimization, and email marketing. 49% of users have confirmed that they would click on the search ad.
Today, companies generate sales of $2 per $1 spend on AdWords. Because half of the PPC visitors have strong buying intent compared to the SEO visitors.
To sustain your campaign in today's time, here are the tips and PPC campaign checklist to create an effective PPC campaign for your business.
Effective Keyword Research
Keyword research is a backbone of online marketing activities like PPC and SEO. Through keyword research, you will realize what users are searching on the internet, and you get to know how much approximate money your ads will spend if you choose those specific keywords.
You can judge what people have in their mind while typing specific search queries. You get the idea of their mindset and their expectations from the way they search online.
To determine which keywords are best for you, use the search Google Keyword Planner.

Google Keyword Planner now has two features where you can find the keyword lists and see the approximate results you will get if you choose specific keywords. Moreover, you also get the forecasts of the results you will receive from using those keywords.
In the Find new keywords, you get usual metrics like the monthly search and average cost-per-click for a specific keyword. You can also set the location and timeline to determine the keyword data.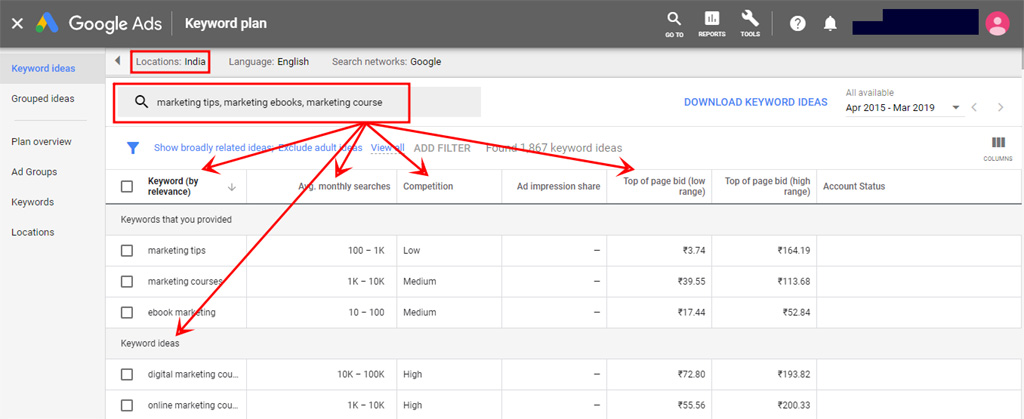 In the list, you will see the relevant keywords that users search in Google and what are their competition and average CPC. You can export the data to your local system for better analysis and research of the keywords.
The second options forecast the results that you will achieve if you use keywords for your ads. When you click the second options, you can also export your keywords list instead of typing out all the keywords.
For your keyword list, you can see how many clicks you would be generating along with the tentative daily budget and approximate cost per click for your PPC campaign.
You can also select the duration of your campaign from the right side. Keyword Planner will give you results in the tabular format like clicks, impressions, and conversion for each keyword.
These insights will help you plan and manage your resource accordingly and keep you prepared for the number of results you would be able to generate.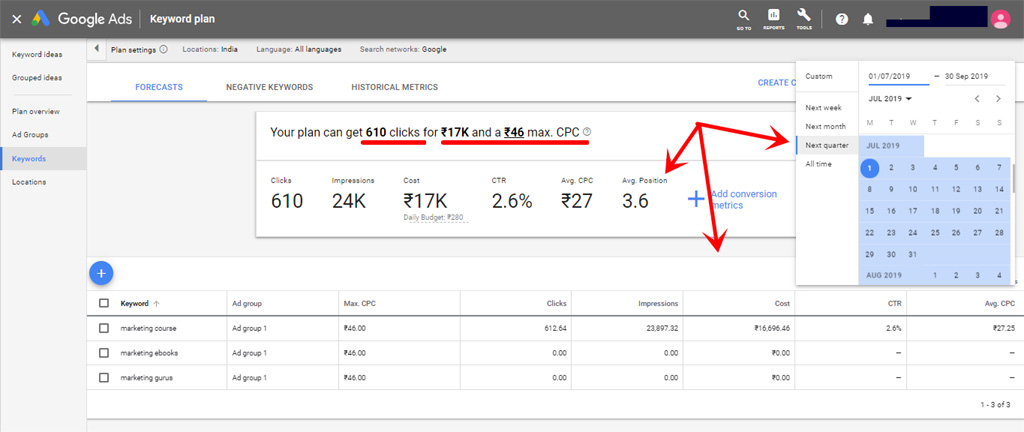 Optimize For Mobile
For any modern marketer, mobile is a goldmine of approaching potential buyers and make them returning customers. Today, up to 70% of web traffic comes from mobile phones. The craze of mobile is apparent because people use smartphones for almost all the activities like pay bills, play games, listen to music, watch videos, talk with other people, and upgrade their knowledge.
The evolution of the smartphone's use in human life is astonishing. Every morning, nearly half of the U.S. citizens unlock their smartphones to check the notifications they have received during the night. Furthermore, 40% of all clicks generated from the first page of Google also go through the top three search ads results.
To optimize your search ads for mobile phones, you can
● Optimize the Landing Page for Mobile Phones
Ensure that your website is mobile friendly and users don't have to hustle to find the information they have been looking.
Also improve the loading speed of your landing page which is an essential factor in determining the quality score of your ad. If your quality score is higher, impressions of your ad would be better.
● Use Mobile Friendly Ad Extensions
Extensions, in general, improve the CTR of your ad, but mobile specific ad extensions convey particular messages that would make the users perform desired actions.
Through extensions like call, location, and message, people can directly make a call to your business or find direction in Google maps for your business. You can also use the message.
● Use IF Functions
IF Functions will help you achieve better CTR through mobile phones. You get the control to show custom ad copies to the searchers who are using mobile phones. However, the same ad will have a slightly different copy on Desktop.
Here's a syntax table of using IF-statements followed by its example.

You can use the style shown in the column code as shown in the below example to get custom ad copies for mobile phone users. This is an excellent way to segment your ads dynamically to give a personalized touch to your ads.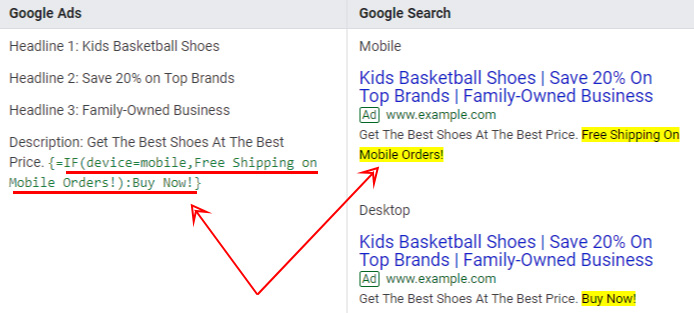 The segmentation of your ads will give you better CTR and conversions from mobile phones. For example, if your general ad copy says "Buy Now" and mobile-specific copy says "Get Free Shipping on Mobile Orders!" indeed the second version targets the user accurately and would generate you more clicks and conversions.
By using IF Functions, you can edit your smartphone copy and also include specific location because people who are looking for local business through mobile phones, would click your ad and purchase your services.
Write Persuasive Copy
Your ad copy will separate you from your competitors. There is no rocket science in writing a copy that appeals to masses. You need to know a couple of basic things and few copywriting hacks to be sure that you are writing copy for the right audience.
Components of a Search Ad
2 Headlines (30 Characters Each): Headlines are the most prominent part of a search ad. You can promote your products and services using these headlines.

Description: With 90 characters, you can explain your headline, your offers, benefits or brand to make people click your ad. Ensure that you are pursuing your users instead of writing a description to complete the characters.

Display URL: The green text is your display URL to convey the users where they would be redirected if they click your ad.
Here are the Tips for Writing Clear and Engaging Ad Copy
Add USP in Your Ad
USP stands for Unique Selling Point. In your ad copy, tell the viewers why your brand is the best fit for they are looking for. You can add USP in your ad so that viewers would know your specialty and the best thing about you from your PPC ad only.
Like Award Winning Agency or Organic Makeup Artist, anything that sets you apart from your competitors and is the driving force of generating sales will be your USP.
Add Negative Terms
Emotion is the driving force behind our decisions, says Psychology Today. Well, as bad it may sound, our brain reacts and absorbs negative emotions. This behavior is also observed in advertisements too.
To leverage this psychological behavior, you can show what users would miss if they don't purchase what you are selling or providing. In fact, a brand saw 47% increment in CTR thanks to negative-emotion-triggering words in the ad.
Automate PPC Campaigns
You won't get a chance to monitor your PPC campaigns constantly. So, you can automate to grab more people to your ads and achieve maximum conversions.
Although it would be great if you have the complete control over bids so you can choose how much budget you want to spend as per your wish.
Here are the bid strategies that would help you automate PPC campaigns.
● Enhanced CPC
This bid strategy manipulates your CPC bids to get maximum conversions. Use this strategy only if the search volume of your targeted keyword is low. If you are advertising for high performing keywords, your budget will flush out instantly because the impression will be more and the maximum people are likely to click the ad.
● Maximize Conversion
This is a smart bid strategy that automatically changes your bids, so you get maximum conversion for your ads. For each auction, the algorithm of Google Ads will set the bid smartly to generate as many conversions as possible with respect to your daily budget. The focus of this bid strategy is to generate targeted conversion irrespective of the cost-per-click.
Again, use this method only if you have a tight budget and looking for conversions and concerned less about the clicks. If you are getting impressions to share less than 80%, you may supercharge your procedure by changing the bid strategy to maximize conversion.
● Target Cost-Per-Acquisition (CPA)
Usually, Target CPA and Maximize Conversions are confusing bid strategies because both of them aspire to get maximum conversions. But they have a fundamental difference that sets them apart.
In target CPA, you will set cost-per-action which is the amount you want to pay for a single conversion. Now, Google's machine learning algorithm will participate in the auction in such a way that you get your conversions in the desired price. Your cost per thousand impressions and cost per click would be covered in the cost-per-acquisition you have set.
Difference Between Maximize Conversions and Target CPA
Maximize Conversion bid strategy only focuses on meeting your daily budget while generating maximum conversions. However, the Target CPA, you will have to set a cost, and then your ads will be shown accordingly.
Target CPA will help you if you are aggressively want to generate a lead for your company or perform other conversions on your website. Once you've used this strategy, you can always change your bids and focus more on the keywords, demographics, and devices that are giving your conversions and shift your campaign focus to only those performing parameters.
To edit your bid strategy,
How to edit your campaign bid strategy?
Sign in to your Google Ads account.
Then click on Campaigns at the left side.
Select the campaign.
Click Settings in the page menu.
Open Bidding and then click Change bid strategy.
Choose your desired bid strategy.
Click Save.
Run Experiments to Find What Works for Your PPC Campaigns
In your PPC account, some campaigns are generating elite results for your business. So, if you wish to try editing the campaign to see how it performs, Google Ads allows you to run such experiments.
You can make a copy of your best performing PPC campaign and start A/B testing. In the test, you can try bidding strategy, scheduling or any test you wished you wanted to perform on your best PPC campaign.
After seeing the result, you can apply those changes to the campaign, or you can set a different campaign altogether with the changes that you found useful in your A/B testing. In the end, you get a clear perspective of how things will perform if you change the bids.
Include Negative Keywords
When you add broad match keywords, your Google ad would appear for different variations of keywords. It would use your daily budget, and you would be left with no money to be shown up for the keywords that matter.
To avoid the phrases which are not relevant to your business, you can include them in negative keywords so that your ad would no longer show for those keyword phrases.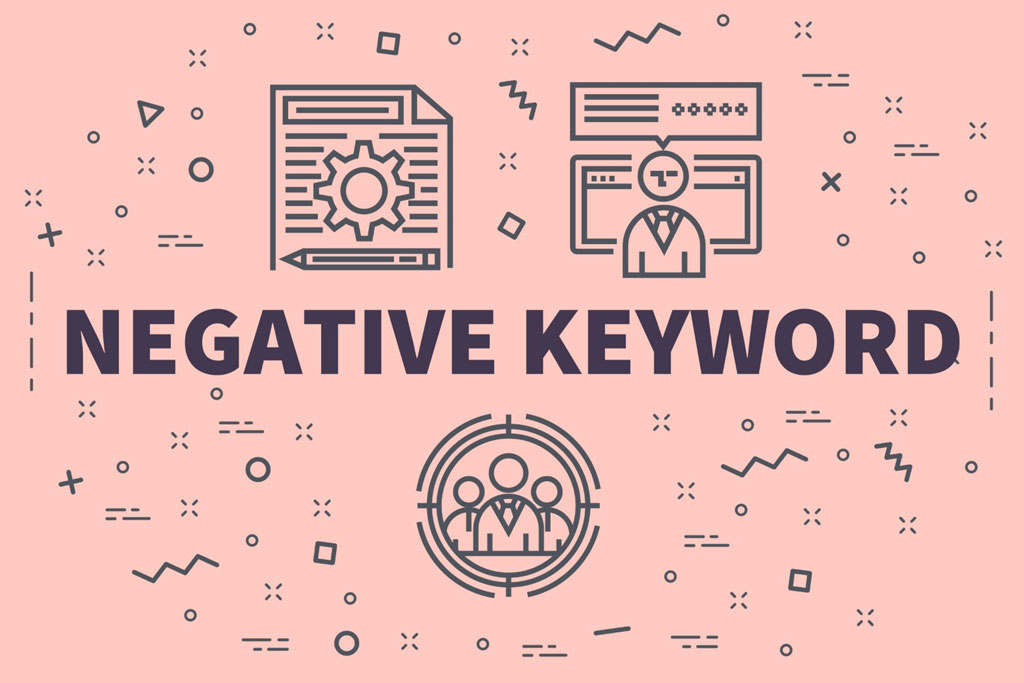 When you add keywords and initiate your PPC campaign, you will see the keywords for which your ad is showing in SERP. Ensure that your ad is turning up only for relevant keywords if there are keywords which are not appropriate for your business, include them in negative keywords.
Your ad would not appear for the terms included in negative keywords. This, way you can utilize your budget and ensure that you get only relevant clicks for your business.
Use Ad Extension
Ad extensions are not new now. But they still bring you lots of engagement and clicks to your landing page.
Extensions are parameters that provide extra information about your business. Like address, phone number, message, other relevant web pages links, and so on.
Conclusion
When you complete writing your ad copy, you don't need to go to any 3rd party PPC campaign tools to preview the ad or get the tips for the same. You can do so at Google Ads to verify how your ads appear in on Google Partner Sites along with Desktop and Mobile devices.
The success of PPC campaigns come from the experience. So, execute your ideas and experiment with different tactics to see what works for you.
Do let us know in the comments how you are planning to create an effective PPC campaign for your business.