Auditing an Instagram influencer account is a vital step to get profitable collaborations that can put your products and services to your targeted market's attention.
Marketers are always in a quest to finding reliable channels to promote their products and bring more conversions for their businesses. Whether there are services or products, promoting them through the right channels is one of the crucial elements behind generating profits.
As of now, the online marketing trends are constantly evolving and currently, user-generated content, aka UGC, are most relevant to the audience as 79% of customers accepted that UGC impacts their purchasing decision.
You can develop content as a brand, but content created by your customer or an individual will connect with a larger audience.
Therefore, you need to find people who have an engaging audience and can promote your product. That individual will try to influence the audience to try your products.
63% of marketers have said that they intend to invest more in Influencer marketing in the coming time, and Instagram is the most favorite channel for influencer marketing.
Instagram's ecosystem is built in a way that lets brands and micro-influencers convey the message is adequate to the right audience at the right time through creative ways.
Having said that, finding out reliable influencers is significant to get desirable results.
Usually, people fall for follower count and outreach that influencer to promote the products. But follower count does not mean everything, even though you target to reach mass but you must evaluate that you are communicating with the right audience.
Therefore, you need to do a little more digging to find out the right influencers for your business.
So, we are going to discuss how you can audit an Instagram influencer account.
Without further ado, let's dive straight in.
15 Tips to Audit an Instagram Influencer Account
1. See the Aesthetics
Before you outreach an Instagram influencer, you need to get through the aesthetics of their profile. The aesthetics are the signals to the Instagram audience to connect with a profile.
Below are the parameters that you can focus on when you begin auditing.
a) Profile Picture
Profile picture plays a vital role in setting up the tone and communication between the Instagram user and audience because the profile picture is the first thing that users see when they come to a profile.
It is like an icon to your Instagram property and creates the first visual appearance of your presence on the platform.
Influencer's profile picture must be aligned with the type of content they share on the channel.
See from the images below of how food bloggers have put relevant profile pictures as per their profile.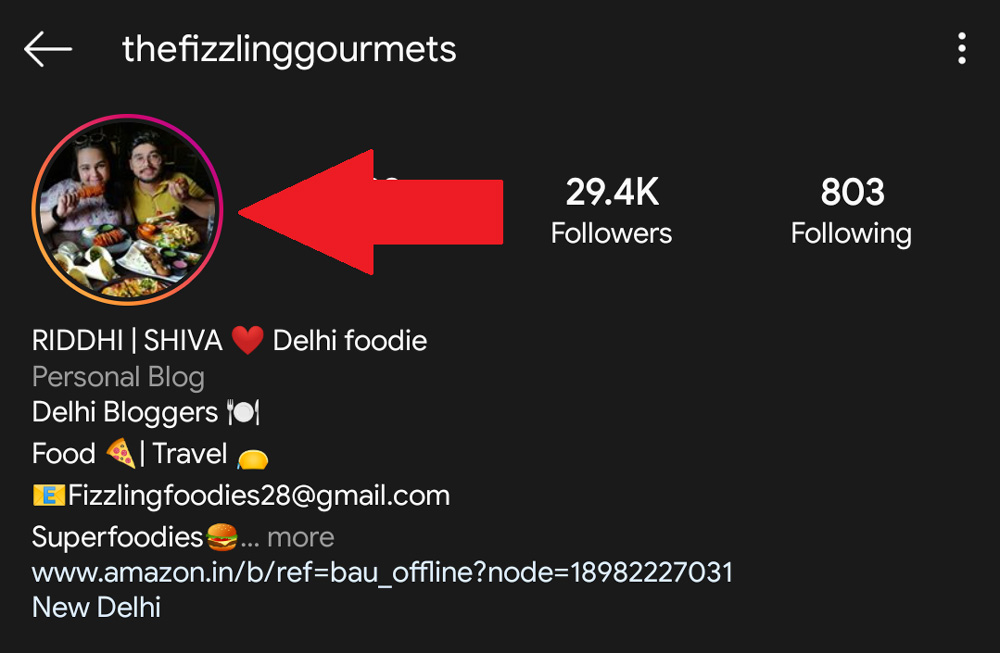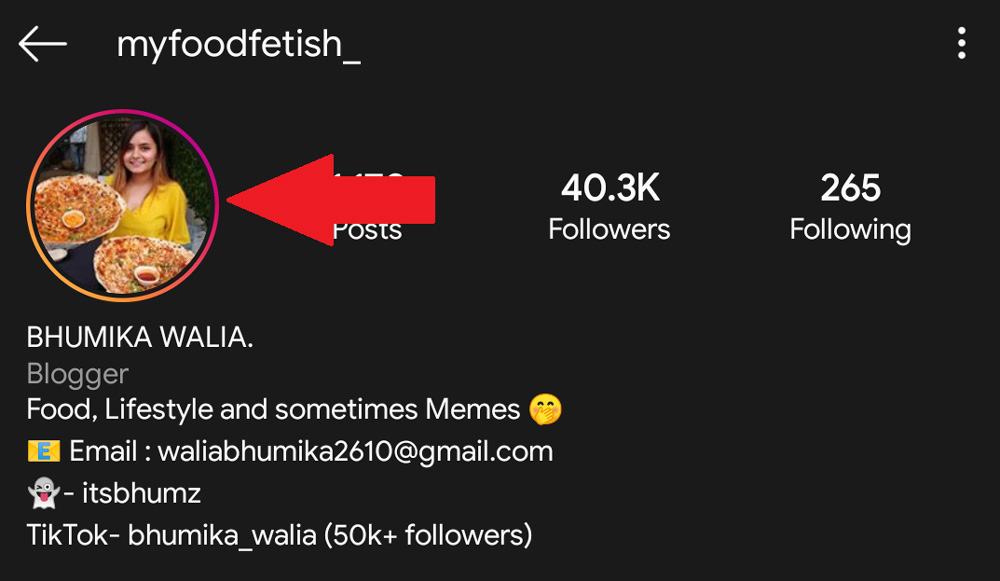 b) Bio
The bio of the Instagram profile is one of the first textual sections that visitors read.
So, whenever you visit a page of an Instagram influencer, you must know what type of photos you would see in the Instagram feed through their bio.
Bio can literally make-or-break a business opportunity for anyone. It should include what influencer is doing, which awards and accolades the influencer has got, what are the key strength that a potential advertiser can leverage for collaboration.
Also, make sure that relevant smileys and emoticons are also added to engage users.
See below images for few good examples of compelling Instagram bio.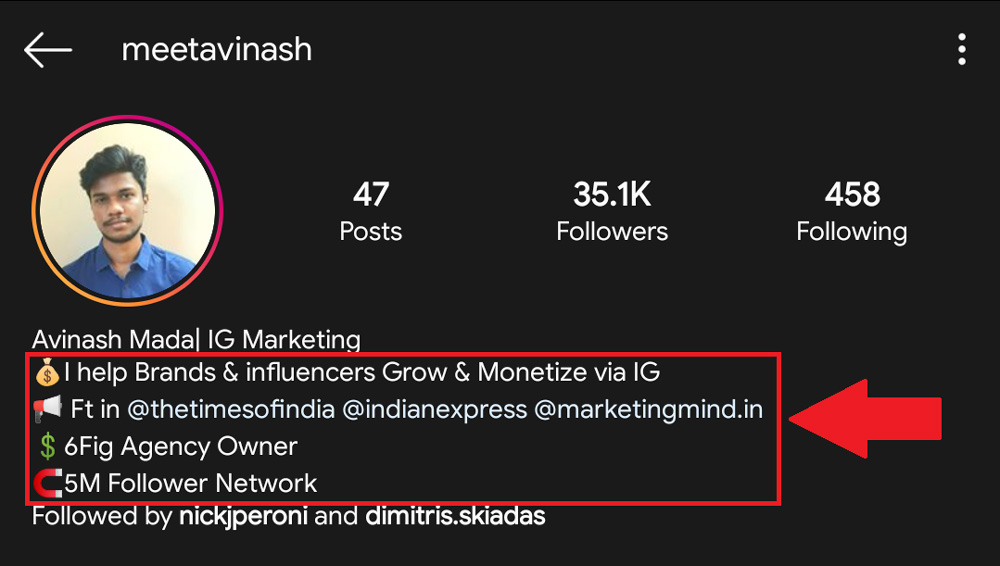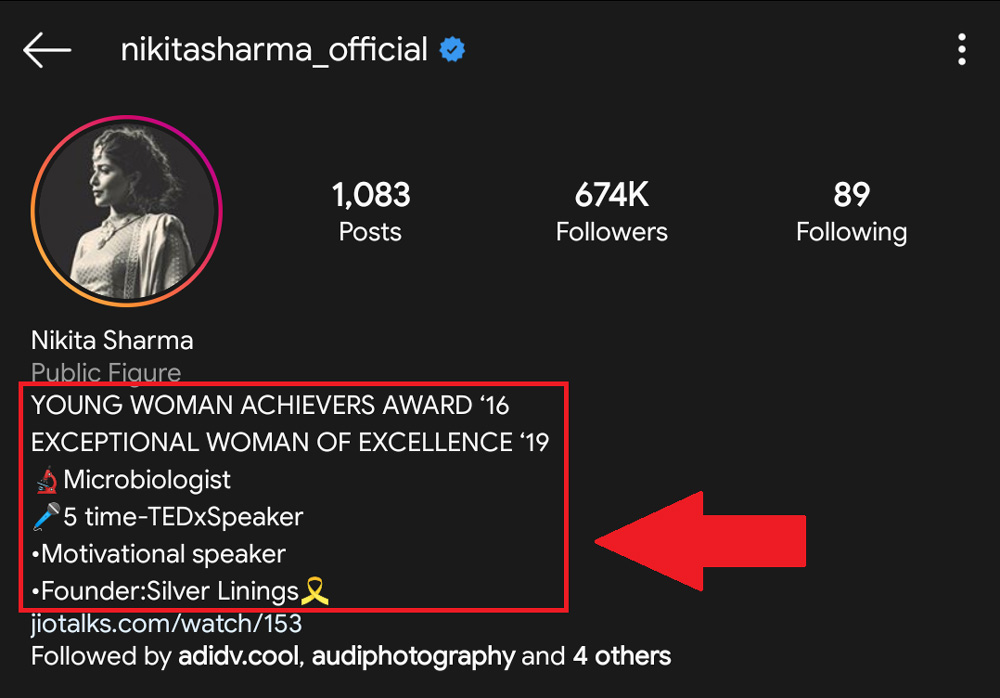 c) Context and Type of the Posts
The type of post that the influencers are sharing on their Instagram feed develops a reputation for themselves. Therefore, you must see what kind of content they are sharing.
Because the content quality matters a lot in the photo-sharing social media platform.
When you observe the type of post that is used sharing on their social media feed, you would be able to identify the type of content there are capable of generating. And based on that evaluation, you can collaborate, discuss and negotiate the kind of content you want from them.
If you are a kitchenware brand, you must see how food bloggers are sharing pictures on the platform. Do they share educational videos, IGTV, stories, posts, etc.?
Moreover, their posts should align with the claims written in their bio. If someone is claiming to be a certified bodybuilder, then the posts should serve as proof of it.
2. See Engagement
Engagement is one of the critical KPIs while auditing an Instagram influencer's account.
Even though someone has a million followers, but could not get a few comments on the social media post than it is a "red flag" signal. Most of their followers could be fake — which we will discuss below.
Instagram has removed the like count from the platform; otherwise, it would have been a lot easier to assess Instagram influencer's engagement.
You can focus on comments that they are getting on their recent Instagram posts.
Of course, the higher the number of comments the better engagement it shows because the number of comments shows how people are liking the content of the influencer.
Moreover, you must also see if the influencer answers the comments on their posts.
One cannot respond to hundreds of comments, in that case, a few responses would mean that influencer cares about what the audience is commenting on.
If the influencer does not bother to respond to a few comments, then how would the influencer react to the comments when people ask questions about your product that is reviewed in a post.
3. See How People are Commenting
Along with the number of comments, you should also focus types of comments are posted on the content.
Because of the type of Instagram comments, you would be able to judge the reputation of the Instagram influencer among the followers.
By going through comments, you can answer the below questions:
Do the followers respect and trust the content of the influencer?
Are there any negative comments or trolls in the comments?
Are there any spamming or unnecessary tags or hashtags in the comments?
If followers are acknowledging the content cheerfully, then the influencer is genuine.
If there are negative comments, cuss words or too many hashtags, avoid that profile. Even if you find comments that are self-promoting, then it is spamming. So, better stay away.
Therefore, you might have to do some manual work by reading a few comments on a couple of posts to determine the reputation of the influencer among its followers.
4. Read Captions
Captions are one of the most essential things in the social media world.
Even though images and videos are great formats of engagement, a good copy goes a long way and ensures a lasting impression on prospects.
A good caption cannot only entertain people but educate and pursue them to take specific types of action to elevate their lifestyle.
Therefore, before outreaching an Instagram influencer, you must pay close attention to the type of captions that they are writing.
Based on the type of caption, you can anticipate what kind of communication they are establishing with the audience on the platform.
You can assess whether they would be able to write a comprehensive review of your product or not.
5. Judge the Tone of the Profile
Every social media profile has a tone that embodies the communication and drives engagement to the Instagram posts.
Instagram profiles could be funny, witty, inspirational, motivating, or a combination of them. You can get the idea of the same from the bio, Instagram handle, captions, and posts.
Remember that based on the tone of the profile, it will have the audience who is used to consume that kind of content.
The comments on the post also indicate the tone of the profile. The type of image, videos, stories, highlights contribute to give a tone to the profile.
If the tone of the profile is matching with your brand, product or service, then you can work with the influencer.
6. Check Follower List
We judge someone's credibility on Instagram based on the number of followers they have, even though sometimes the content is not up to the mark, we value profiles based on follower count only.
Certainly, follower count is important because it determines the size of the organic audience; and you cannot reach millions of people through an account that has a hundred followers, period.
You can set a benchmark of follower count for your Instagram influencer marketing campaigns.
7. Mind the Fake Followers
There are tools, services, and tricks available that quickly increase the follower count of an Instagram profile. But these followers are not actual people, most of the time they are bots.
Therefore, you should be aware of these accounts and avoid collaborating with them.
To identify how many fake followers account has, you can use different online tools that give Instagram account analysis and show the report of fake followers.
The tools are
Because if you mistakenly collaborate with an influencer whose major followers are fake, then you could not target the intended audience through that collaboration.
Since fake followers are bots, of course, your post would have less reach and engagement. Therefore, evaluating the quality of the following is also essential behind the success of your Instagram influencer marketing campaign.
8. Assess Their Photography Skills
Instagram is a photo-sharing social media platform.
Therefore, those pictures have to be creatively captured to resonate with the audience and generate engagement for the profile.
While auditing influencer's profile, you should analyze their understanding of photography and know whether they have resources to capture crisp and entertaining shots.
Because even though the influencer has a huge fan following, but he or she is not capable of capturing quality photographs or videos. Your product could not get desirable social media appeal from the collaboration.
9. See the Destinations
There are so many self-proclaimed fashions, travel and lifestyle bloggers and influencers on Instagram.
Some people have written they love traveling and have visited many lavish countries and exotic locations.
But you must evaluate the locations that they have tagged to determine how truthful they are.
You must check what the destinations they have visited from the post of that social media feed are.
See the examples below.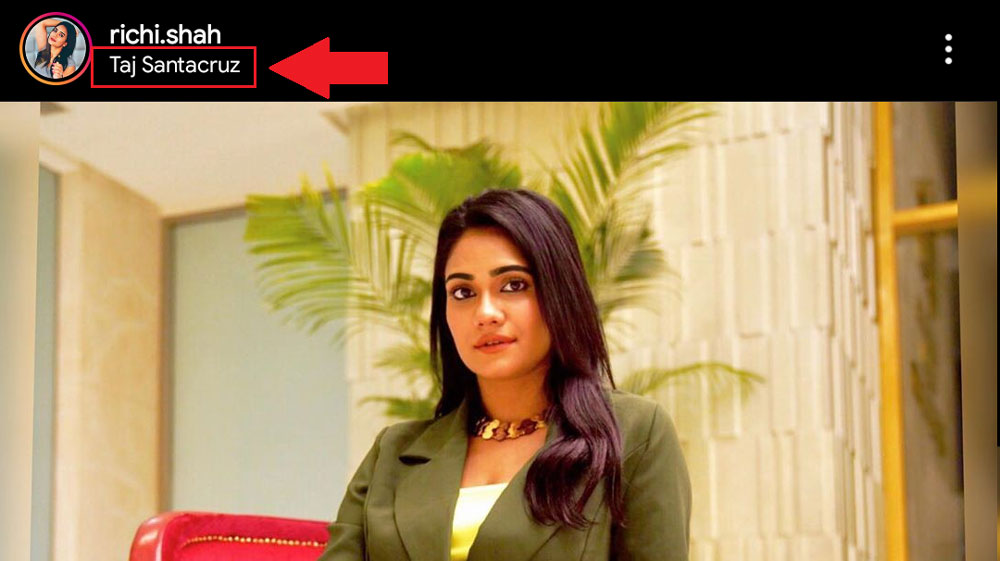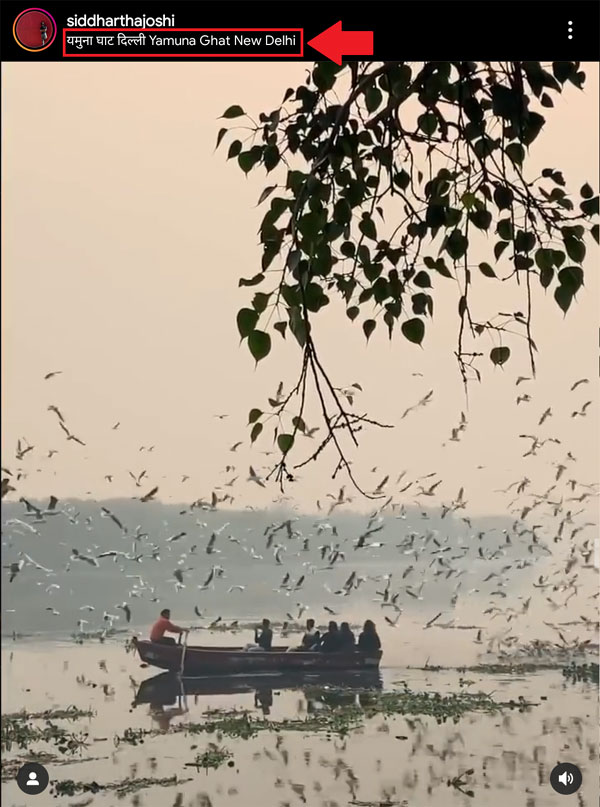 10. Focus on Stories and Highlights
Story highlights are a great way to engage first-time profile visitors and make them a lifelong follower.
Story highlights is an area where you can keep your stories, that would have otherwise lasted for 24 hours, forever in a separate collection that is important to you.
When you are auditing Instagram influencer profile, go through their Instagram story highlights to determine what type of stories and content they are sharing.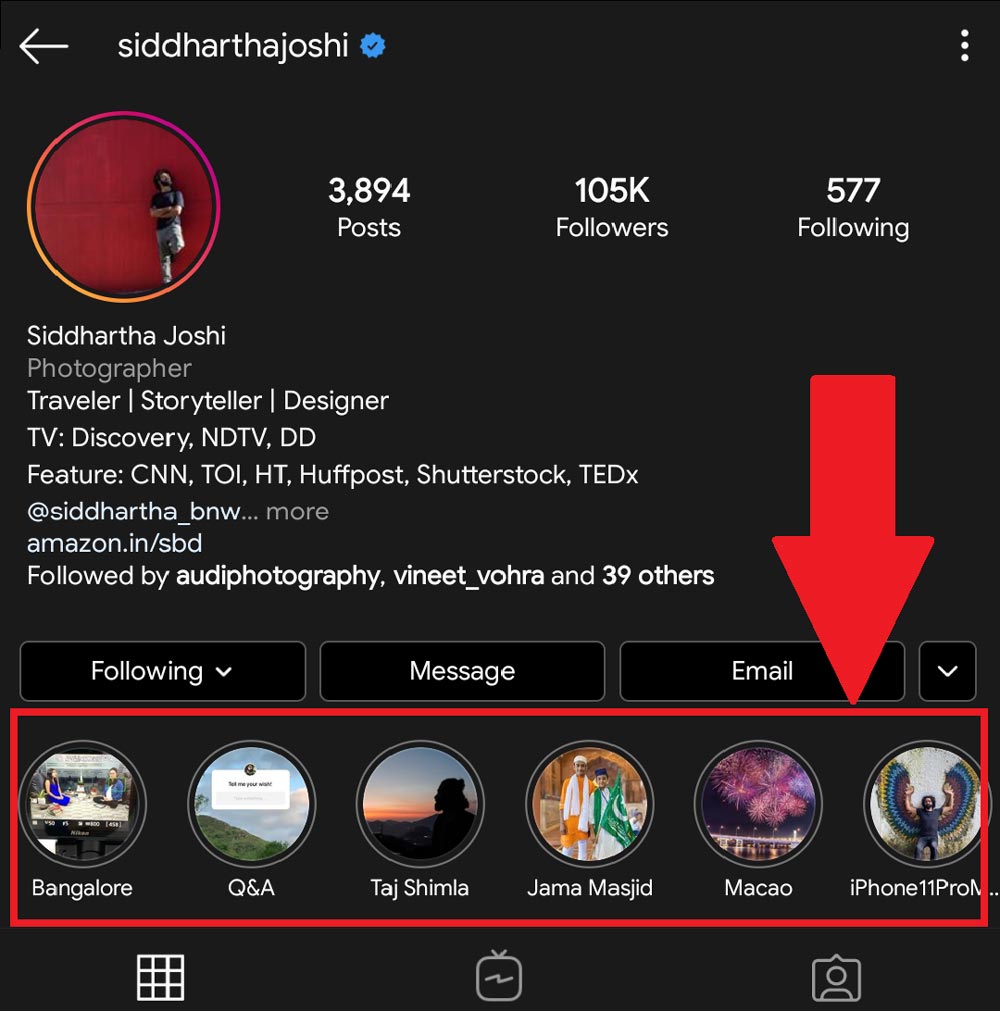 11. Checkout the Hashtags
Hashtags are critical to getting more organic reach, impressions, and engagement for an Instagram post.
For people who are hearing this for the first time, anything that has a hash sign as the prefix can be considered as a hashtag.
There are so many hashtags tools available that provide highly searched and engaging hashtags.
While auditing a profile, you should see what type of hashtags the influencer is using in their social media posts.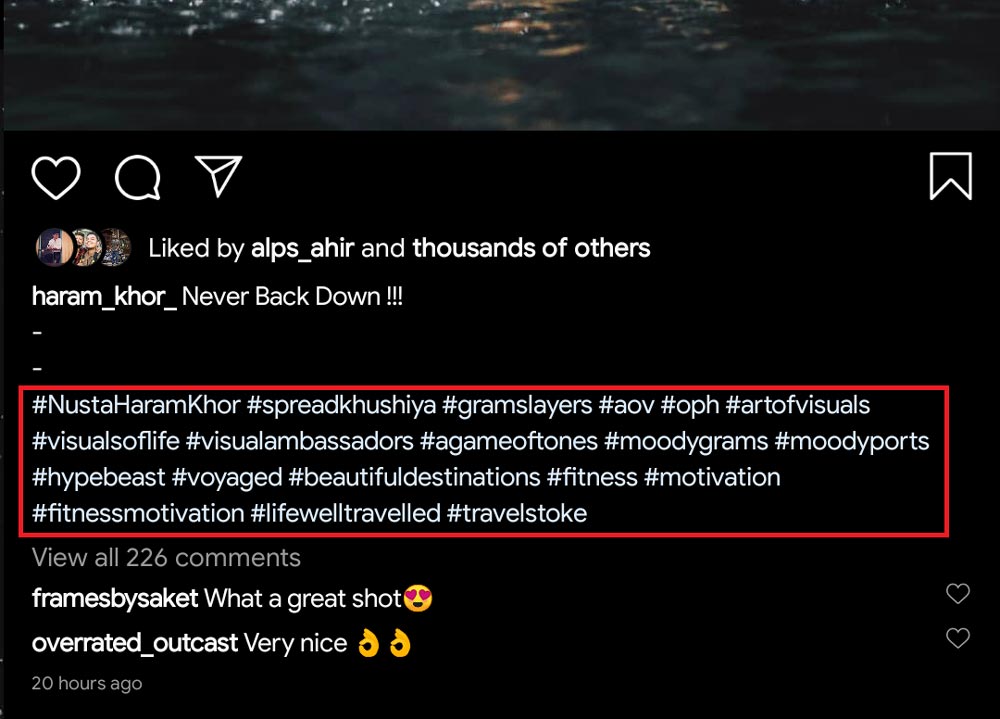 Make sure that hashtags are relevant as per the content. If somebody is sharing content on bodybuilding and health and fitness, and the hashtags should be relevant to that niche. Otherwise, the organic reach through hashtags for that post would not be appropriate.
Therefore, while auditing an Instagram influencers' account, you must judge their understanding of the social media platform by seeing which hashtags they have used.
12. Posting Frequency is Important
Posting frequency plays a vital role in maintaining the engagement on Instagram profile. If an influencer is sharing content frequently, that means they have a highly engaged and active social media channel.
The less active Instagram profile would have the inefficient organic reach and less-engaged audience.
So, as a marketer, you must collaborate with the influencer who is frequently publishing and active Instagram audience.
13. Ensure that It is a Business Account
By now, you must understand that you need to collaborate with the business account to get maximum organic reach and private profiles could not be seen by the other people.
Therefore, collaborate with only business profiles to make those posts public and accessible to all the users on Instagram.
14. Check the Followers:Following Ratio
In this era of digital communication, people go practice follow-for-follow where the follow back every individual who follows them on the platform.
However, an influencer should have more followers compared to the following.
While auditing and influencer profile, make sure that you want to collaborate with the people who don't have 1:1 followers:following ratio.
That means if somebody has 5000 followers, then he or she should not be following the exact number of people on Instagram.
See the image below where the followers:following ratio is almost 1:1.

See the below image, this ratio represents that the user has built a genuine audience on the platform. You must try to collaborate with such influencers, period.

15. Make Sure They Have Other Digital Property
Social media can be delusional, so you need to ensure that you are collaborating with a genuine Instagram influencer. Because anyone with good looks, decent fake following, and photoshop skills can claim to be an influencer.
An excellent way to check the authenticity of an influencer is to verify their other digital properties.
Make sure that they have an official website or another social identity so that you can collaborate with the genuine person.
You must go to different online platforms to identify the digital properties of an influencer.
The first and foremost resource that you can rely on is Google. Just go to the search engine and type the name of the influencer to determine their digital presence on other platforms.
A reliable influencer might have published an equality article on other websites or they might have a blog with their author profile. You can also come across there interviews on news websites when you search the name on Google.
Moreover, there are other tools available that can give you the influencer score of a profile based on their internal algorithm and calculation.
Conclusion
Keep these tips in mind while auditing an Instagram profile.
I hope you have got valuable insights to assess any influencer's account for your Instagram marketing purposes. I would love to hear your feedback in the comments below.