Influencer marketing platforms are helping hands for advertisers for various reasons.
The term "influencer" got added to the vocabulary of people since the evolution of digital marketing.
However, influencer marketing is always in trending whether it is digital or mainstream advertising.
A product recommended by a renowned personality or a celebrity on television or radio is always the tactic for brands to get more customer exposure for their brand.
The marketing activities for every brand is different. What works for a specific type of brand might be a total disaster for another brand.
It is not suggested to go with the flow and replicate any influencer marketing campaign that went viral on the web.
As per your brand, you need to decide which platform is ideal to channelize your marketing efforts in order to generate more brand value.
Moreover, influencer marketing is a turtle's game.
It is a slow-paced game but once you have established yourself, it gives tremendous ROI.
Brands and advertisers need to be extremely patient and persistent in believing in Influencer marketing.
If you are thinking that once a celebrity posts a video or uploads a story in their social media accounts, the money will start flowing in my bank accounts then you are living in fairyland.
Influencer marketing does not give you conversions like this.
With long vision and smart investments, you can stand out of the pack in some time.
So, out of all the social influencer platform and influencer marketing software, we have made a list of those platforms that can help you in your marketing activities.
12 Best Influencer Marketing Platforms to Build Your Brand in 2020
Ninja Outreach can transform your email marketing campaigns by helping you to cope with lead generation campaigns.
Furthermore, it can give noteworthy inputs for your cold calling and cold emailing activities.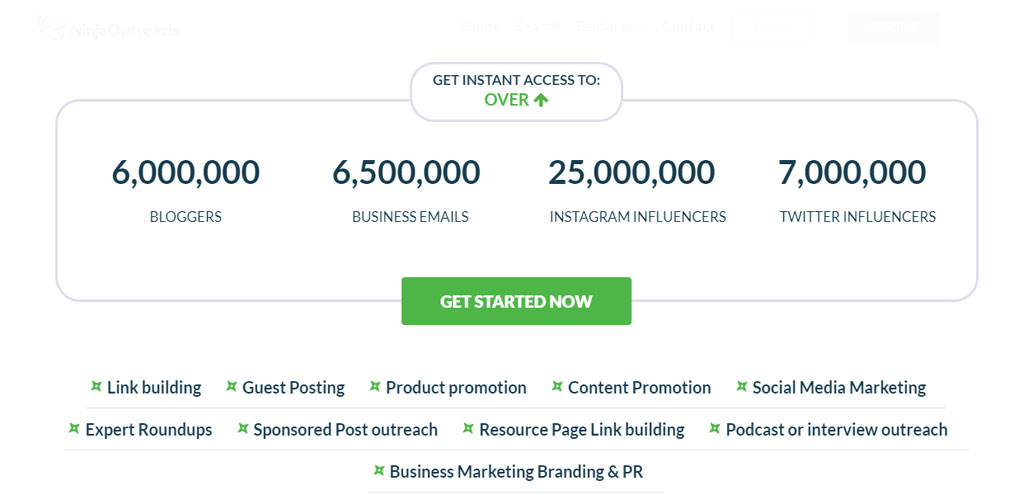 Along with the email address of the organization, this tool also provides a list of influencers for your targeted social media users.
With a comprehensive list of Instagram and Twitter influencers, you can know who is doing serious social media marketing for their personal brand and reach them for collaboration.
Finding perfect influencers for your campaigns is a tedious task.
You need to aggressively surf throughout a particular platform to know who are the perfect influencers for your targeted audience and whose online activity with your brand can give you more media coverage.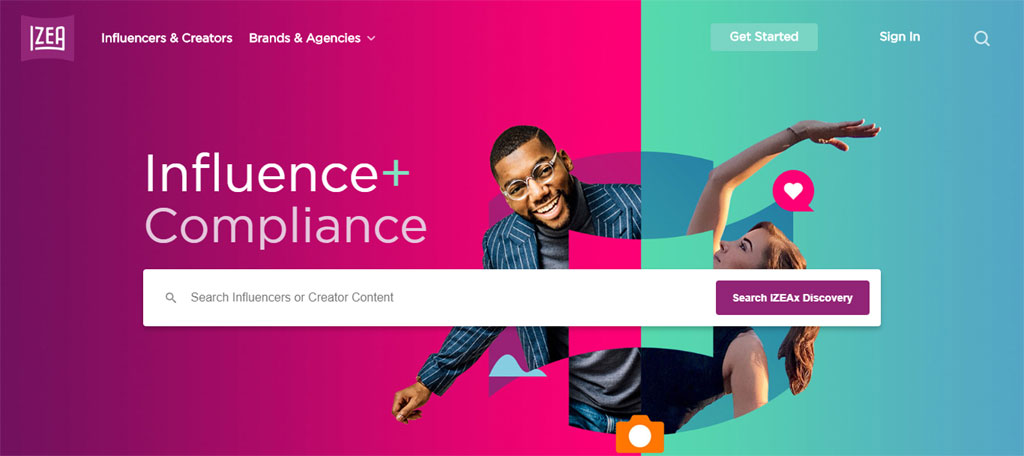 Well, it is extremely time to consume to list out influencers, contact them, and do further steps of collaborating.
To streamline everything and find quality influencers in lesser time, you need a productive influencer marketing platform like IZEA.
The platform is a marketplace with an excellent database of social media influencers, bloggers, journalists, etc.
You can connect with the content creators, share your requirements, and skyrocket your influencer marketing campaign.
In the process of content marketing and influencer marketing, contacting, communicating, and converting a prospect is a usual path.
However, it might happen that with the passage of time, it becomes tedious to keep track of every conversation that you had with each prospect and maintain healthy relationships with previous prospects.
That's when Mustr comes into the picture.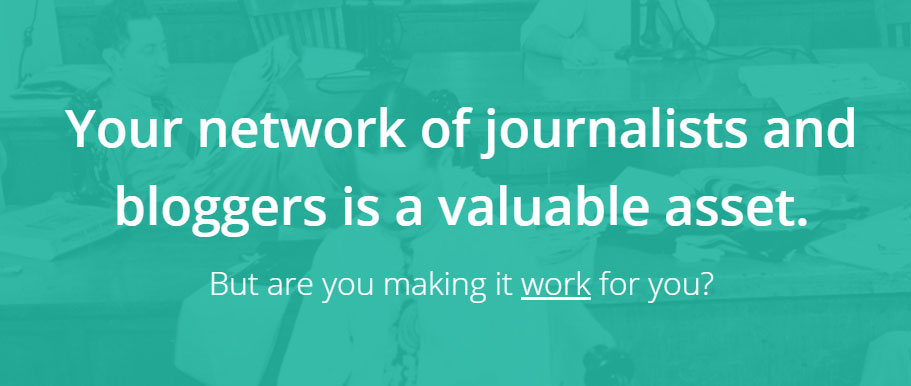 Mustr allows you to create healthy relationships with prospects and build strong media relations with bloggers, influencers, etc.
Moreover, when you initiate conversations with a few journalists or bloggers, it might happen that you lost track of people whom you contacted or who responded to your email.
With Mustr, you have a detailed report of current development with every prospect in one place.
Last year Forrester named Aspire IQ as the "Leader" in influencer marketing solutions.
Aspire IQ makes a profound impact by giving versatile influencer marketing platform to the advertisers.
It is a self-serving where SMB and agencies can help themselves in finding perfect influencers out of 150,000.
Aspire IQ has a machine learning algorithm that provides reliable influencers' details based on the quality of their posts, the amount of engagement they are getting, and the emotional intent behind the comments on their posts.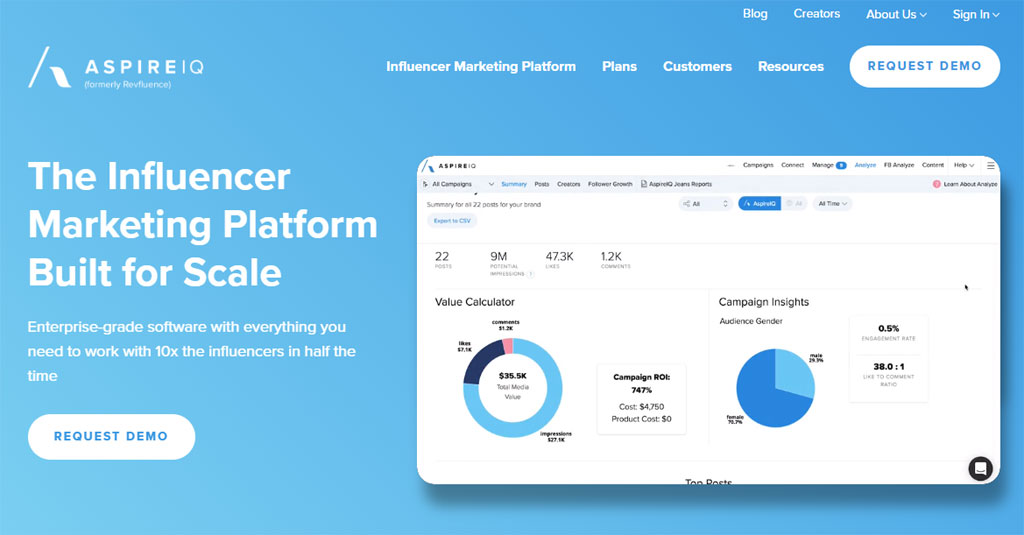 Furthermore, brands don't have to shift to other mediums to communicate through those social media influencers.
They can mass-communicate from Aspire IQ and record their responses from a single dashboard.
Aspire IQ also allows you to create content from its platform, track the campaigns' developments, reach, and engagement of the audience.
Intellifluence is an influencer marketing platform that facilitates the partnership of brands and influencers.
They are now home to the world's biggest influencer network, ensuring each of the influencers has joined in on their own and are happy to collaborate with brands.
In over two years, Intellifluence has reached over 81,000 influencers with an estimated presence of over 3 billion.
With no commitment, influencers can access the network for free and advertisers can select a product that fits their needs.
Brands can develop promotions for the influencer community with promotional deals or use the Discover tool to scan for influencers in multiple countries and through all common social media channels and blog networks.
Upfluence provides functionalities that allow companies and agencies to find, connect, and manage an influencer marketing campaign.
The platform is divided into two products that can either be used together or separately.
One is Reachr and another one is Publishr.
As their name suggests Reachr allows the advertisers to browse through the web and find key influencers who can advertise products.
Reachr has its own uniqueness as it gives online influencers for more than 200 industries.
Furthermore, you can filter-out influencers on 50 different parameters.
This way, you can have ideal social influencers within a few minutes.
Thanks to the brilliant search engine of Upfluence.
Needless to say, a further line of communication like contacting, negotiating, responding, approving, etc. can also be done from the Upfluence dashboard too.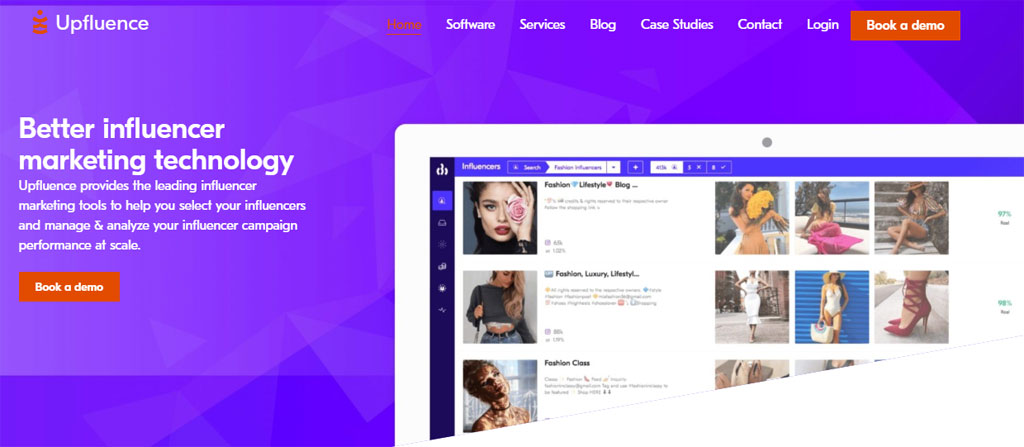 The native advertisement also falls under the category of influencer marketing.
Say a Journalist wrote a review about your products in a leading website of your industry, your media outreach will be increased tenfold.
Well, blogger outreach or cold emailing is a different topic altogether but at Upfluence's Publishr section, you can find relevant people who are authorized to publish sponsored content on the high-quality website.
Publishr allows you to find trustworthy writers, communicate with them, and track the campaigns.
Usually, any online platform especially a marketplace, makes employers and employees sign up on the platform to get connected with each other.
Many influencer marketing platforms are also working with this phenomenon except NeoReach.
NeoReach won't show only those influencers who have signed up on their platform.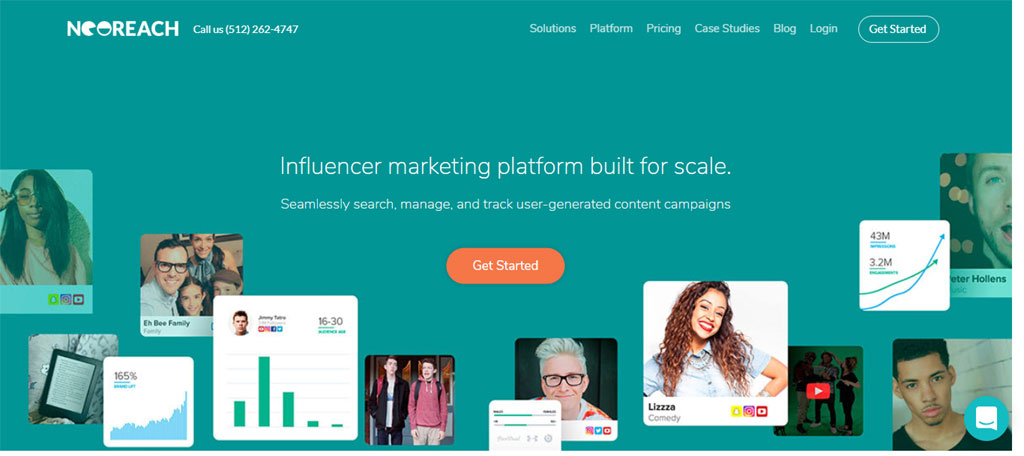 With the database of 3 million online influencers, NeoReach dynamically searches relevant and ideal influencers across the web and shows the result.
Although it is a self-serving influencer marketing platform, NeoReach has a unique feature known as "Managed Campaigns".
Here, the platform automates the marketing campaigns on behalf of the advertisers like some influencer marketing agency.
The feature is time-saving for the advertisers who manage busy schedules in their routines.
Other functionalities of these tools are campaign management, ROI tracking, social media monitoring, payment tracking, filtering influencer search, etc.
Trusted by leading brands like Airbnb, Honda, The New York Times, Amazon, etc.; NeoReach has successfully managed influencer marketing campaigns worth $250 million.
8. REP – Free Influencer Marketing Platform
REP is another lucrative influencer marketing platform that allows people across the globe to get connected and have a professional relationship.
A unique selling point of REP is a free influencer marketing platform.
Yes, unlike most of the platforms, it does not charge any subscription cost or sign up fees to avail the services.
It is freely available for anyone who wants to do influencer marketing.
It allows a customized search of influencers.
The idea behind developing this influencer platform is to create a healthy environment for people who have less than 5000 followers.
One of the officials of REP believes that nano influencers have at least 8% engagement rate which is decent for SMB advertisers.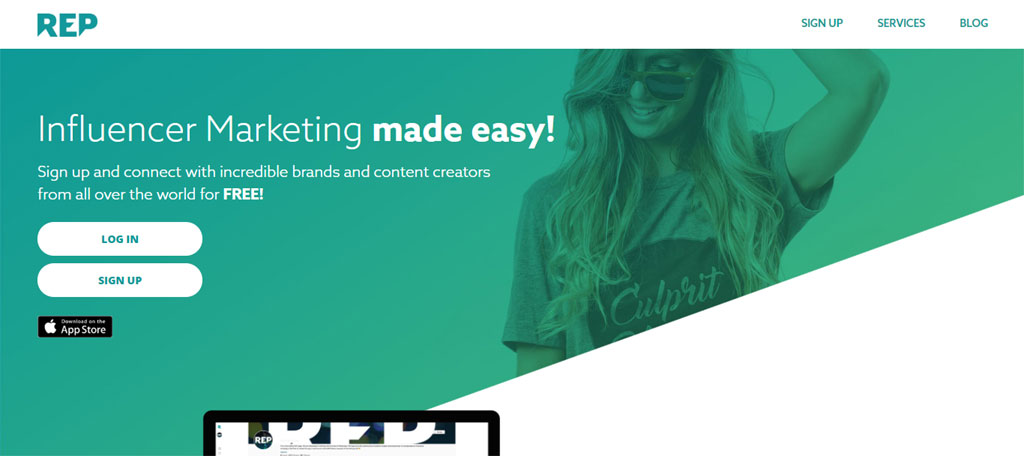 The objective behind any influencer marketing campaign is to get quality media coverage.
Social media influencers with more than 100,000 followers do have higher reach but they might not give lucrative media coverage that is suitable for your products.
Moreover, these influencers are expensive, and return on investment might not up to the mark.
If your target is local, going for nano influencers is cost-effective for you.
Because they might have a smaller number of followers but the amount of attention they bring to your local business is lucrative.
With their iOS app, Apple users can also access this platform from their smaller screen smart devices anytime and anywhere.
Sometimes, influencers are too hard to convince.
You might have to take follow-ups and stay in touch with them to ultimately convince them to collaborate with your brand.
It is a tiresome task to get an influencer aboard and continue to get the media coverage from them.
Most of the Influencer marketing platforms on the web are making the advertisers go through their platform, find influencers, connect them, convince them, and so on.
However, with FameBit, you have a reverse scenario.
Here, the advertisers don't have to waste their time finding influencers and engage in further activities.
They just have to post their campaign requirements with all the necessary details and influencers who want to work for them will contact them.
FameBit follows the idea of freelancing marketplace like Upwork, Guru, Fiverr, etc.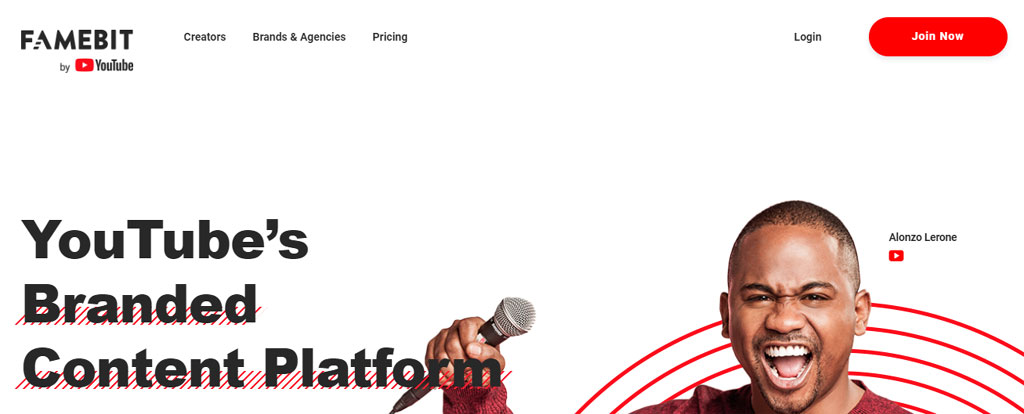 FameBit is owned by Google.
It started fetching YouTube influencers initially but now can get the influencers' details from other leading social media platforms like Tumblr, Twitter, Facebook, etc.
Another interesting thing to note is there are no sign-up costs or monthly subscriptions that people have to enroll to use this influencer marketing platform.
FameBit charges 10% of the actual transaction made between advertisers and influencers.
Hence, no need to invest money just to use the platform.
You only have to pay to FameBit if you have a successful project execution.
People on social media platforms usually follow celebrities or people whose content they find interesting.
Hence, their following list is a goldmine to find relevant influencers.
You will find all the potential influencers for your brand at the same place.
However, the challenge here is to find the customers and fetch their following list from social media platforms.
The tedious task is done by a tool called Gatsby.
It scraps the following list of your consumers and helps you achieve your objective seamlessly.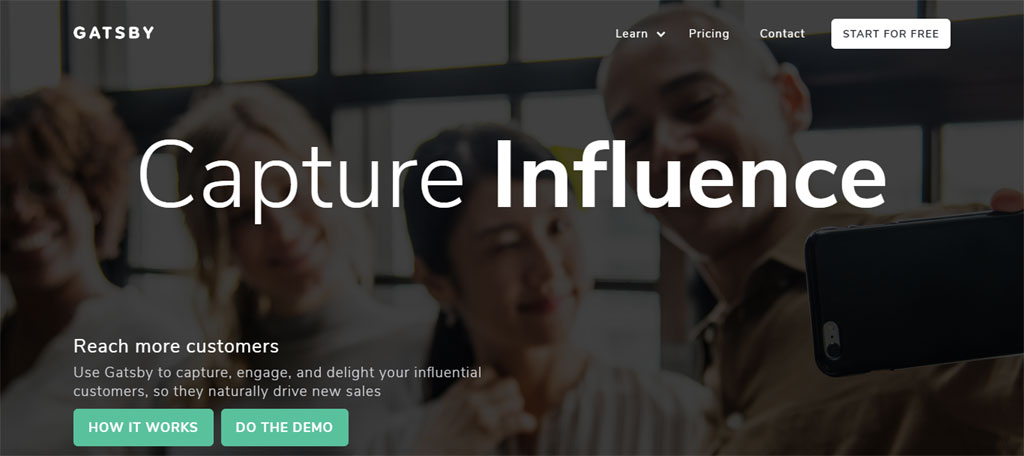 Thanks to Gatsby, you don't have to surf and search for different social media platforms to find influencers for your campaigns.
You can utilize that saved time in crafting the campaign.
Gatsby also has an email platform through which you can connect with those micro-influencers and pitch your requirements.
Ever thought of leveraging Snapchat for influencer marketing?
Although the platform has significantly lost its charm in recent times.
However, millennials are still active in this mobile-specific social media platform to share their day-to-day activities because the users spend more than 30 minutes daily on Snapchat, reports a source.
For a specific type of product, you might realize that your potential consumers are proactively using smartphones in their routine.
At that time, it is better to craft your influencer marketing campaigns just for mobile-friendly social media platforms like Instagram and Snapchat.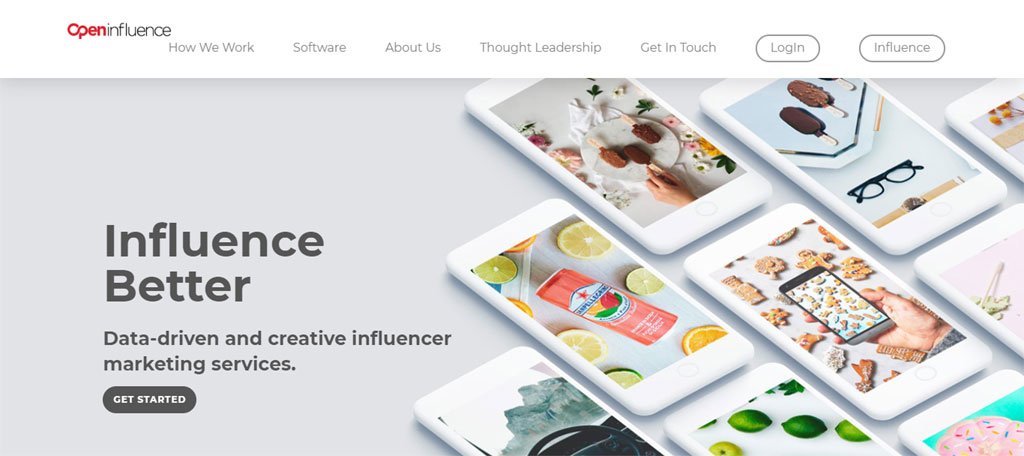 Open Influence is one such influencer marketing platform that specifically focuses to help the advertisers create dynamic Instagram or Snapchat campaigns.
With its user-friendly dashboard, you can search for an influencer using keywords.
You don't have to give any criteria or follower count, unlike other platforms.
Moreover, Open Influence also has other features like connecting with influencers, tracking your campaigns, generate customized reports, and measure return on investment of your campaigns.
As we have already discussed, finding influencers from the influencer marketing platform and filtering them out to get only the relevant social media influencers is a long procedure and requires too much time and energy.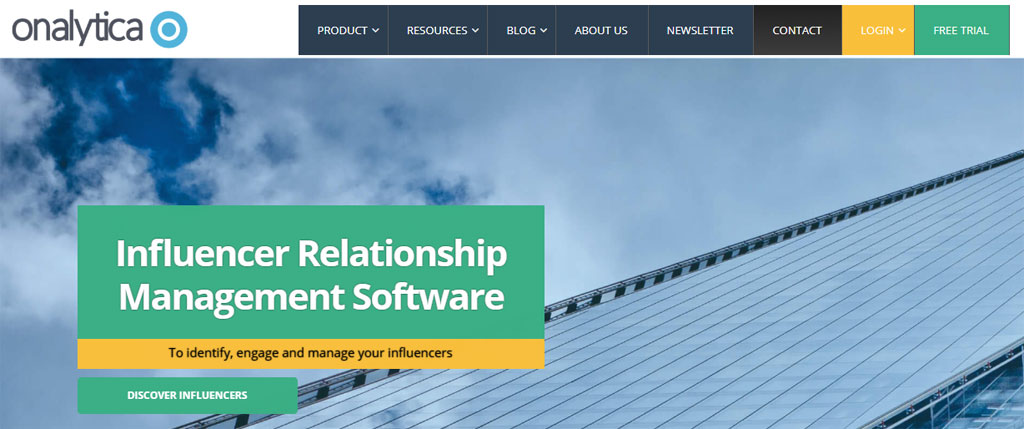 OnAlytica has a unique solution to this matter.
Whenever the advertisers search for influencers, OnAlytica creates a list.
Moreover, people at OnAlytica manually checks the list of influencers from their end to double-check the relevancy.
While the manual checking, if they find irrelevant social media profiles on the initial list, the team discards from their end and save the time of advertisers.
Concluding Notes
There are tons of influencer marketing platforms available on the web that can help you skyrocket your online marketing campaigns.
According to a study, influencer marketing generates 11% more ROI than other forms of marketing.
If you have used any of these platforms, do let us know.
Also, share any other lucrative influencer marketing platform that is not mentioned here. See you in the comments!