When it comes to boosting the online presence of a business, blog or site, selection of right SEO company plays the most pivotal role.
SEO or Search Engine Optimization when done right can do wonders for a business.
It can improve your brand's online presence, increase brand visibility, rope-in more quality traffic, boost sales, and most importantly can help you concentrate on running the business rather than dealing with the complex search engine algorithms to ensure a good ranking.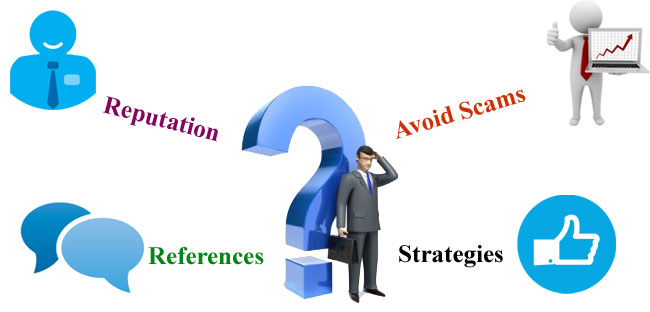 If recently the thought of hiring an SEO consultant or agency has crossed your mind, then it will bid you well to be aware of the 'dos' and 'don'ts' that one must stick to while entrusting the task of handling your company's SEO.
The 'don'ts' to steer clear of:
• Don't Rely on the Google Search List
While in the quest of choosing the best SEO company, fight the urge to Google 'The best SEO company' or 'the best SEO company in Delhi'.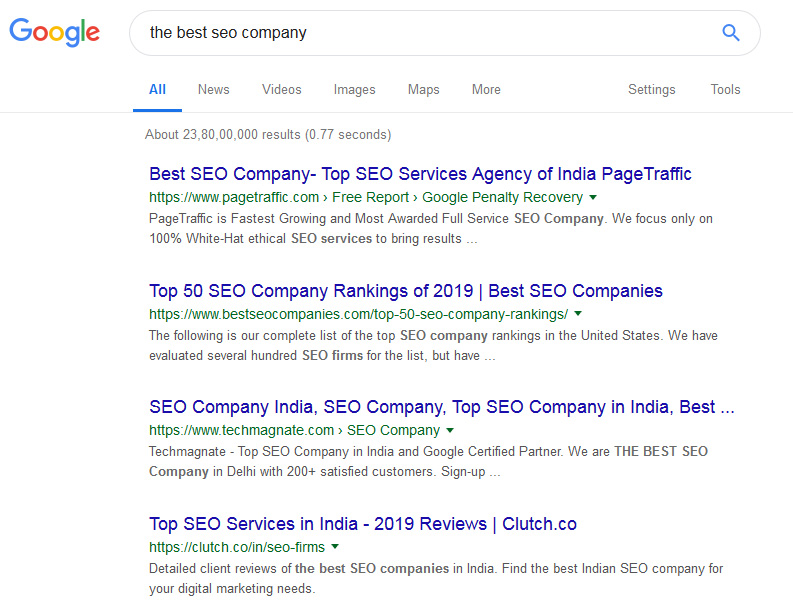 Yes, like always Google will bring out a whole search list before you to read from, but in reality, choosing an agency or consultant in this way may not be fruitful.
Why Do We Say That?
That's because the SEO companies that are actually good and have furnished great results may not come up in these search results.
Good companies who really know about SEO are usually too busy doing their work and they automatically end up having a huge number of clients through referrals for their great work. Therefore, the companies that are actually good do not invest their time in popping up high or more in the search results.
• Don't Blindly Trust Those 'Top 10' or 'Top 20' Lists
Well now, if you did google, 'The top 10 SEO companies in India' or 'The top 20 SEO companies in Delhi' prior to reading this article then you must have stumbled upon some websites that provide you some SEO company names that are supposedly ranked 1st, 2nd , 3rd and others, based on their merit.
However, these websites, in reality, do not give you the truth, rather they are aggregators who initially invest in ranking up themselves in the search engines and then go to companies and ask them for money to give them their desired ranking in their supposedly top 10 or top 20 companies lists.
These lists do not guarantee that a particular company is good as they are just featured in this list because they paid a certain amount of money to the respective website.
• Don't Fall Prey to the 'Secret Sauce' Sales Pitch
Yes, SEO might be too overwhelming if someone is absolutely new or was until recently unaware about it.
Sometimes companies, usually the low-quality SEO companies take advantage of this unfamiliarity and give a grand sales pitch to their clients. They usually start with, How Google works and how they have developed a secret methodology through which they can ensure an effective Search Engine Optimization for your brand.
If an SEO company declines to explain their process based on which they are promising you such awesome results then it a big red flag. SEO, though complex, is pretty open.
There is no room for any secrecy and the company which says they have a secret sauce by which they will raise your company to the top is just deceiving.
How to actually go about choosing the best SEO company.
Steps to Choose the Right SEO Company for You
STEP #1
The first and foremost thing to do before searching for the best SEO company is to have a clear idea about the objectives that you want to achieve by ranking up organically.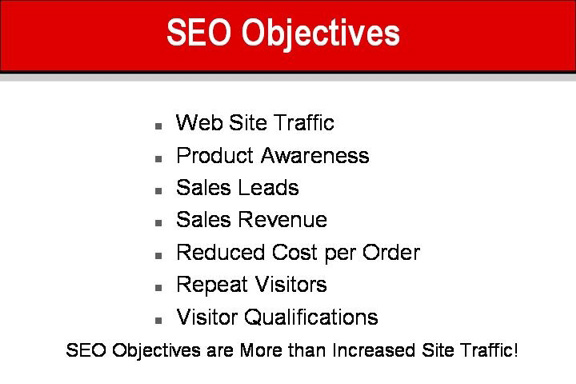 For this, you might want to hold a meeting with your whole team. Come up with a bunch of goals that can be satisfied by doing search engine optimization and decide which parameters are going to serve as the indicator for judging its success and failure.
Which Ones are the Good Goals?
Increasing traffic from a certain group of people, who are beneficial for your business in some way.
Looking for new leads to promote sales and increasing the revenue generation.
Trying to build a brand image.
For increasing your sign-ups and downloads.
Which Ones are the Bad Goals?
Just looking for increasing general traffic for no apparent reason.
Just ranking up for vanity.
Defeating competitors for certain keywords.
STEP #2
When you are done with setting your goals, the next step is to compile a list of at least 3 to 5 SEO agencies or consultants.
You should also be aware of the different services that SEO agencies offer and do their competitive analysis.
This can be again done, by looking into some of the criteria you are looking for. You may have some preferences based on whether you want to have a regular face to face conversation with an SEO expert or you are ready to get things done remotely.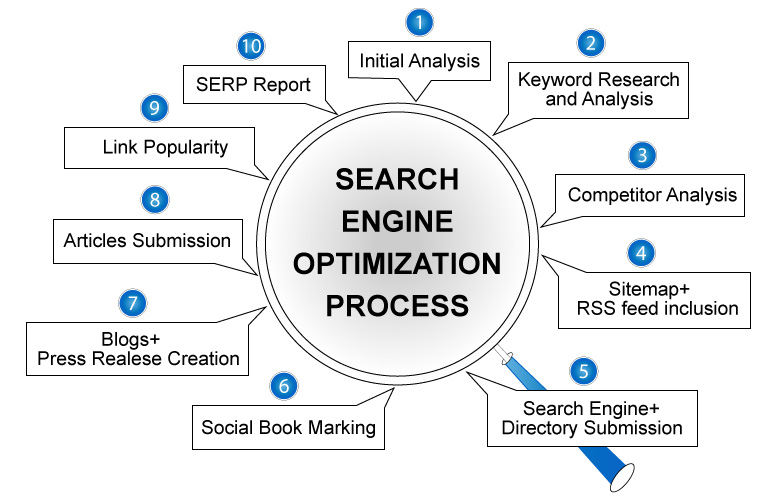 Further, the budget may be another constraint that may govern your selection.
If you are having a hard time coming up with the names of the best SEO companies to include in your list you may want to explore some of the good sources for some guidance. These good sources can be the people in your personal and professional network.
Some SEO expert, whose account or blog you follow or it can be even some other companies who have opted for SEO service and who are not your direct competitors.
Below is the list of some questions that you must ask while hiring an SEO company or consultant:
How ranking on Google works and as an SEO agency how their work influences the same?
What steps they are going to take to meet your goals and why they are choosing those steps?
What metrics they usually work on? How they are going to report the performance and how often they are going to communicate the status of their work?
What data they are going to require from you? What resources do they want from you to realize your goals?
STEP #3
Five crucial parameters that should influence your decision:
1. Communication Match
You should be able to easily communicate with the chosen SEO company for a free flow of information between you and the agency. Things can prove bad in the long run if the company you choose is good at their work but you feel annoyed each time you walk out from a meeting with them. Communication is a critical factor.
If there is a stark mismatch in both of your style of communication, it's good to give this relationship a pass. For a smooth work relationship as well as for quality work to be achieved, it's essential that both parties understand each other clearly as well as can tolerate each other for long periods of time.
2. Trust
Trust is another crucial factor that should have a great influence on your decision of choosing an SEO agency. Now, trust can be established in an SEO company in several ways. First, you may ask them about their work portfolio, their previous experience, and the types of clients they worked with.
When everything seems smooth, you can also ask them about their action plan and reaction for a hypothetical situation which they might encounter while working on your project. If their answers are able to impress you then that's great news! You can consider them to be your SEO agency. Sometimes even a small conversation can help you decide if the SEO agency is genuine and trustworthy.
3. Referrals
Referrals are a great way to compile a list of good SEO agencies. It is even better if an online SEO company has many referrals. When you make a list, fix up a meeting with each SEO company and see if your goal aligns with their type of work.

Referrals should be seriously looked into, especially if it has been referred by a trustworthy source. If someone you trust has benefitted from what the SEO agency had offered them, then the SEO agency deserves to be considered by you.
4. Price
Price is definitely a deciding factor when it comes to choosing an SEO agency. Generally, a company already has a budget in mind when they are searching for search engine optimization to be done.
However, try to stretch your budget a little bit if the SEO consultant or agency has rave reviews and has also furnished impressive results in the past. It is at least better than hiring an SEO agency that charges low but also doesn't produce any result.
5. Contract Structure
In the process of selecting an SEO agency do pay attention to their contracts or agreements. Generally, the contract of SEO agencies is similar to that of any other consulting services. However, still, it is advisable to thoroughly go through the entire contract.
How Much You Have to Pay Upfront?
How frequently you have to pay are some of the answers that the SEO company contract or agreement should answer. The SEO service agreements usually are of the same type. However, some SEO companies are also known to be a little creative with their pricing. Most of the time it is nothing to be worried about, but be cautious of any clause that seems nonstandard.
Some Additional Expert Tips
i) When high-quality SEO professionals are out of your budget then you can ask them for their valuable advice on the SEO work that is required to be done. Further, if they are open to train a novice, then it will bid well for you to invest in an SEO beginner, especially if the person can be brought in-house.
ii) If SEO is critical for your company consider creating an in-house team. Initially, you can opt for external online SEO companies, but after you gain some idea about your SEO requirements and possess the budget then you can go for your own in-house SEO experts.
iii) Prefer hiring an SEO company that has its own in-house team. When it comes to achieving higher ranking for a website there are several factors that need to be improved. Website layout, content, and website design are some of these factors. Selecting an SEO company that has its own in-house team consisting of professionals who can offer you the full SEO service, makes it easier to accomplish the desired results.
iv) Again since you are choosing to outsource the SEO services. It is imperative to check, how much the SEO agency is reliable and how much they are accessible. If the SEO agency is in the same city, you can still manage to arrange a face to face meeting with them. However, if the SEO agency you are considering is placed out of station do check how prompt they are with their mail, phone calls, skype calls, and others.
v) SEO is not only competitive but can be extremely expensive. If you feel, at this point of time your business really doesn't require SEO then you can give it a pass. Only opt for SEO if it is really required and if you are ready to invest your valuable time, energy, and money in it.
How Much SEO is Going to Cost in India?
As mentioned earlier, SEO costs comprise one of the crucial factors that influence which SEO company one should opt for. However, if you are new in the quest for an SEO agency or consultant then read on to know how much the right SEO is going to cost you.
First, let us remind you that SEO is a service, not a commodity. Therefore, like any other service, the cost of SEO also varies based on the features chosen. Second, SEO costs are customizable and it can be tailor-made to match your budget. Third, SEO costs depend on certain factors.
Factors Influencing the SEO Costs have been Discussed Below:
• Keywords You Want to Rank Against
Now, there are keywords that fall under the category of having low competition, medium competition, and high competition. Keywords that are frequently searched by users or which have a high search volume are also usually the ones that are high up in the level of competition. Since the SEO specialist will need to invest more effort in ranking up your website against these keywords in such cases; it is also going to cost you more.
• The Degree of Competition Present in Your Niche
SEO costs hugely depend on the niche of your business. If you are operating in a niche that doesn't possess that much competition then you are about to receive good news! Low competition means low SEO costs. However, if your niche is the one involving a high competition then the SEO expert needs to employ more effort and hence a higher price.
• How Well-Established is Your Website
The amount of work needed to make your website SEO friendly is another factor determining SEO cost. Generally, websites that have been operational for long, have quality content and have SEO friendly design and layout are not going to be too expensive. A well-established website consisting of pages that have good content is easier to rank higher in search engines. The farther your website is from these criteria, the more it is going to cost you.
Choosing a Suitable SEO Package
With some research, you must have noticed that SEO doesn't come with a fixed price tag.
Now, why is that? The reason for that is-Just like your website, the cost of your SEO package is also going to be unique. Before giving you a price, an SEO specialist will first go through your website, hear your goals and then disclose the work that needs to be done to achieve your desired results.
This means your SEO package and its price is going to be unique. Here, also note that a skilled SEO professional will definitely ask to go through your website. Anyone who claims to be a good SEO specialist but prefers to skip having a look at your website is a big red flag.
Again if the price quoted to you by the SEO specialist seems to be too good to be true then it probably is. Beware of such SEO agents because you may end up having a poor quality SEO.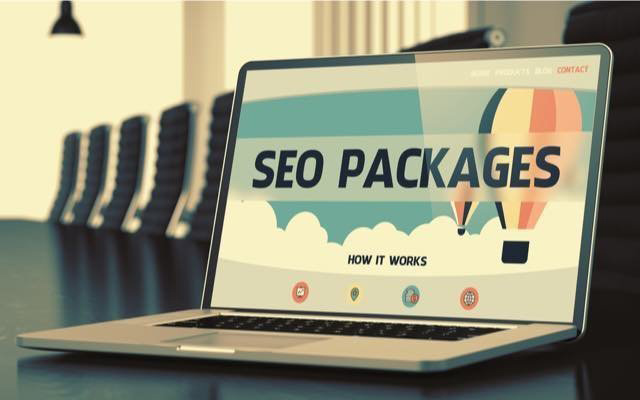 The time an SEO expert spends to optimize your website is directly proportional to the cost of the SEO package. Other factors that may influence the cost are the number of domains, backlinks, webpages, keywords, crawlers, and mobile website.
If so much talk about SEO cost is stressing you out, then have a sigh of relief with the fact that SEO costs are highly customizable and it can be tailor-made to achieve your objectives as well as fit your budget. Just while deciding on your budget for SEO do remember that the cost of the service can vary based upon your particular niche and the existing competition.
While opting for SEO, always remember that it is a long term commitment. You may not see the results right away. However, this absolutely doesn't mean that you should go for Black hat SEO that produces quick results. Black hat SEO techniques are not only harmful to your website but are also unethical in some cases.
Initially, when you are new to selecting an SEO company or an SEO plan, it is advisable to go with a monthly plan which involves a low expenditure. This should be done for two major reasons. First, it becomes easy to observe the results achieved through the SEO steps and second, if the steps implemented in the first attempt didn't furnish the desired results, then it becomes easy to implement some other SEO strategies to accomplish the desired results.
If before going through the process of selecting an SEO consultant or agency you want to get a vague idea about the SEO costs, then consider trying out some of the below mentioned SEO tools.
Some of the Top Cost Calculator Tools for SEO
Small SEO Tools
Small SEO tools' link price calculator is an ideal tool for getting a quick SEO price estimate for your website. This particular tool is going to tell you the estimated monthly expenditure on a specific link for your website.
Links Management
This is another great SEO cost calculator tool which can give you the most suitable SEO package along with its price just by entering the website's URL and the keywords. Additionally, here you can also compare your competitor's website to yours and opt for an SEO plan based on your requirements.
Search Engine Genie
For per keyword cost and to get an estimate of your total SEO cost, go with the Search Engine Genie tool. It works by analyzing your website on various parameters and based on that you are going to get the best SEO plan and its cost.
In a Nutshell
While searching for that perfect SEO agency, you also need to put in some hard work. For business owners, it is best if they learn some basic SEO themselves. This will give them a clear idea about what they want, how they want, and if the price quoted by the SEO agencies is actually worth considering.
Many businesses end up choosing the wrong SEO agency as a result of their lack of knowledge about SEO. Do not be one of them! Empower yourself with some basic SEO knowledge, so that you can avoid being exploited by deceiving agencies. Again, SEO may be complex, but it is open and produces long term results.
Choosing the right agency can translate into increased revenue generation whereas choosing the wrong one may end up hurting the existing business. So be careful with your decision! Also, remember that at the end of the day it is better to pay more and get the desired results than paying less and hampering the business.
Wrapping Up!
We hope that this article proved helpful in your search for the best SEO company in 2019.
Let us know in the comment section below if there are some other points that one should look into while considering an SEO company.
Plus, also tell us about some of the things that you pay extra attention to while choosing the right SEO company for your business.