Link building is not easy and with the ever-changing Google's search engine algorithmic changes, it is becoming increasingly difficult for many content creators to keep up with these changes. That's the reason why most people find it extremely difficult to build quality backlinks to their website.
Does this sound like you? If yes, you're in the right place.
This article doesn't list out a trillion link building strategies because they exist, No!
I have only listed a handful of strategies and tactics which have worked for my website.
Before we go on, let's first get to know a couple of things about backlinks.
Backlinks are inbound links. Inbound links are the links directed towards your website from an external source. Having a good number of quality backlinks to your website is an indication that your website is of high quality and many online resources want to be associated with you.
These quality backlinks inform search engines that your website has got content that people consider of high value and it rewards you by ranking your website higher than others in Google SERPs.
This is how they look like.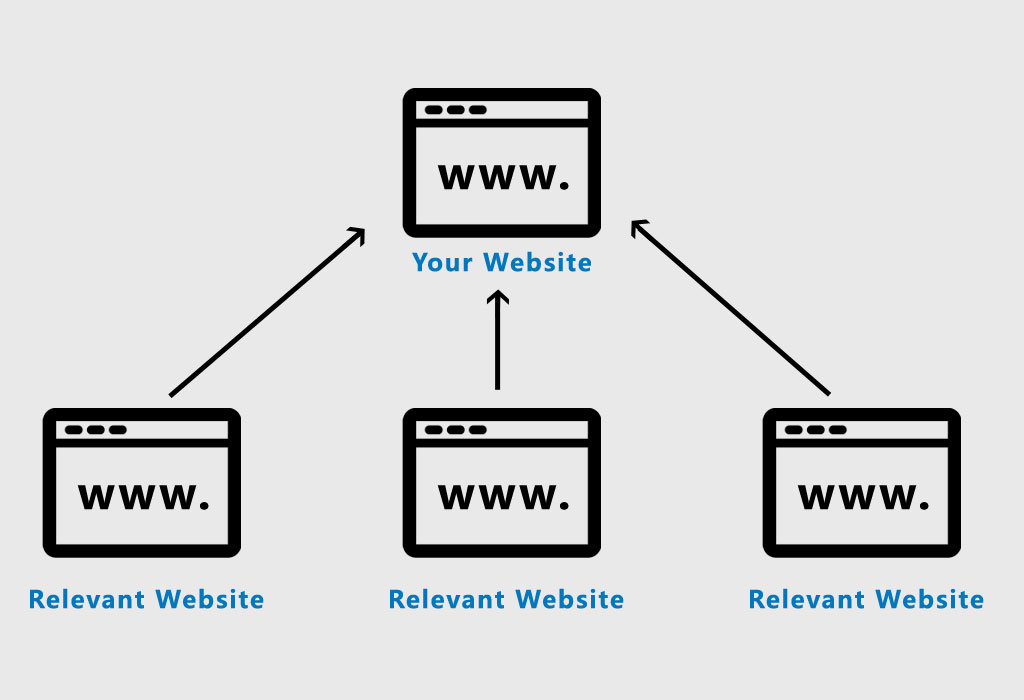 Table of Contents
Key Definitions Used in Describing Backlinks
• Link Juice
Link juice is a term that refers to the power or value that a backlink provides to a website.
This 'link juice' contributes to the ranking of the article and improves its domain authority.
However, you can stop passing this link juice to the website by using a 'no-follow' HTML tag.
• No-Follow Link
A No-Follow link is a link that links out to an external webpage without providing any 'link juice' to that external webpage. No-follow links are usually used by bloggers when linking out to unreliable sites.
• Do-Follow Link
A Do-Follow link is the default status of any link that you add to a blog post. These links pass 'link juice' to the external webpages they appear on.
• Linking Root Domains
This is a term that refers to the number of backlinks coming into your website that originates from a single, unique domain. It doesn't matter how many times that external resource has linked to your website, all its links will be considered as a single root domain.
• Low-Quality Links
Low-quality links are links that originate from dubious sites such as spam sites, porn sites, automated sites, etc. These sites actually do more harm than good and that's the reason why bloggers are discouraged from buying backlinks.
• Internal Links
Also referred to as internal linking or interlinking, these are links from webpages originating from the same domain or website.
• Anchor Text
Anchor text refers to that text that is used for hyperlinks. Hyperlinks are those texts that when clicked opens up a new webpage.
What You Need To Do Before Building Backlinks
Many people jump into link building strategies before they have built a strong foundation.
So, here's what you need to do before jumping into link building.
• Fix All Technical/UX Issues
Technical issues can hurt User Experience (UX). Before embarking on any link building campaign I would recommend you sort out the technical UX issues below.
• Redirect Chains
A redirect chain occurs when there is more than one redirect between the initial URL and the destination URL. When a URL is redirected, it should have a single 301 redirect in place.
This is how a redirect chain looks like.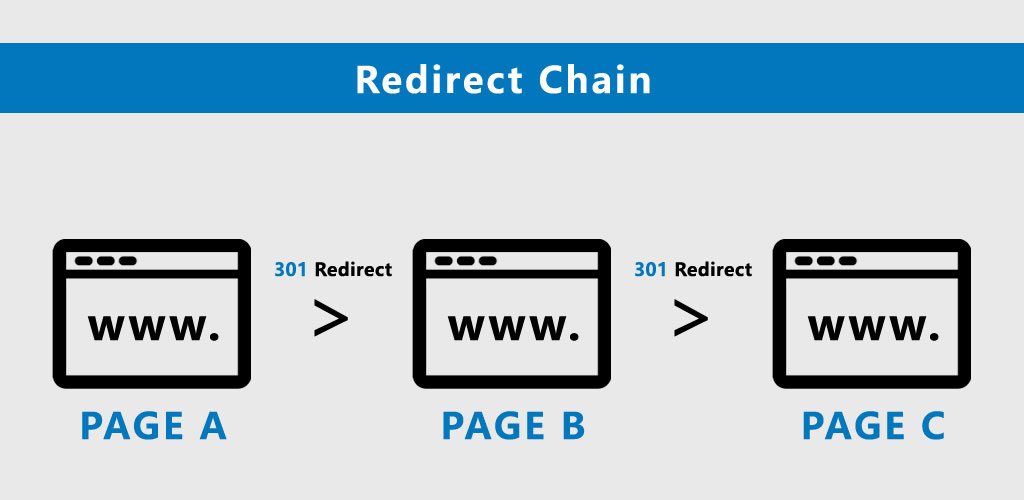 Do you see any problem with this picture?
The problem is that "Page B" is acting as a buffer between "Page A" and the final destination "Page C".
This technical issue is robbing "Page C" of authority.
To fix this you need to 301 redirect Page A" to "Page C" as shown below: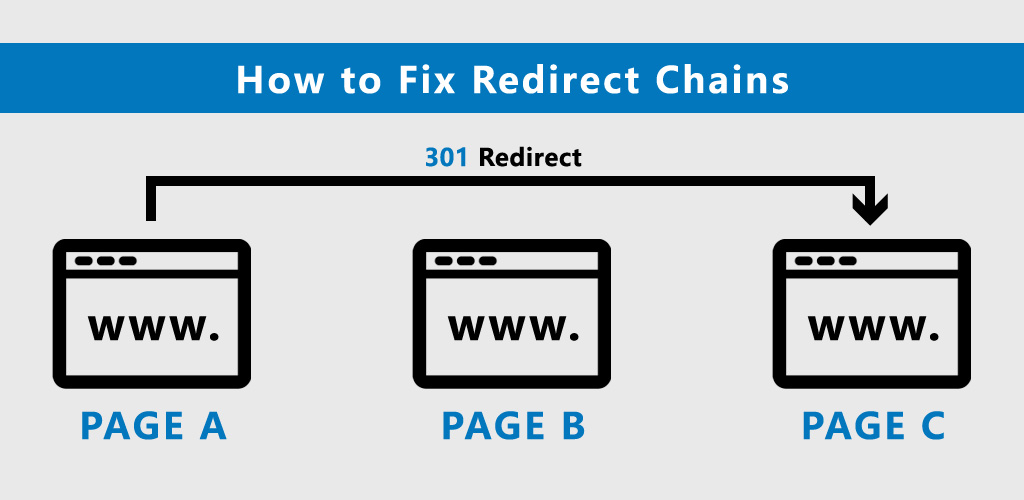 By fixing a redirect chain you will send authority/link equity directly to the page.
That is more effective than making the link equity pass through a buffer.
Link Building Strategies
Links are an extremely component in any SEO strategy. Link building strategies involve those activities which utilize both internal and external links to various online resources.
Links help generate web traffic to your website and increase its online visibility among other benefits of link building.
In this post, I'll describe the different strategies you can use for a successful link building strategy for SEO purposes.
1) Know Your Target Audience
Understanding your target audience enables you to create content that is both relevant and informative to them. You should create a persona of your ideal client which should consist of their preferences and what they're looking for.
2) Compile List of Relevant Websites of Your Target Audience
The next step is to go online to research and compile a list of websites with your target audience in mind. These websites or online resources should be those that have the highest potential of assisting you to reach your target audience.
3) Write High-Quality Content
It is a proven fact that websites will link to your website if your content is of high quality.
Therefore, you should make sure your content is not only of high quality, but it is also relevant, timely and adds value to the audience you're aspiring to convert into followers of your content.
4) Match Content to Websites
After creating a high-quality blog post, you can now dive into the list you had created earlier at Step 2 and identify those websites whose content resonates with your content as they are most likely to want to link to your website.
5) Reach Out To Relevant Websites
Reach out to the websites that you have identified within your niche with content that is most likely to be useful to them .i.e. tools, infographics, blog posts etc.
There are two groups you should reach out to:
Those who've mentioned your target keyword in their articles
Those who've linked to similar articles on the topic
Now here is the best part. The visitors originating from those websites to your website will already be interested in your content hence the reason for clicking the link to come to your website. This factor will go towards increasing sale conversions and recurring visits from readers.
6) Utilize Social Media
Social media is a great way of sharing content from your website to external sources.
Create relevant tweet and posts which you can share inappropriate social media channels.
Facebook and Twitter are two social media platforms which provide you with the ability to create a post with an attached link and have it shared across social media.
7) Guest Blogging
Guest blogging is among the oldest and proved link building strategies used for SEO purposes.
This is how it works. You look for a website that would benefit from your content and request them if you would write for them and if they would allow you to credit the article with your contact details.
8) Broken Link Building
It doesn't get any more interesting than this.
Seriously, I really would want to know how broken link building really works.
Broken link building involves at least three steps:
Research and find a broken link on a website with relevant content to yours.
Create content that is similar to the broken resource.
Reach out to anyone linking to the dead resource and request them to instead link to your working resource.
9) Unlinked Mentions
You will occasionally come across people who have mentioned your product, service or website without linking to you.
The good thing with such mentions is that you're already halfway there towards convincing them to insert a link to your website. There are a couple of ways you would use to find unlinked mentions such as using Ahref's content explorer. This tool searches over a billion web pages for any mentions or phrases that you provide it with.
10) Paid Promotions
Majority of social media platforms and search engines provide businesses with the opportunity to advertise and promote linkable assets which would include: e-courses, e-books, blog posts etc.
These platforms that you can use to promote your linkable assets include Facebook ads, Instagram ads, Twitter, Pinterest ads, Google AdWords among others.
11) Steal Links from Low-Quality Web Pages
There are many low-quality web pages that got backlinks from numerous sources.
So, how do you go about it? Their webpage content may cover only a couple of pages with few images and yours may contain over 100 pages with high-quality images for the same topic niche.
You would be asking yourself; why would someone link to a 10-page article instead of yours? It is because they probably aren't aware of the existence of better content: like yours. Simply introduce your content to them and request them to link to your content instead.
12) Repurpose Your Content
You may have very high-quality content that you would want to share to specific platforms but can't be submitted in its current state.
This is where content repurposing and syndication comes here.
Embark on structuring your content in the relevant format, would be an infographic, video etc. Then submit that repurposed content to the appropriate websites.
13) Community Sites
Majority of people focus on building a link to and from high authority editorial websites, which is a good thing but it isn't enough.
You should span out and market your content on community platforms such as community forums, Message Boards, Reddit, Quora etc. You can achieve this by contributing to members posts and leaving helpful information.
Harmful Backlinks to Avoid
There are certain backlinks that should never point to your website to. This is because you risk attracting heavy manual or algorithmic penalties from search engines.
Content that is irrelevant and of poor quality.
Content that is thin: usually 200 -300 words. Google Panda hates thin content.
Avoid Public networks which sell backlinks and usually advertise themselves as PBNs.
Links from dubious websites: porn, gambling, hard drugs etc.
Automated Backlinks from software such as GSA, Ultimate Demon, SENuke etc.
SEO Benefits of Backlinks
There was a time, not very long ago that even low-quality links were able to boost the ranking of your website.
However, with the rolling out of Google newest algorithm the Penguin algorithm, the ranking metrics changed and the emphasis was now on high-quality backlinks which must originate from websites with relevant content.
• Boost Search Engine Results Rankings
If you create high-quality content, many websites will want to link towards that webpage containing that content. If that happens, that particular content will naturally rank high on search engines.
Check out the example below.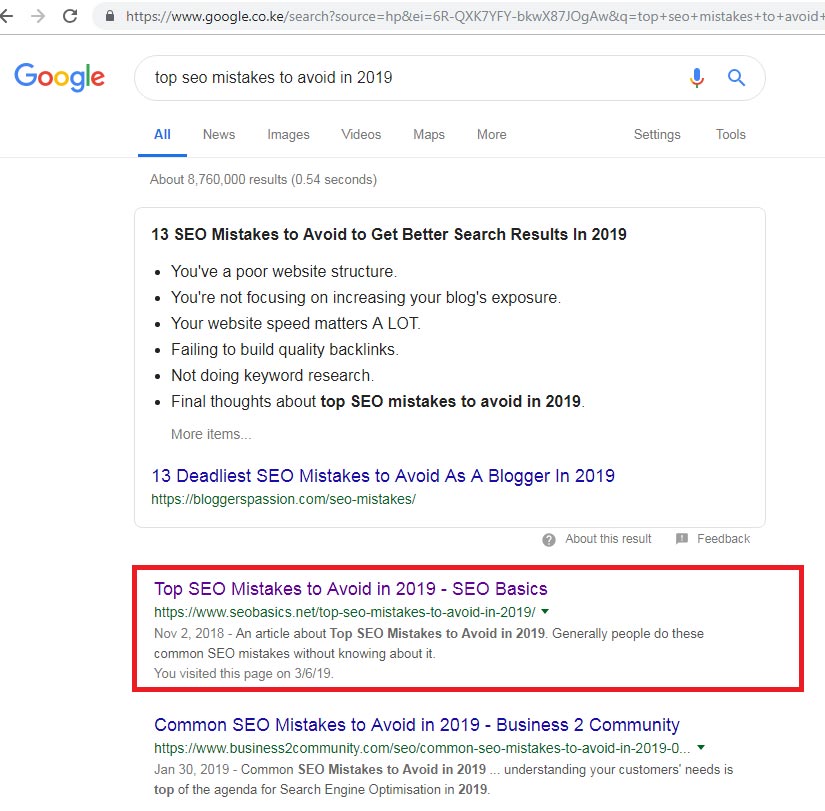 • Assist Search Engine Bots Discover Your Website
Backlinks that link towards your website from other websites assist Google to discover your website when they 'crawl' through those websites. This process is especially helpful for those websites that are new.
• Helps Websites Get Referral Traffic
Referral traffic is the visitors that visit your website through direct links on other websites as rather than from internet searches.
Referral traffic is usually targeted to specific content and has a very low bounce rate which furthers increases the content's ranking capabilities.
Example: A site that values your content may place a link recommending your website.
• Domain and Page Authority
Domain Authority (DA) is a search engine ranking score which was developed by an internet based company – Moz which measures the quality and quantity of inbound links to a website while the measurement for a webpage is referred to as a webpage.
The higher your domain authority, the more likely you're to rank higher for any relevant search query. This shows that the number of relevant and quality links to that point to your website is a huge determining factor of your domain authority.
• Brand Visibility
Every guest post out there presents an opportunity for your brand to be exposing to additional readers. Additional visibility is always a good thing as it leads to greater brand recognition and a greater chance of your brand being seen by an audience which would never have come into contact with it.
• Brand Authority
Creating and publishing strong, opinionated and well-researched content on a multitude of publishers forums relevant to your business allows you to position yourself as a thought leader in that industry.
• Credibility Boost
Having your content published on a high-authority website adds to your credibility as an authority in your industry.
Many brands love to display the logos of the publications which they have appeared.
This further cements their authority and credibility within the online space.
• Long Term Investment
Link building can be compared to a long term investment.
Why do I say this? This is because unlike paid advertisements, an investment in link building will last as long as the link and the page on which it is hosted.
Links can continuously send referral traffic for the duration of a lifetime. This is unlike paid advertisements' which is similar to the renting of an apartment for a temporary period, as opposed to paying a mortgage towards the ownership of a house.
Final Thoughts
Having quality backlinks still stands as among the most cost-effective techniques for SEO strategies that a website can implement.
You should always try to create high quality, relevant and informative content for your target audience. You will be rewarded by your brand garnering many shares and mentions.
Is there any link building strategy I have left out? By no means is this a conclusive list, therefore comment on the section below with your thoughts on which quality building techniques are the best.