Instagram promotion is evolving day by day thanks to many reasons like more functionalities, algorithm update, more competition on the platform, and so on.
Every brand likes to stand out of the pack and generate more business. A brand's aspiration is to connect with its users on a personal level and convey its message.
So, in order to encourage users to purchase a product, a visual platform like Instagram has the highest potential, and we have numbers to back the same. Because more than 90% of the information we understand is visual.
Instagram is photo and video sharing social media platform. There are 800 million people actively use Instagram each month. With over 3.5 billion social media users, Instagram does hold a very significant number of users.
Out of those 800 million users, around 200 million Instagrammers visit at least one business profile every day. This behavior clearly shows how the users are finding interest in their favorite brands.
So if you are avoiding Instagram as a platform to promote your business online, you are giving up a huge amount of profits without even knowing it. However, we have to keep in mind that Instagram is just 200 million users away to hit the big mark of 1 billion active monthly users.
Also, make no mistake that marketers have started taking this platform seriously and investing heavily in the Instagram promotion. Therefore, they will have a strong team working on the Instagram campaigns to grab some of those 80% users who follow brands into their bag and generate ROI.
Hence, it is advisable to take smart steps in building a recursive business generating flow through Instagram promotion. So, we have made a comprehensive list of 15 ways to promote your business online through Instagram promotion.
15 Ways to Promote Your Business Through Instagram Promotion
1. Make a Consistent Identity on Instagram
People remember you by the way you represent yourself. As a product, it is necessary to make a solid first impression and sustain that image for a long period of time. In order to that, a brand needs to maintain its image properly.
As far as online mediums are concerned, a brand should take care of its appearance throughout the web. The logo, brand name, email id, tagline, etc. play a very important role in a brand's image. In Instagram, you should use its functionalities properly in order to maintain a consistent brand image.
Variables like the profile picture, handle name, account name, etc. are few of those extremely important aspects that will help you thrive throughout the platform by maintaining your identity.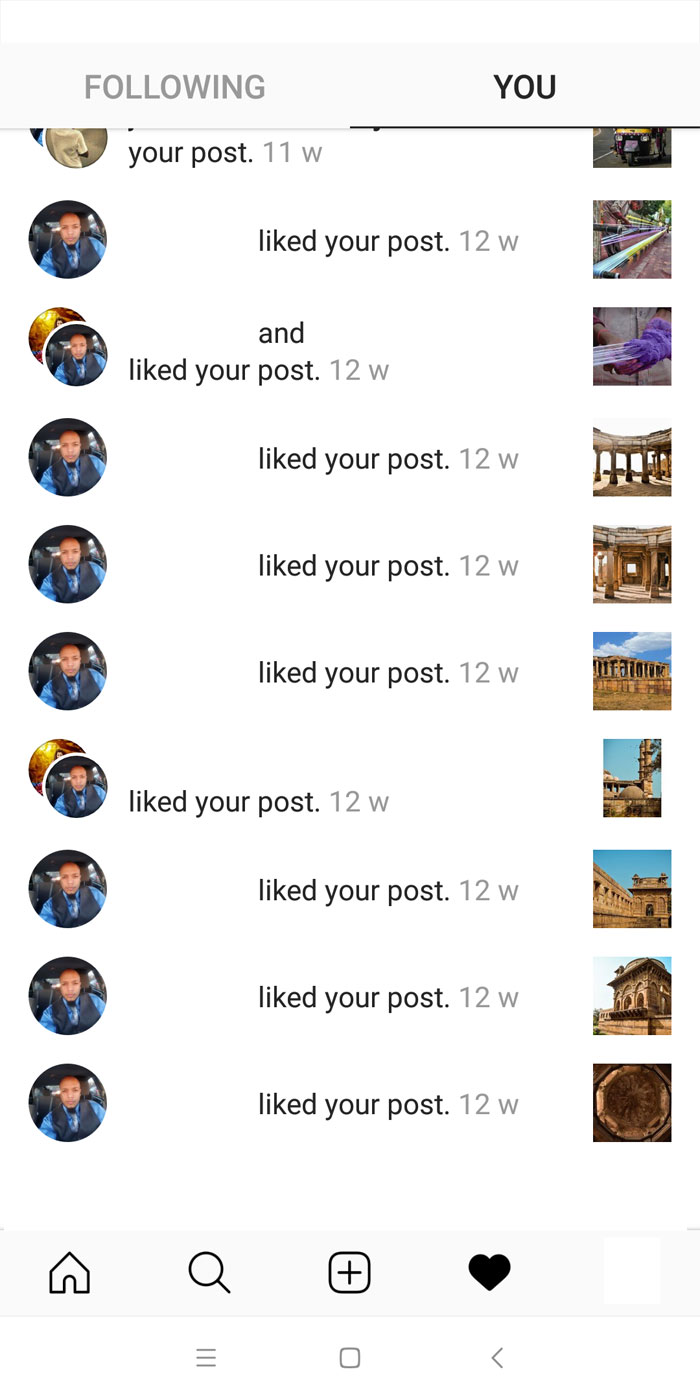 Usually, the post that you share will be out-of-date after a few weeks, but brand name, the profile picture is what makes you stand out of the pack when you interact on the platform. Whenever you comment, like or follow someone, your profile picture is the first thing the person observes in his notifications.
2. Collaborate with Influencers
Influencer marketing is an evolving medium of online marketing. It is a way to engage in the promotional activity by involving an individual who has a strong impact on the audience of your domain.
Say you are running a fitness gym in your neighborhood. It goes without saying that you must keep a detailed plan and top-notch posts to publish on Instagram.
Moreover, you can include influencer marketing as a part of your ongoing campaign. In this example, you can collaborate with a local celebrity to visit your gym and have a session.
You can request the influencer to publish a video of your premises in their story or share a photo in their feed.
You can too record that session, go live, capture photographs of the visit, and publish on your Instagram account. This way, the users who follow that celebrity will come to know about your brand and might be interested in your services and products.
3. Share Interactive Stories
When Instagram first introduced stories to the platform, the first impression was they copied Snapchat's functionality. Well, it might be true to some extent but Instagram stories is a better version of Snapchat's (at least according to me).
Stories are fun, creative, trendy and extremely engaging. They have some exciting stickers and add-ons that make a story interactive. A story lasts for 24 hours in the form of pictures, videos, GIFs/boomerang.
You can showcase a new sale coming up at your store or you can share discounts that you are providing at your e-commerce store as Puma did in the screenshot below. They promoted their new range of shoes through exciting video stories.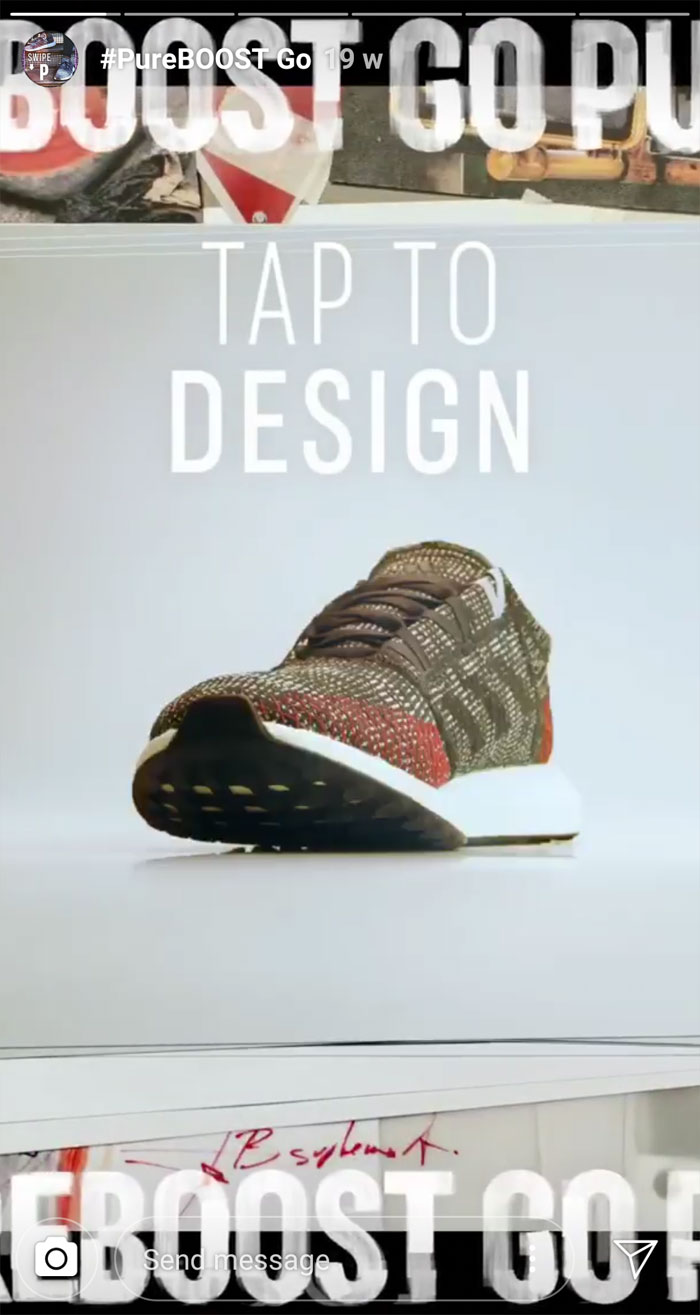 You can announce a new product launch or share industry news through Instagram stories. Brands that post more stories has got more engagement rate than the ones who don't post at all.
In the screenshot below, Calvin Klein is sharing how their product is made in a series of stories.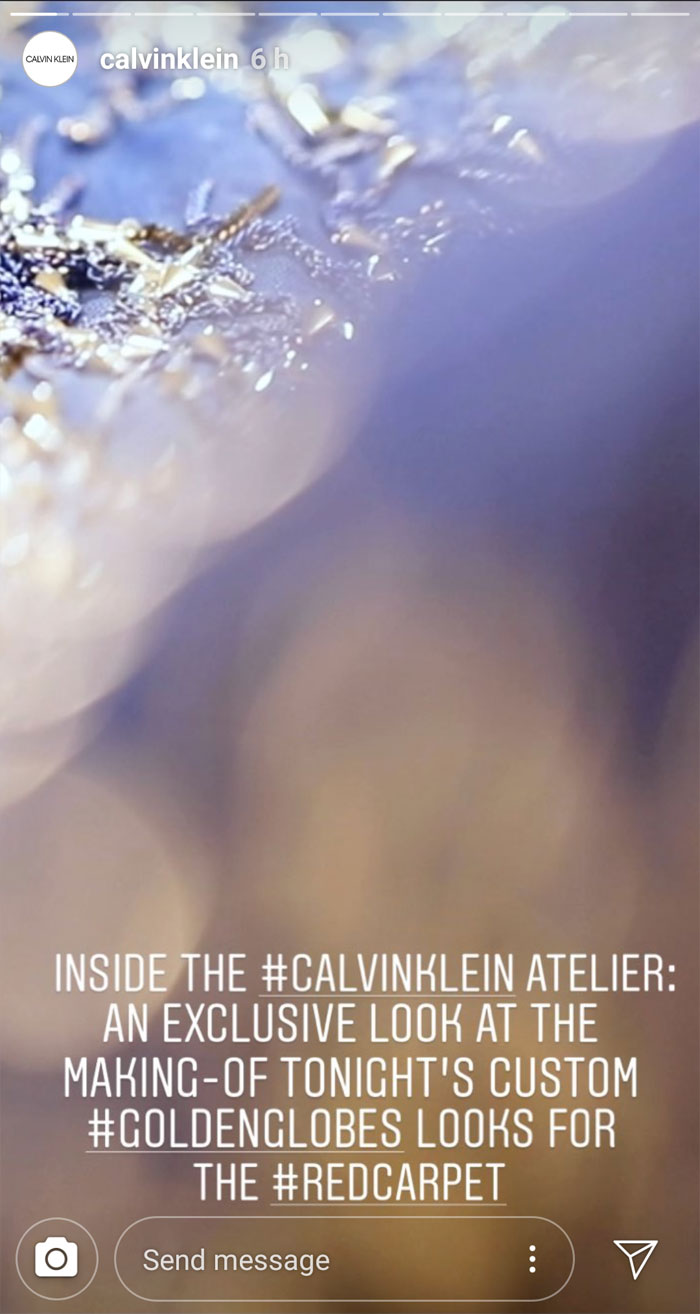 4. Reshare Top Posts of Your Niche
Everyone likes their brand to be talked about in the community. As per your niche, you can share and complement the work of others who are expert in your industry or doing some really awesome things on Instagram.
If you are associated with local influencers on Instagram, you can request them to reshare your post or republish your story on their Instagram handle. This way, you can grab more eyes of the Instagrammers.
5. Write a Persuasive Instagram Bio
Write a short and crisp bio that smartly describes who you are and what you do. You should avoid using flamboyant English language.
Please note that when a user clicks on your profile, observes your Instagram handle, your name and bio. So, it is necessary to get the most out of that couple of seconds attention to convert a user to your follower.
Here is an example of users who used Instagram bio smartly for their business.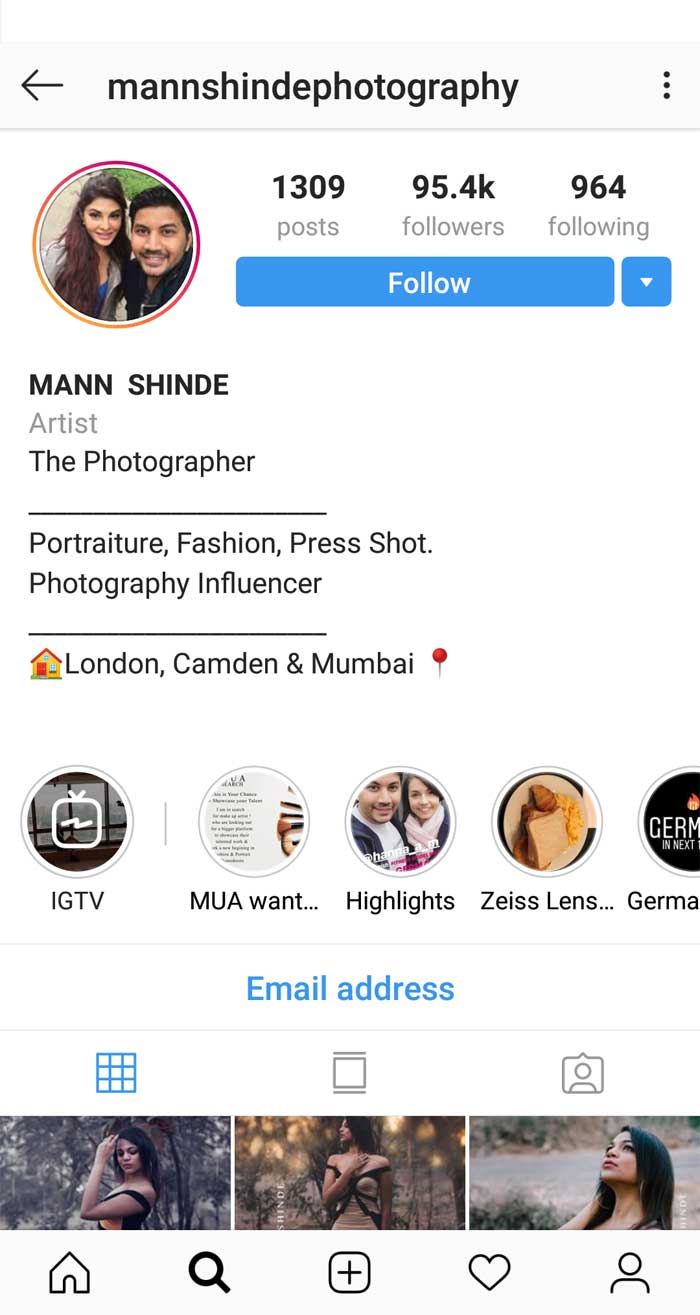 He's a photographer who's smartly mentioned what he does, his types of photography and the contact information.
Another mobile manufacturer brand has mentioned what they do through their interactive Instagram bio.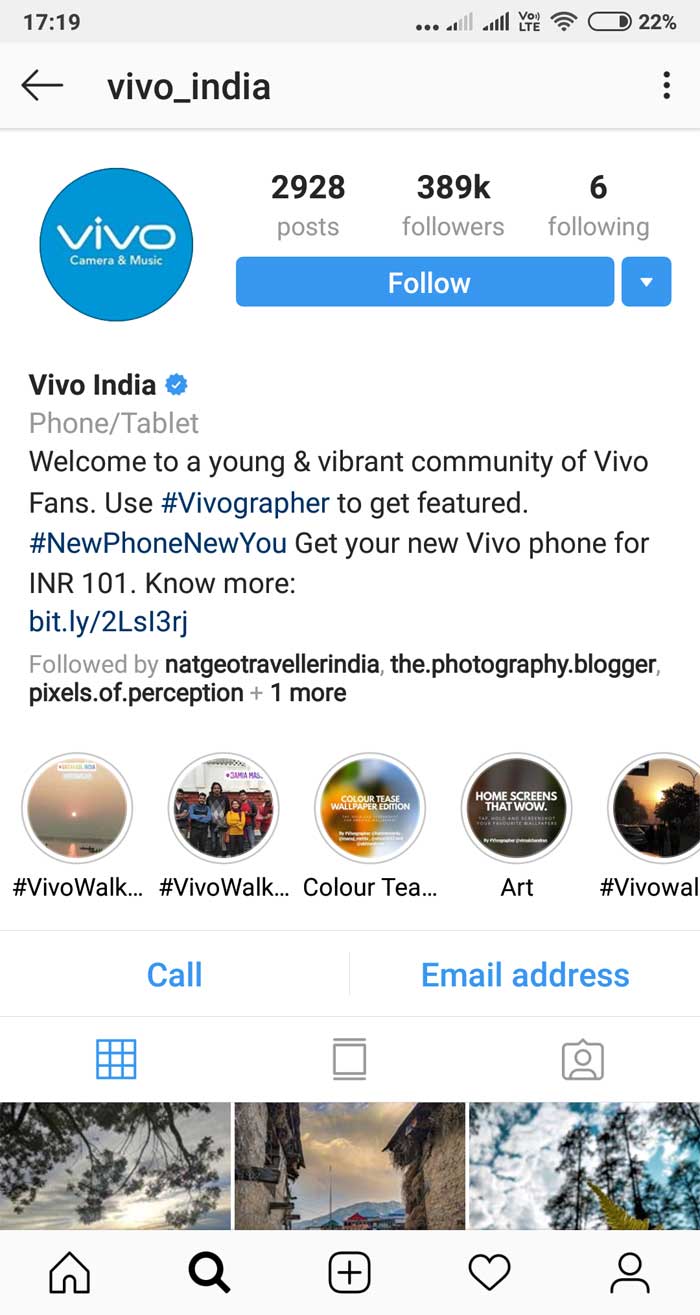 6. Promote Through Link
Instagram allows users to mention their website inside their bio. You can encourage visitors to visit your website by mentioning your link.
You can promote your product page, your portfolio or any other commercial information that would help you grab more customers.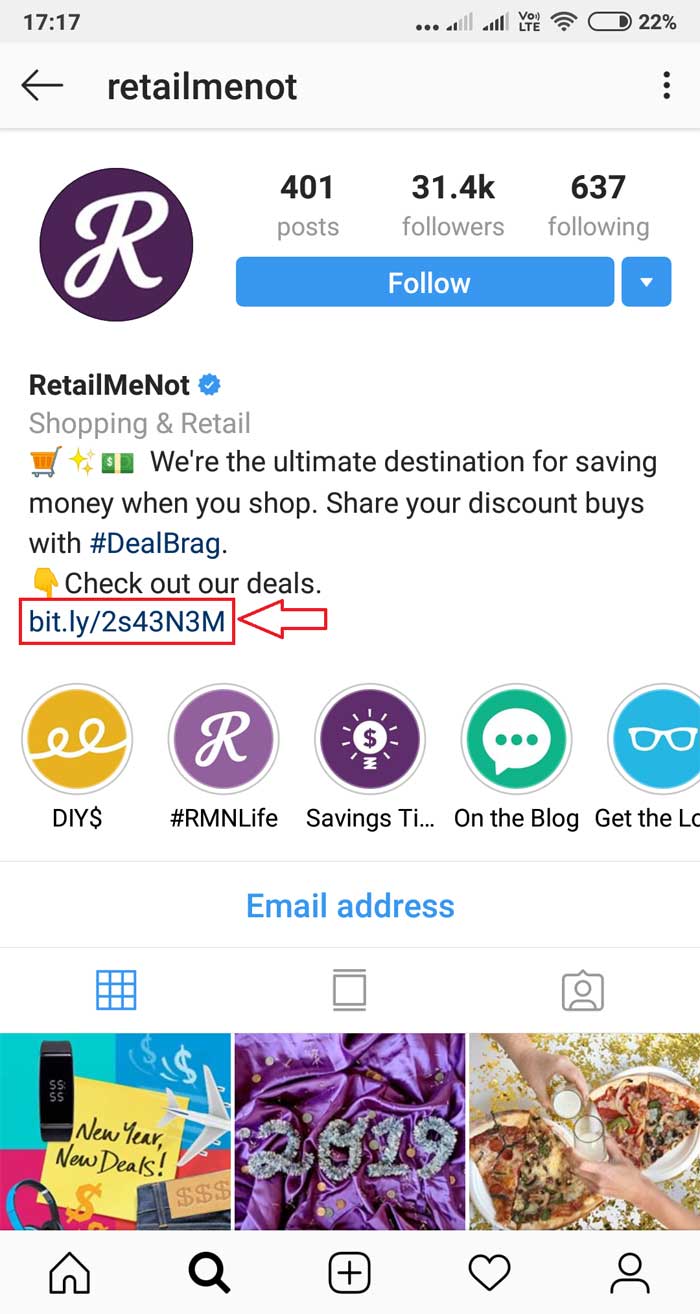 In the example above, RetailMeNot is promoting their deals and coupons through a short link. Sometimes, brands use short links in order to perform advanced tracking about the clicks coming from specific third-party sources.
7. Use IGTV
IGTV is a perfect way to let users know more about your business and brands. In stories, you are not allowed to post videos that are longer than 15 seconds. But IGTV allows you to upload videos that can last up to 60 minutes.
It is similar to a YouTube channel where you post awesome video series and engage with your audience.
8. Create Hashtag for Your Campaigns
A #hashtag is a creative way to convey your message and promote your products throughout the platform. When you click a #hashtag it shows a grid of pictures that ha used that particular hashtag.
Over the period of time, if you smartly use the #hashtag for your Instagram activities, it will become your identity.
The American actor and producer Dwayne Johnson use a set of hashtags to convey his message smartly.
Smartphone brands like Pixel and iPhone also have their own hashtag known as #TeamPixel and #ShotOnIPhone.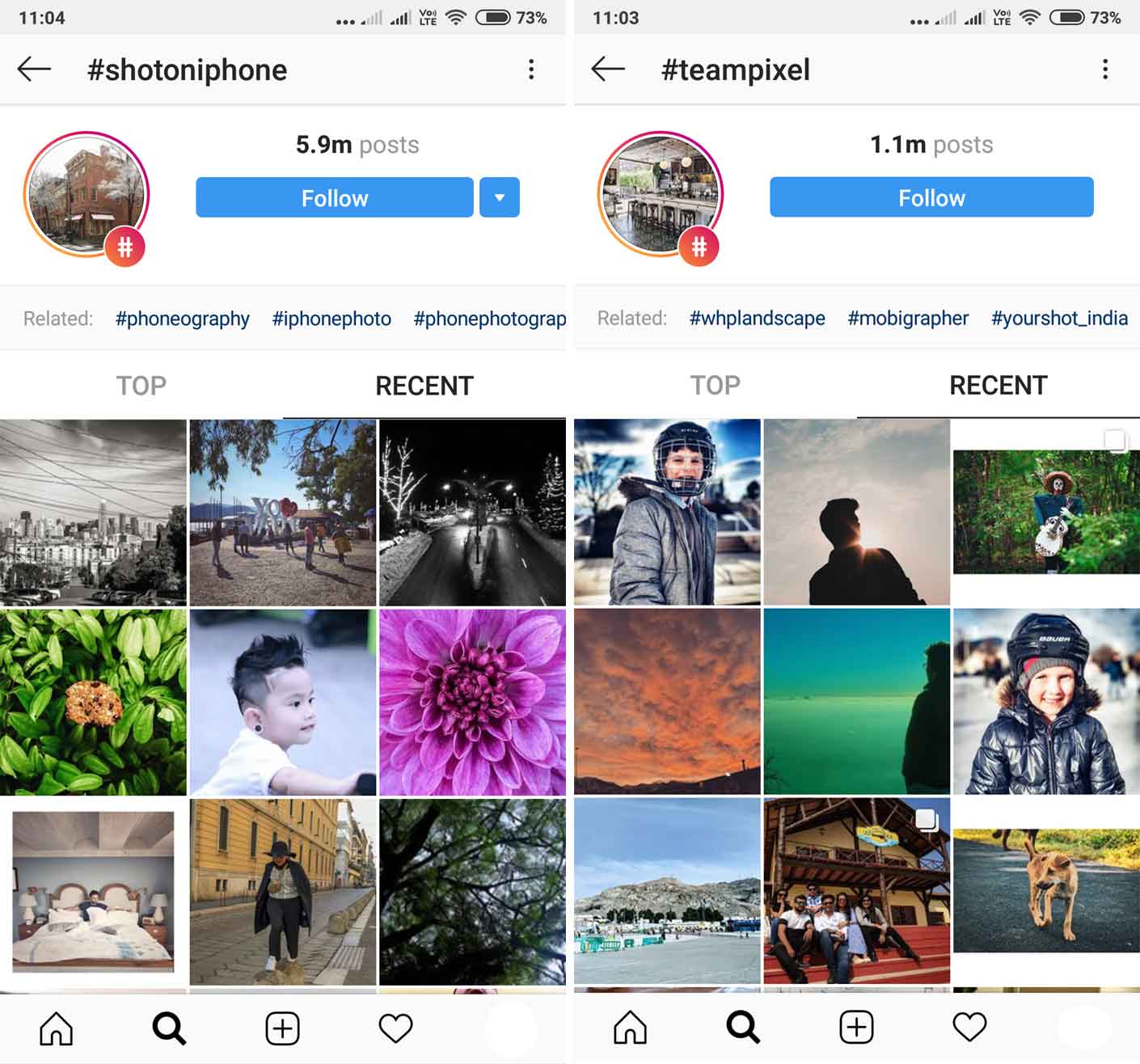 Through these #hashtags they are able to showcase pictures shot from their phone and eventually promote their products.
9. Organize Contests
You can organize contests on Instagram to promote a new product or create a social media buzz.
Tupperware brand had organized a contest on their Indian account. Tupperware gave top-notch gift hampers to the winners.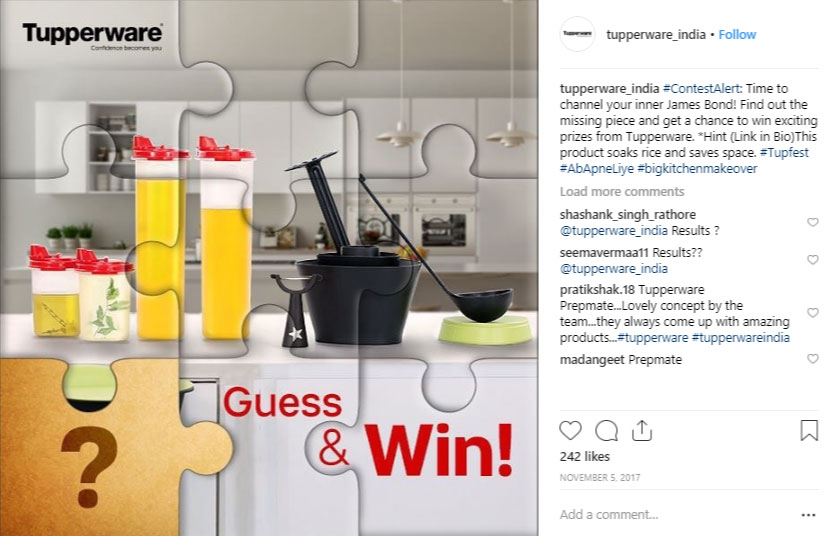 10. Go Live
Instagram live is one of the best things happened to the platform. A user can go live and showcase their on-going activities to his followers.
Brands and influencers use this feature variety of purposes like a product launch event or attending the conference and so on. It is one of the best ways to create a social buzz and convey anything instantly.
You can organize Q&A sessions about your brand to get to know more about what people think. In an on-going live session, followers ask questions in comments, share views and engage with their favorite brands and celebrities.
Moreover, you can organize Instagram live with other accounts as well. This way, you can invite other leading brands or people of your niche and execute a live session where your followers get to know about two leading brands of a niche at the same time.
11. Invest in Paid Instagram Promotion
PPC marketing is when an advertiser is charged whenever a user clicks on his advertisements.
Sponsored advertisement on Instagram is a lucrative form of promoting your business to the audience. Awareness, app installs, lead generation, etc. are few of the types of PPC campaigns you can organize.
You can control who sees your advertisement. Based on your targeted audience, you need to adjust a few variables to place your ad accordingly. To name a few, age group, gender, interests, etc. are those variables.
12. Leverage Instagram Stories Highlights
In 2017, Instagram introduced an update where you can make appear important stories permanently on your account. It is a boon for marketers as they are able to share important information with their audience.
Hubspot is utilizing stories highlights creatively. You can see the highlighted information they are sharing through Stories Highlights. This way, users can know more about their services and products.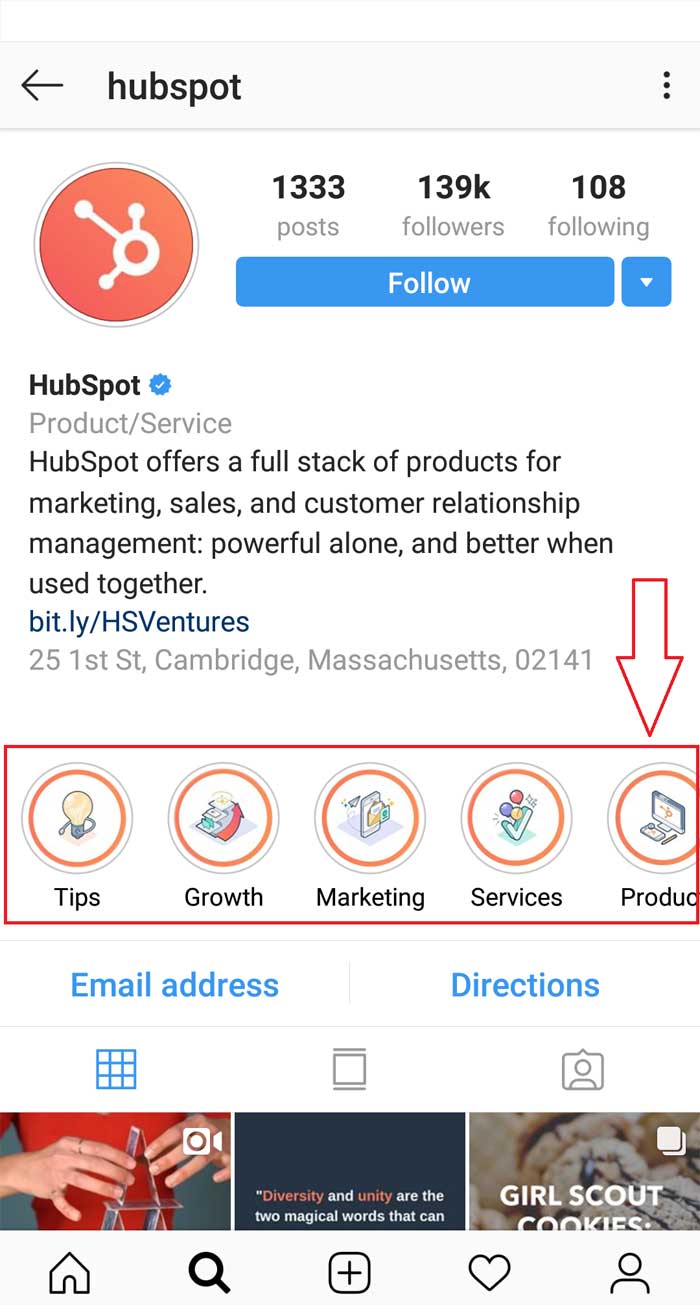 13. Use 'Swipe Up' Feature in Stories
'Swipe up' functionality is kind of a big deal. Because it allows users to land on another page, post or video just by swiping up in Instagram stories.
Although accounts with more than 10,000 followers can only use this feature, it is one of the coolest features to promote your services.
You can add swipe up to encourage users to install your mobile app, watch your YouTube video, read your article, download an e-book, book movie tickets, and so on.
In the example below, the Instagram handle of Manchester United is encouraging their fans to install their mobile app and videos.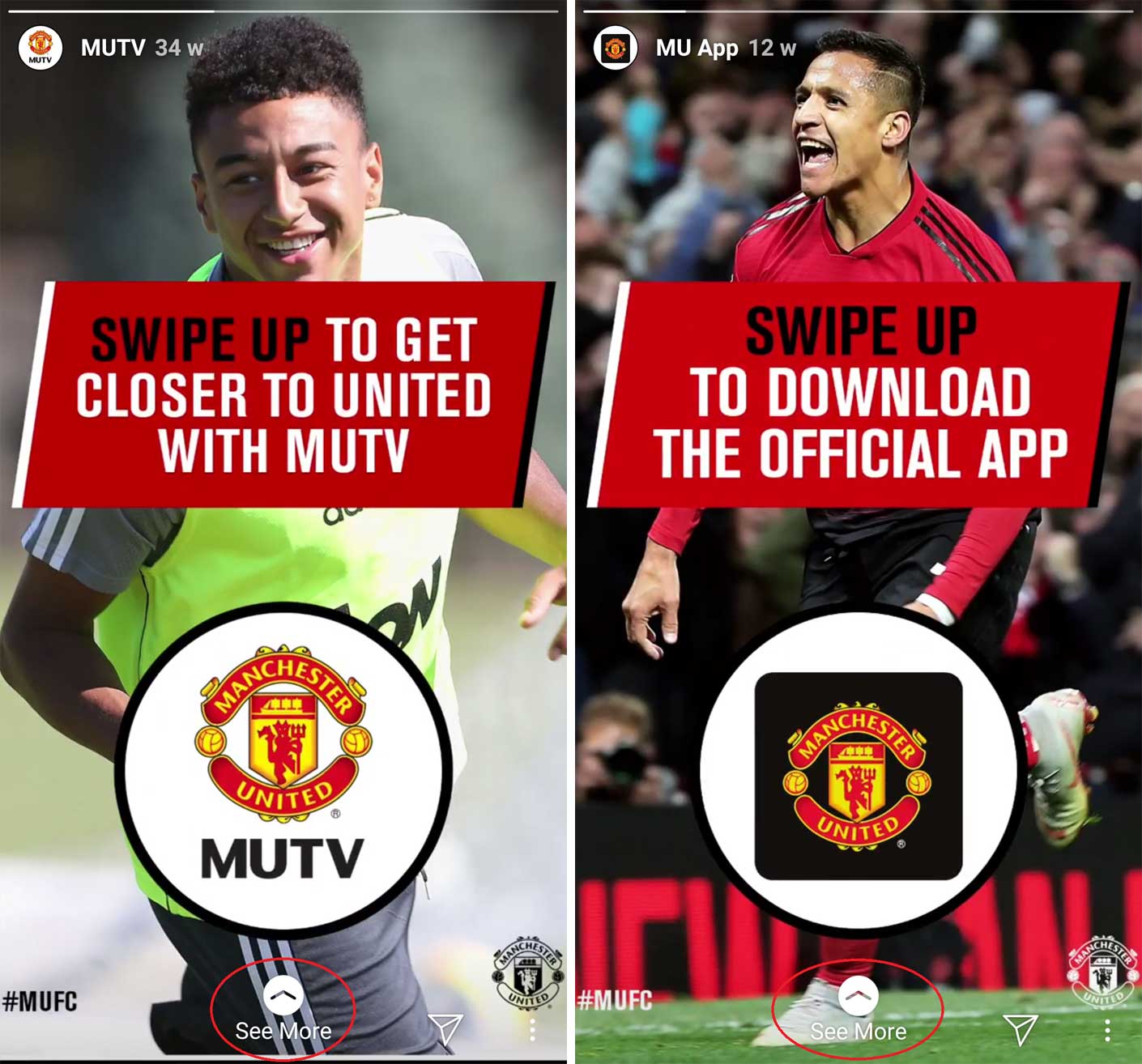 14. Tag Business Location in the Instagram Post
Most of the times, users fail to include the location of the post. Geo-tagging allows local people to find out more about your business.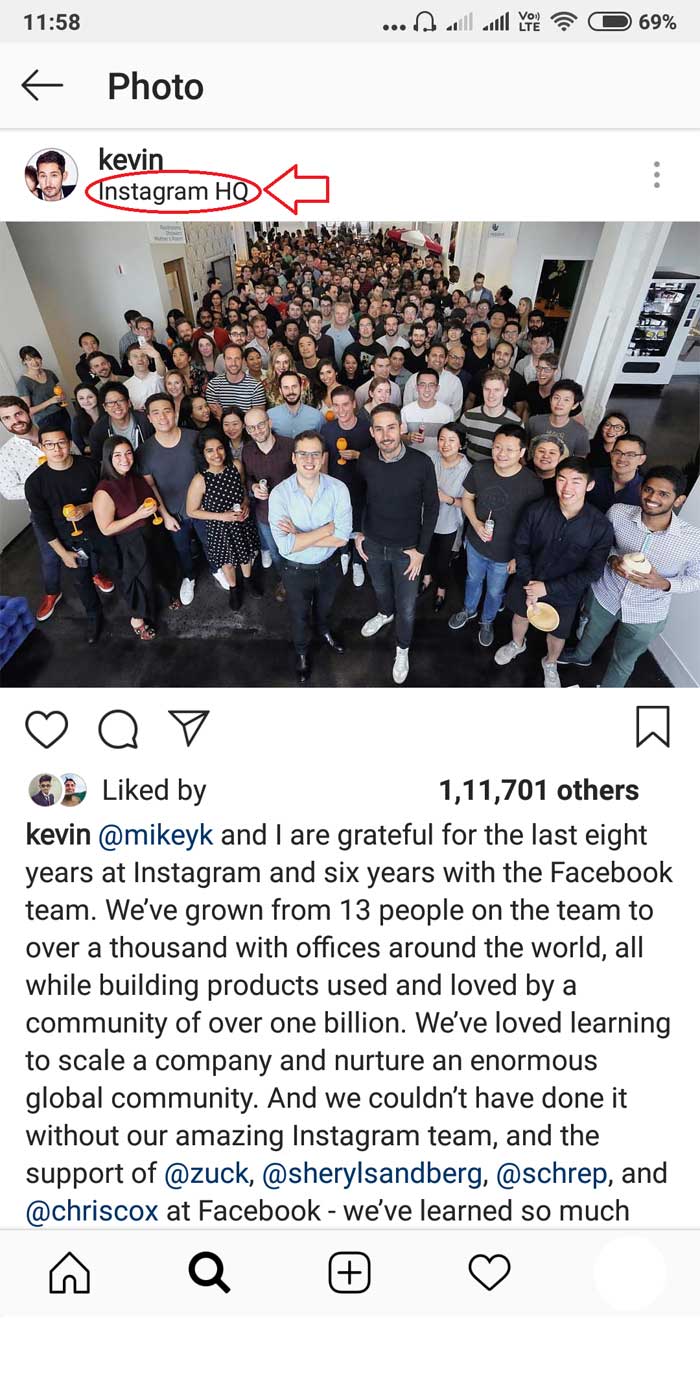 If you tap on a location of a post, you will be redirected to the grid posts list where every photo shared with that particular geo-tag will turn up.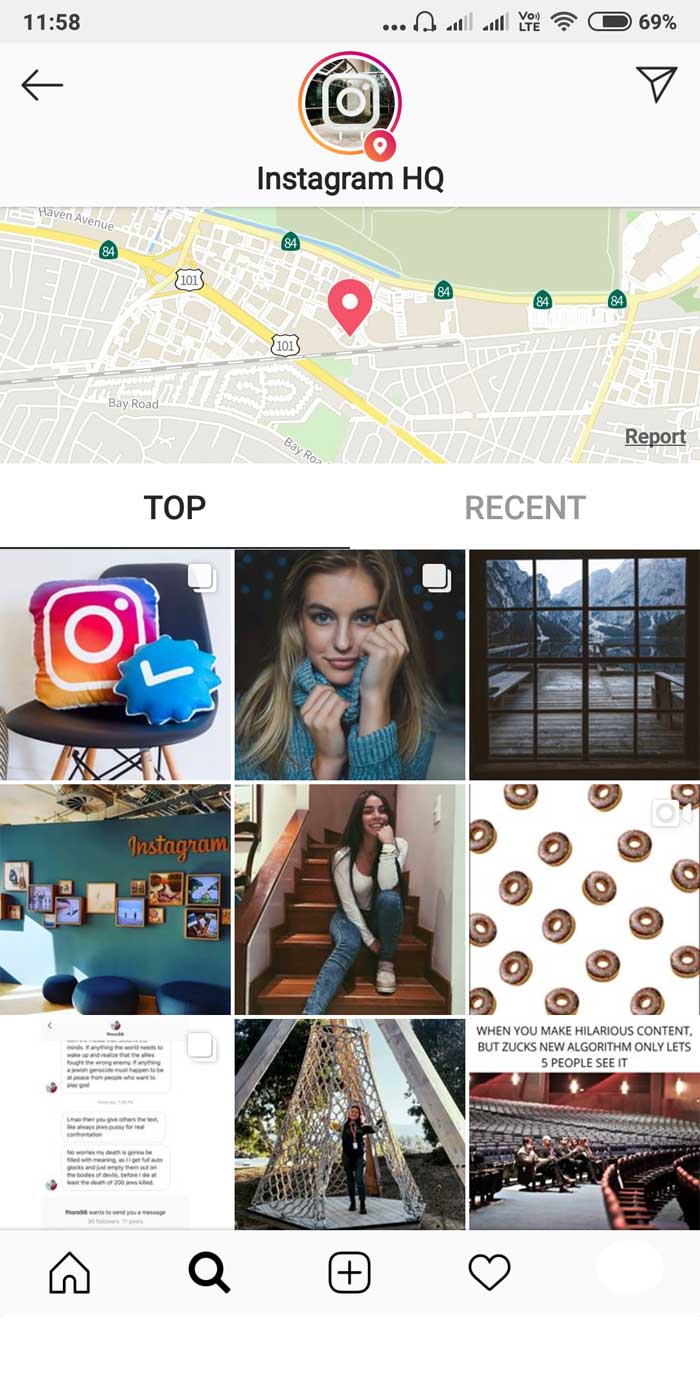 This is one of the best features to promote local business on Instagram.
15. Use Quick Replies to FAQs
Instagram rolled out an update where business accounts can stop wasting their times on frequently asked questions in messages.
You need to set up quick replies from the settings tab. Whenever someone sends a message, you can shoot a quick response saying that "Thank you dropping by, here're the details of our new product. (give landing page URL)".
This is how you can include your product page to grab more visitors to your landing pages.
To Sum-Up
Instagram promotion is creative, fun, engaging and sometimes time-consuming procedure to execute. But once it is stable and gets the pace, believe me, it is a solid platform that can generate business for you in five figures.
Just like any of my previous tips on other posts, try to balance everything and plan smartly. You need to put some energy to decide which tip would work for your business. If you are an ecommerce brand, try to use quick replies and add coupon links to your bio. Observe how your audience is reacting to your Instagram activities.
Which one would you think would be the best suited for your business? Do let us know your views and experience with this awesome social media and its promotion activity.