You might be thinking why are we actually talking about outbound marketing when inbound marketing is in vogue?
The answer is simple.
Outbound marketing still exists in the marketing landscape and plays a huge rule in attracting the so-called "right" customer.
However, the new age marketers consider it as an old technique of marketing which is certainly fading away.
To debunk this myth, we present this post to help the new age marketers and advertisers to know the value of outbound marketing.
What is Outbound Marketing?
Outbound marketing is a type of marketing strategy that is laser-focused on reaching out to the customers with the help of general media advertising along with in-person contact. In this type of marketing, the company looks forward to initiating a conversation with the target audience and sends its message.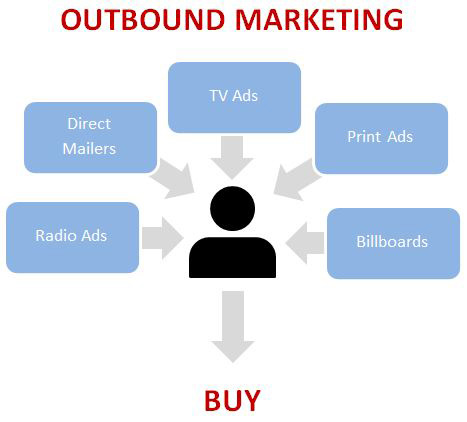 Examples of outbound marketing are cold-calling, direct mail, billboards, event sponsorship, trade shows, presentations, advertising via radio, TV, print, in-person contact and cold-emailing. When the leads are generated with this type of marketing, the sales representatives of the company have to follow up to develop a relationship with those generated leads.
Who Should Use Outbound Marketing?
In the last few years, inbound marketing has gained much more visibility with the digital revolution. However, the fact is that still, people are much more inclined towards companies that they connect within the first contact. Thus outbound marketing increases the chance of direct contact allowing businesses to develop serious and loyal customers.
Everyone is aware of the fact that digital marketing has taken over the marketing landscape with the increased use of the internet. This has made way for new, creative and online methods of advertising and marketing. During this course, outbound marketing has lost its worthiness majorly. However, there are still some companies who continuously use this type of marketing in their overall marketing strategies.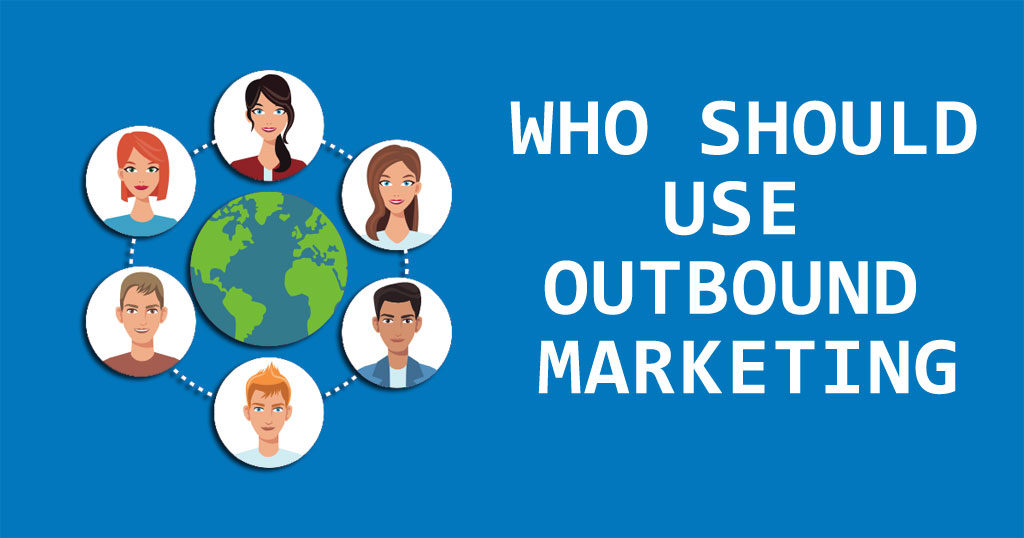 As said, the ultimate goal of outbound marketing is to generate targeted leads that can be converted into potential and long-lasting customers. Thus, for companies who are looking forward to getting on the track of attracting customers, it is one of the best ways to reach out to the widest possible audience in comparatively less amount of time.
For employing it in your overall marketing strategies the very first thing that you need to determine the goal of your marketing campaign. Decide if you want to build brand awareness or target certain segments of the audience. Target your intended customers.
See what is the most efficient way to reach out to your customers. Also, check the industry that you deal in. For example, outbound marketing will prove to be a profitable marketing strategy for a local restaurant owner who wants to attract a huge local audience.
Advantages of Outbound Marketing
This is no brainstormer that inbound marketing is effective however, that does not make outbound marketing less effective. Here are some advantages of outbound marketing that makes it the right marketing strategy for you.
1. High Speed
Outbound marketing is not confined to a certain limit. This means that if you want to generate more leads, you can hire more marketers, purchase more data, use upgraded software and even outsource calls through BPOs, etc.
If you want to make your marketing fast and rapid, this is the strategy that you should look for. Furthermore, most of the marketers look forward to outbound marketing as it is quite easy to apply & execute.
2. Effective Branding
Many of the marketers think that the best way to do effective branding is through inbound marketing. That is true but you certainly cannot forget that if you want to provide consistent and relevant information to the target audience, you have to keep direct contact with them.
This is possible only with the help of a perfect & well-thought of outbound marketing strategy. Thus, with this type of marketing, you can easily create a brand value with your target audience.
3. Flexibility and Measurability
Inbound marketing takes quite a lot of time to generate results. Sometimes, the time span even stretches to months. On the other hand, outbound marketing is much flexible and provides results really quickly as it directly connects with the target audience.
4. Qualified Lead Generation
While inbound marketing generates a lot of leads but it certainly does not guarantee the leads to be highly qualified. On the other hand, outbound marketing allows vendors to target the ideal prospects who are highly conversion oriented. Thus, with this type of marketing, you can directly move ahead with the valuable leads.
How to Develop the Outbound Marketing Campaign?
It revolves around spreading messages to the target audience. Irrespective of what kind of strategies are used, customers and individuals are always targeted through a wide variety of branding and marketing messages.

i) Assess the Product/Service
The very first step of an outbound marketing campaign is to assess the product/service that you are going to sell. Analyze your product and service & check what makes it different from the rest.
Is your product or service compatible with the market? Is it fulfilling particular needs?
ii) Collect Data
To get answers to the above-mentioned questions, you need to collect data. You can conduct surveys, polls, distribute free samples in case of product or conduct a demo in case of a service. Use the feedback generated to enhance your product or service even more and then generate a list of the target audience.
iii) Create Messages
After establishing the target audience, the next step is to create messages. Make sure to include something in your message that attracts the attention of the audience in the first shot and generates positive feedback.
iv) Choose Platforms
Choose the platforms for the distribution of your message on the basis of the target audience. A large audience might require mass media like Television, radio, newspaper or a magazine. A small audience, on the other hand, can be taken care of by brochures, emails or even calls.
Outbound Marketing Strategies
It should be noted that with the advent of new methods, the old ones should not be abandoned. Just in the case of outbound marketing, it has retained its position in the market by developing itself.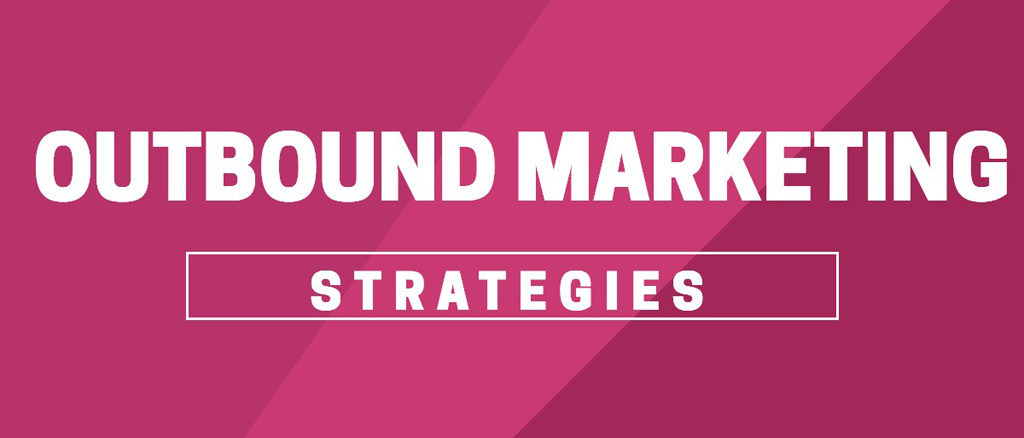 To keep pace with the changing trend, it has connected with the B2B domain and revealed an outbound marketing strategy. This strategy is an essential part of a business plan. A B2B outbound marketing strategy can help you generate qualified leads if it is well-tailored and is optimally implemented.
What is B2B Outbound Marketing Strategy?
Outbound marketing has adopted the latest principals of inbound marketing. The reason for this is that it involves targeting. By using the internet, you can efficiently work with a large amount of database to generate leads. Furthermore, you can segregate the unwanted leads that are generated with the help of internet & work on the better ones.
The latest outbound marketing strategies look forward to providing a value-based connection to the potential audience. This can be done by informing and educating customers and providing solutions to their problems.
Lastly, the latest strategies provide customized and personalized messages to attract the attention of the target audience. The very common technique is using their names and giving solutions to the problems they are most likely to have.
Components of B2B Outbound Marketing Strategy
i) Email Marketing
Direct mail is a highly effective way to reach out and connect with your target audience. It is one of the most affordable components of outbound marketing. It is laser-focused on sending relevant content along with graphics and videos to grab the attention of the people who have a high probability of converting into your loyal customers.
As a matter of fact, people still consider a direct and aggressive approach valuable. Thus, by creating emails with promos, product release and launch, discounts can get you a wider range of targeted audiences. The leads generated from the direct mail campaigns are valuable as they have a better chance of a conversion.
ii) Event Marketing
Event marketing is an excellent way to create long-lasting relationships with your target audience along with generating leads. Event marketing generally focuses on engaging with current customers to carry out up-selling and cross-selling activities. Events can be of any form like webinars, conferences, trade shows, the public demo of a product or seminars.
iii) Inside Sales
One of the most crucial and essential elements of outbound marketing is the ability to convert leads into sales. This highlights the role of the internal sales team. They take up the marketing-generated leads to analyze them from the sales perspective. After shortlisting the potential leads, they begin their journey to convert those leads into sales.
iv) Lead Nurturing and Scoring
Generating leads just for the sake of it is not justified. If you think that your task is over once you have generated leads, then you are wrong. There are a lot of generated leads who are not ready to convert. Thus, with the help of lead nurturing, you can send them emails on a regular basis to convert that cold lead into a warm one. You can also assign them lead scores to see how close are they towards converting.
How to Choose the Right Channel for Outbound Marketing Strategies
Whenever there is a discussion on outbound marketing, generally all the strategies are taken into consideration like cold calling, direct mails, TV Ads, radio and print advertising. Nonetheless, all these strategies are valuable but their use differs when it comes to B2B marketing and B2C marketing.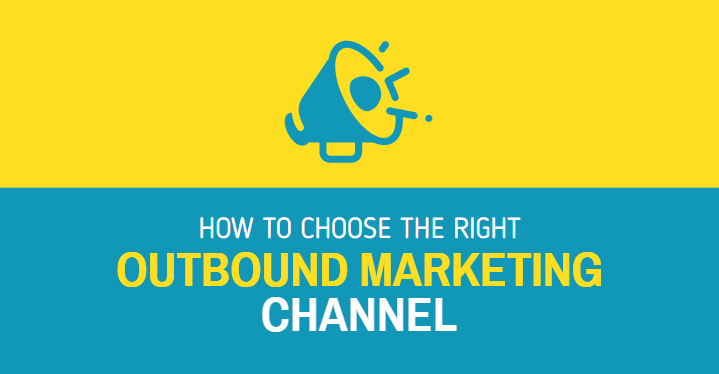 For example, Television advertising is quite expensive and its efficiency with respect to B2B is doubtful. The reason for this is that it becomes quite difficult to reach out to the target B2B customers as they do not listen to the radio nowadays. Also, B2B products are quite complex & require lengthy explanations.
On the other hand, Television advertising is quite a good medium to reach out to B2C customers as most of them watch TV as a source of relaxation. Also, B2C products require minimum explanation, hence, TV can be a good strategy to connect with B2C customers.
Thus, while choosing which channel to use for B2B or B2C, you should take into consideration the efficiency, reach and potential of the channel with respect to the type of customers.
Professionals Who Work With Outbound Marketing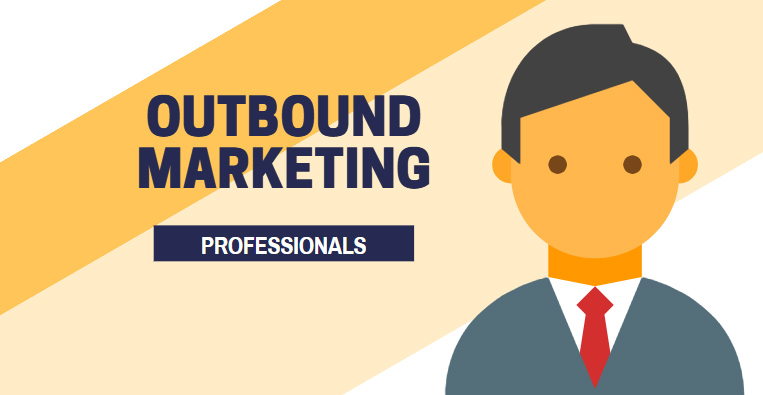 i) Outbound Marketing Assistants
Outbound marketing assistants are the ones who make the very first contact with the targeted audience. They use traditional outbound methods of marketing like cold-calling, emails and sales events. They develop contact with the target audience by providing information about products and services. They further create lists of the potential audience through sales activity and they also represent the business in sales and marketing events.
ii) Marketing Copywriters
They are the ones who are actually responsible for creating messages that are sent through outbound marketing techniques. They create engaging content that helps the readers to understand and want the product/service. They also work with the designing department to create graphics that are relevant to the product or service. They are also involved in public relation, media announcements, and public speaking activities.
iii) Product Marketing Managers
They are responsible for carrying out the outbound marketing activities of the product and services of the company. They plan the launch of the products & services along with organizing events, seminars, conferences, and presentations.
The Inbound and Outbound Mix
Well, it is a fact that both inbound marketing as well as outbound marketing has its own set of advantages and drawbacks. Thus to attract huge targeted audience and develop positive and long-lasting relations with them, you need a perfect blend of inbound and outbound marketing strategy.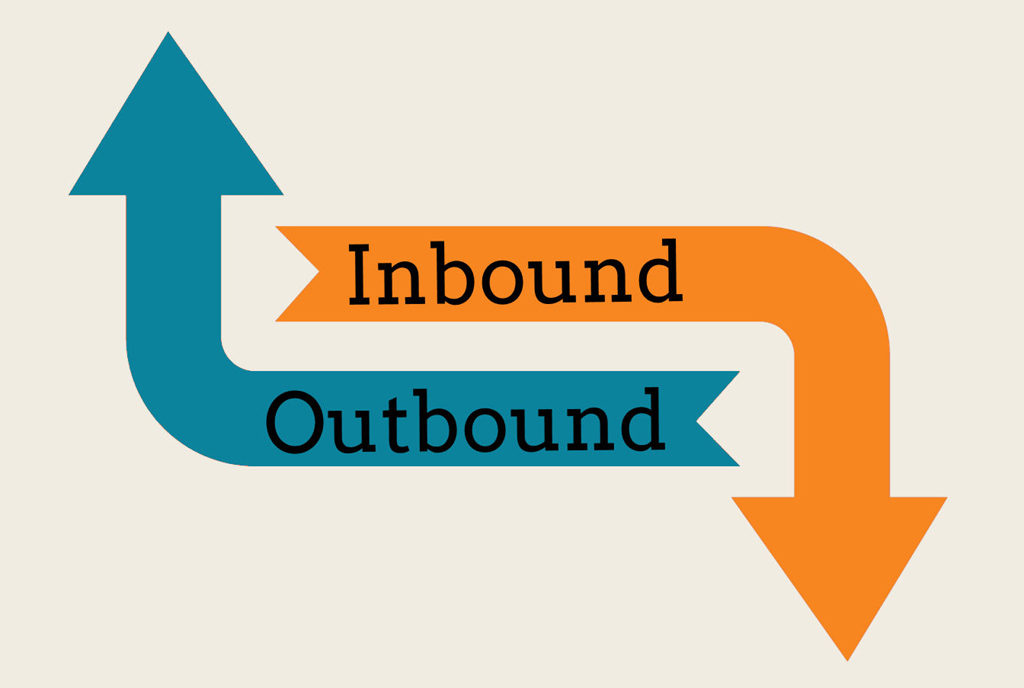 Optimize your website with the help of SEO. Create relevant and informative content that is positively aligned with the interest of your target audience. Increase social media engagements and connect with them through email campaigns.
Conclusion
It is true that the heart and soul of outbound marketing is effective communication. While inbound marketing is taking all the love of the new age marketers, Outbound still takes up a majority of marketing budgets for many businesses.
Hopefully, by now you must have understood the concept of outbound marketing and must have debunked the myth about the fall of it.
So, if you are too looking to expand your marketing efforts, also include outbound marketing in your overall marketing strategies.