Content marketing is a strategic way to reach the targeted audience by creating and distributing the entertaining, information full digital content like video, blogs, social post, e-mail, podcast, infographics, webinars those really help the audience.
It can be changed by the audience interest or behaviour. But by the meantime, the core of the marketing remains the same every time.
It won't force the audience to buy or to get the service. This is the main difference between traditional marketing and this marketing. But it helps them to take a decision and encourage them to get the service by providing informative digital content.
In the last two years, content marketing has just changed the definition of marketing. It shows the power of it, in order to create brand awareness, and leads from a specific audience.
It's not only a matter of clicks; it does create a value about your product or service in your industry.
Why Content Marketing is Important?
In 2019, it will be more important to create brand value, targeted audience. So, let's check some point, why content marketing is important:
1. People love to know about any service, product or website through the content than any ads. Because thousand of ads flow around us, so it's tough to create attention or trust. But good content can attract people, as a result, reputation, brand awareness will be created.
2. The conversion rate in content marketing is higher than any other method.
3. According to the Content Marketing Institute, 61% of online buyers of US are deciding to buy after reading the recommendation or review.
4. Proper optimized content marketing really helps on search engine optimization. And search engine optimization creates online visibility and helps to get traffic from search engine organic search result.
5. Content marketing is one of the best effective ways to create new leads.
6. Quality content helps to make a better relationship with the customer. Because if you publish a piece of quality content, then it will help your audience to get further information from you. So, you can easily make a good relationship with your audience.
7. Your customer always wants to get some informative and quality full content from you. So, if you want to keep them with you, then you should publish quality content.
8. Your unique quality content will always help you to beat your competitors properly.
In this article I'm going to tell you 20 ways to generate more traffic in 2019 through content marketing:
20 Ways to Generate More Traffic by Content Marketing:
1. Write an Awesome and Unique Article
It's not about to write more article, it's about to write something unique those will keep you up from your all competitors.
Firstly, find out the suitable keywords of your industry. If you don't know how to do this, then you can check, keyword research guide for beginners.
Then find some long tail keyword those are closely related with your industry. For this, you can use Google's Keyword Planner or Ubersuggest.
Like, if your website is about "weight loss". Then search the keyword "weight loss" to find out what are the other long terms that peoples also use to search.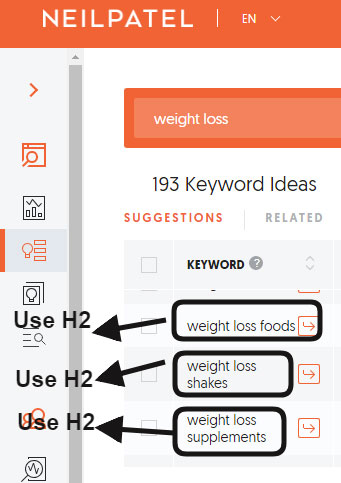 Then from the keywords select best long tail keywords for properly optimizing the article body. Use them as your subheading.
Also by using Quora, check what are the things people are asking about your industry? To check this put your keyword in the search box, and find out questions in which people are interested to know.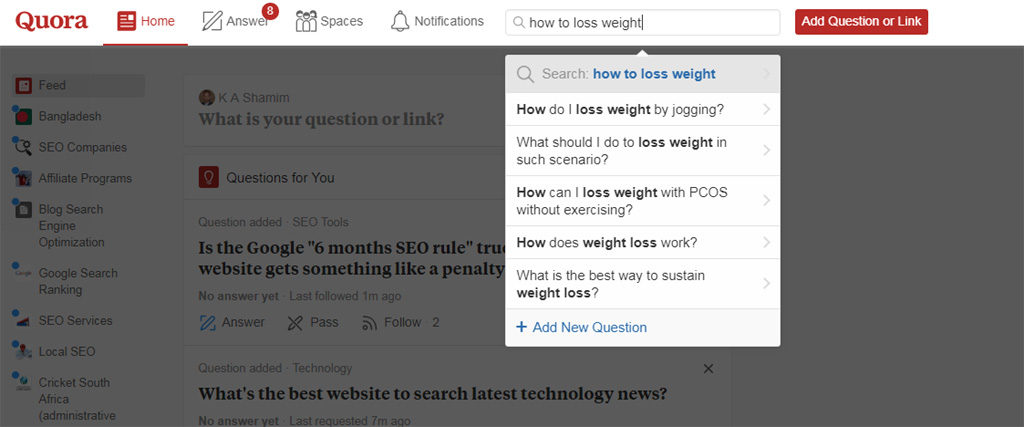 Then use Buzzsumo, to find out what is a most sharing article on your topic, to understand what people like more.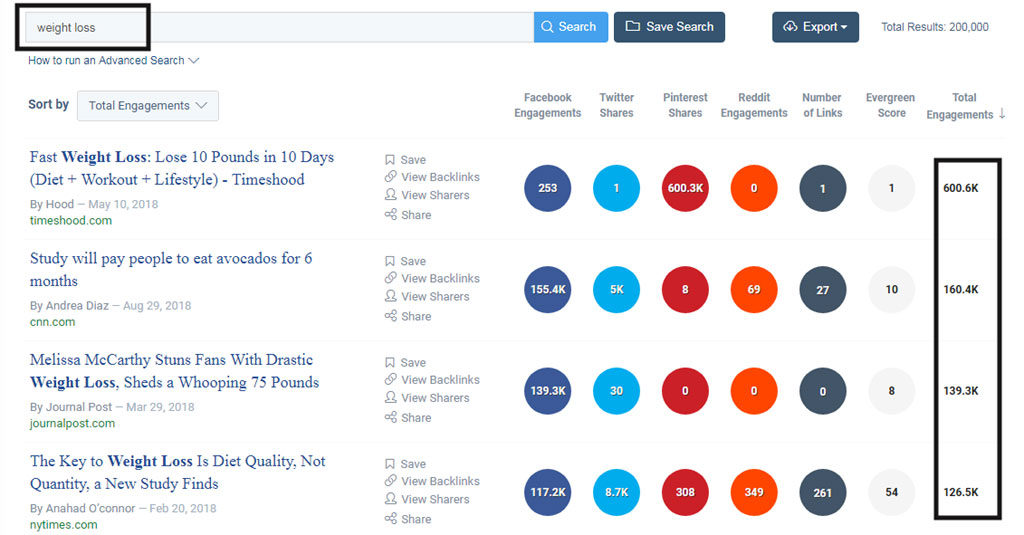 Now, search your keyword on Google to check, what is the article those people already wrote on your topic or easily findable.
Now, go on a conclusion about what you need to write. Because now you have the information about what are people searching, what are they sharing or asking, and what the available articles on your topics are? By combining all information write a unique article with attractive titles.
If you can do this properly then definitely you are going to get more clicks, share, and backlinks to your site.
2. Write in Depth
Write your text content in depth as you can. As if readers can get all required information from your content. Because sometimes a 500/700 words article is not enough to provide all the information. Write a lengthy article.
In SEO, content tends to get higher when the length is more than a short content. And SEO friendly content will help you to get more traffic to your website.
3. Use Visual Asset
You may write a killer content with good length. But, lots of people love to know from visual assets. Because it's easy to understand anything.
So, create an awesome infographic on your topic, and let people share and learn. Your unique and outstanding piece of infographic will give lots of social share and backlinks to your site. As a result, you will get more traffic to your site.
If you are not experienced with graphic design, then you can get this service from Fiverr with tiny cost or you can use an online tool like Canva.
4. Guest Posting
Guest post is another way to build brand awareness and getting targeted traffic to your website. Find out some blogs those are your niche related.

Using the following term find the blogs who are accepting the guest post and related to your niche.
your keyword + inurl:write-for-us
your keyword + guest-posts
your keyword + submit an article
your keyword + contribute
Write a quality article give backlinks from the article to your site and also give an attractive author bio if you can. As if, interested people can visit your site.
5. Contribute Visual Asset
You can also contribute to others blog with a visual asset like an infographic. Search your keyword on Google to find out blog who already have an article on your topic.
If they haven't any infographic, then reach them and tell that you have an awesome infographic on their topic; if they want they can use it. If they give a positive reply to you, then tell them to give a backlink to your website as infographic source.
Also, if you had already published an infographic on your website, then copy your infographic URL, and then convert it into an embed code. Then offer them your embed code that they can use it.
You can easily convert any URL to embed code using Embed Code Generator.
6. Use Social Media
Use social media to be connected with your audience easily. Every day lots of people use social websites. So, use it to be connected with them. You can use organic and paid both techniques. Also, add social sharing options in your website as if people can share your content.
7. Use Email to Reach
Make your email subscriber list, with who wants to know more from you. Send your fresh content when you publish. You can easily do this using an email subscriber popup on your website. To increase your email list rapidly, provide some digital products for free. Like if your website in education or learning related then you can provide "111 Tips to make great result with less study", these kinds of material for free.
8. Do Blogging Regularly
Peoples who do blogging on a regular basis they get more engagement and conversion from others. In terms of SEO also, blogging more with quality content help to improve ranking. According to an SEO expert, who publish a minimum of 16 blog posts on the month, they get more traffic than others. So, to do a successful content marketing result you should do more blogging.
9. Use SlideShare
Visualize your message or article on the slide then spread it into the web. Millions of people visit SlideShare. And you can be connected with them with your slide.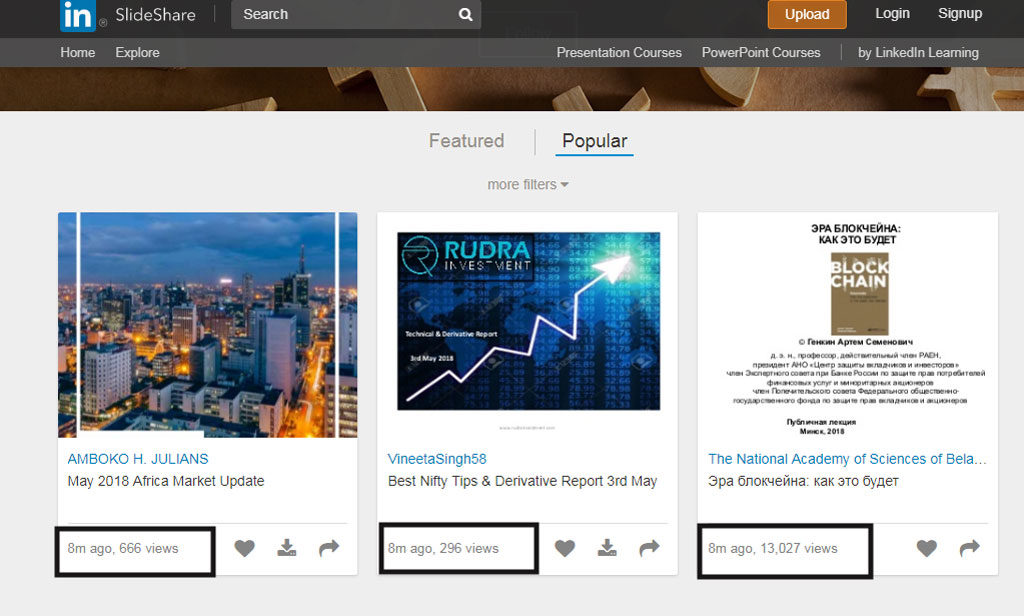 It will help you to promote your message and will also help you to get traffic to your websites. So, don't miss this opportunity to promote.
10. Use Video Marketing
Video marketing is going to be the biggest part of content marketing this year. Because people get more engaged with a video than text content. And people love to know through video than text content.
In case of SEO, video helps to get rank an article than an article without a video. Using proper optimization of video in YouTube helps a video to get rank in 24 hours in search engine result. This helps to get engage with less time. When normally text content takes a month or more to get rank on search engine.
Especially try to focus on "How to" videos, because these are getting more engagement.
You can easily spread your video by using YouTube, Facebook or Reddit.
11. Inbound Links
An inbound link is also known as backlinks in SEO. Try to add your content URL on the authority website or blog. As if people can get lead to your website.
In the case of content marketing and SEO, get links from relevant and authority websites. Otherwise, your website can get a penalty from a search engine. And it will reduce your website traffic massively.
12. Question Answering
Start giving the answer of your niche related question on Quora, Yahoo Answers, and on other niche related forums.
Give them your content source to them who are willing to know about your topics, or asking your topics related question.
And don't do any spam activity; promote your content naturally on there.
13. Utilize the Benefits of SEO
A perfect SEO strategy can really help you to increase your presence on search engine results. It will also help you to increase your website's traffic.
So, do on-page SEO and off-page SEO properly as if your website can rank better on organic search results of search engine.
14. Host Webinars
Host webinars on your topic. You can do this on your website or can participate on another website as a guest. This can help you to be close to your audience. You can create a brand awareness using this.
15. Add Number in Headline
A headline always plays an important role to get more clicks. So, use a headline as if people do more click. And you can do this by adding a number in your headline.
Like, use"20 ways to generate more traffic by content marketing" than "How to generate more traffic by content marketing?".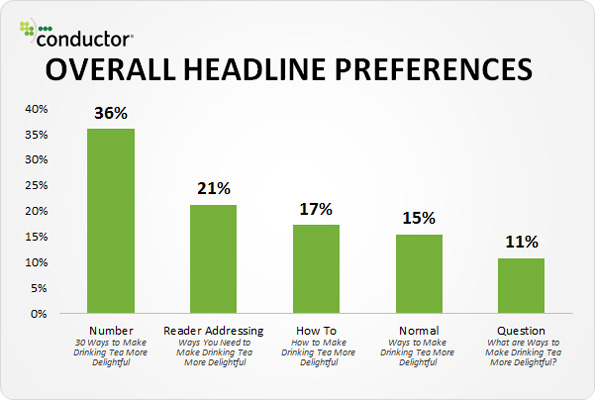 Image Source: Moz
The headline with a number gets more clicks than a headline without the number. So, use number on your headlines.
16. Focus on Local
Focus on your local reach, because approximately 97% search to buy service or product from local. So, don't avoid reaching your local audience. Also get the help of local SEO.
17. Know Your Audience Properly
The most important point is you need to know your audience properly. Because you have to be specific to their needs. So, if you can't know your audience, you can't reach them properly, you can't be specific with their needs.
18. Publish Podcast
Podcast publishing can be another way to reach your audience. So, do publish a podcast to reach your audience.
19. Use Paid Promotion
You can also use paid marketing technique like Google ads, Facebook ads, LinkedIn ads, sponsored banner ads, etc to get traffic.
20. Don't Forget Your Competitor
In your total activities don't forget about your competitor. Because you are doing everything to beat your competitor. Spy on their work, what are they doing, how they are getting more traffic. Copy their best work on your marketing plan. In case of SEO, get their all backlinks source and follow your competitor's best backlink source to get them for your website.
Conclusion
The most important after all of this is, you have to be specific and focused on your subject if you want a successful marketing plan.
Here, I tried to discuss 20 ways to generate more traffic in 2019 using content marketing.
In the comment section tell me, from 20 ways, which one will help you more to get more traffic that you are thinking. Or which one is going to the easy or best for your website?