Local SEO is a new era of advertising your local audience.
Because customers are everywhere.
If you are a local business or a multinational company, your potential customers can be anywhere from listening to the radio or surfing social media feed, browsing yellow pages or going through Google for finding their solutions.
Although old-school marketing techniques like word-of-mouth or banner hoarding are still good to expand customer outreach, one should realize the current scenario of consumer behaviour and the potential of digital channels in order to scale-up his local business.
As per research, 97% of customers have used search engines to find a local business.
That said, thanks to the evolution of the digital world, search engine optimization is a prominent medium to create online buzz and bring more attention to your services and products.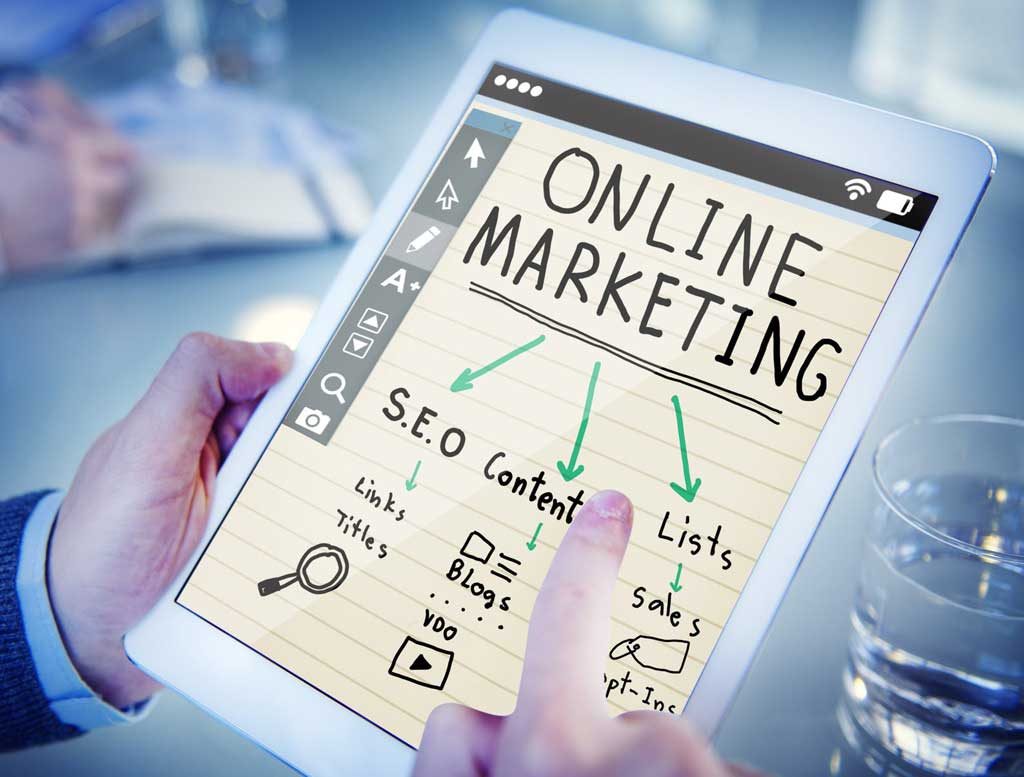 15 Local SEO Tips to Implement in Your Website
1. Get the Google My Business Page
Getting Google my business page is the first and most important step of any local SEO strategy.
It allows the local people to reach to your offline store through Google maps and visit your website, social media profiles, etc.
Its main objective is to let the customers know the actual information regarding the business like working hours, working days, website, phone number, etc.
It also allows listing your business on Google maps.
Through GMB, you can monitor which of your business' information should be displayed on search engine result pages whenever a user searches a related query on Google.
Consider this example below.
The screenshot of the list below is coming from a few Google My Business pages.
Means, those people who are able to rank in the list similar to this must-have registered or claimed their Google My Business page.
Moreover, they have optimized their listing page smartly in order to be ranked for related keyword phrases.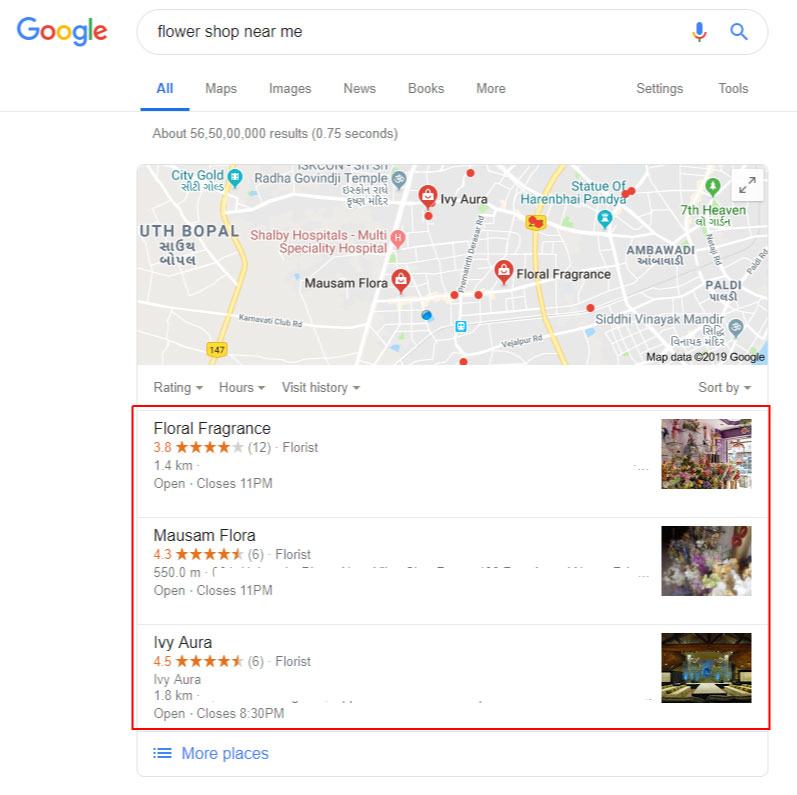 Another example if Amazon's transportation services Google Business Listing where the eCommerce giant has registered its local transportation center.
This is how it turns up in SERP where you can see the buttons of website, directions, phone number, address, reviews, ratings and so on.
This is how a potential buyer gets more idea of a particular local business through Google My Business page and encouraged to click or engage with the best businesses.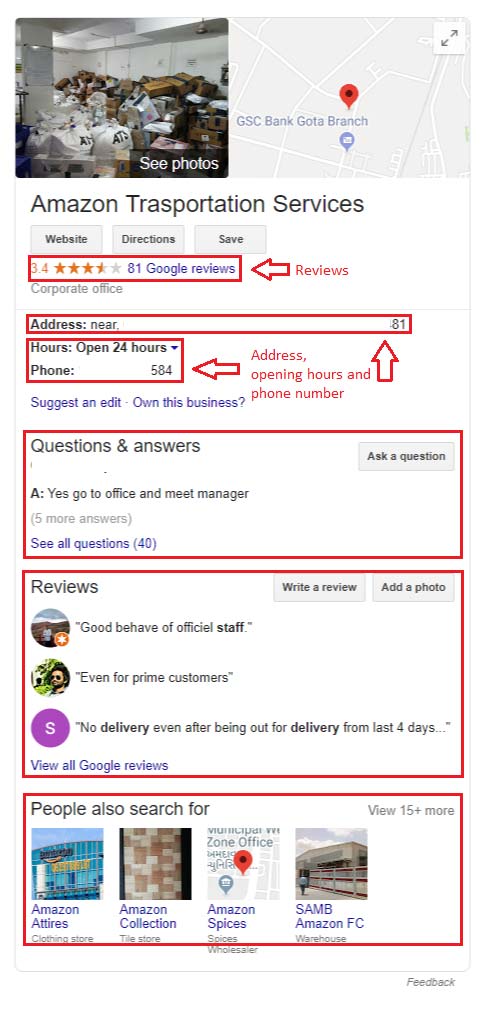 2. Create Local Listing
Local listing forwards excellent citation value.
A citation forwards a strong positive ranking signal to the search engines about a particular business.
Other than Google, there are many other 3rd party websites who allow local companies to register a business.
Such web resources do hold power because google bots often go to these websites to find related data of a particular enterprise.
It is highly recommended to go for other local listing websites for getting more citations for your business.
Yelp, Citysearch, Manta, etc are some of the good local listing websites.
Do keep in mind that your citation or listing should look natural.
Means, if someone sees your listing, it should not appear that information submitted is solely to benefit the Google ranking.
3. Improve Website Loading Speed
Website loading speed is one of the main ranking factors according to Google.
Because even though a webpage provides a fabulous solution to users, if the page is taking more than usual time to load, then it sends a bad signal to the search engines and its Google ranking will take a hit.
Google page insights are one of the best tools to check such metrics.
You can not only get the idea of how fast your loading speed is but this tool also provides the data like which CSS or JavaScript file is blocking the flow of your website and which images are taking more time to load in the browser.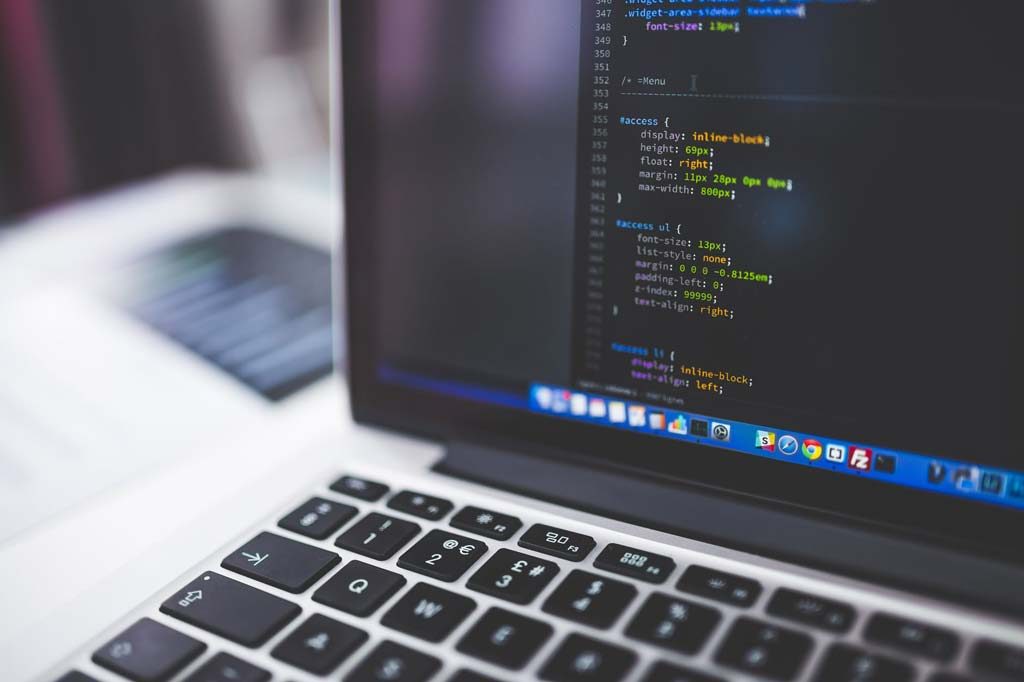 4. Make Sure Your Website is Mobile Friendly
A potential user who is researching local brands is highly likely to use his mobile devices instead of a laptop or desktop.
Because a mobile comes very handy and extremely easy compared to other smart devices.
Anyone can search for anything on-the-move by just a couple of taps on the small screen.
Moreover, Google is also considering mobile-friendly websites over its counterparts.
Meaning, even if you are ranking at a decent position right now but your website is not 100% friendly, then there are strong chances that the mobile-friendly websites which are currently ranking after yours, might overtake you in the meantime.
Hence, it is advisable to keep that in mind and develop your website accordingly.
5. Doing Off-Page SEO Optimization
Rather than submitting a local listing and sharing posts on social media, there are other off-page optimization procedures as well through which you can help your website in local SEO.
Directory submissions, social bookmarking, questions, and answers, video promotion, PDF sharing, document creation, etc are the few of off-page SEO activities that add value to your overall local search engine optimization campaigns.
Again, make sure to not appear a spammer while doing any SEO activity.
Try to make your links as natural as possible for better local SEO results.
6. Optimize Website Content
This step involves keyword research.
Make sure you are including relevant keywords that have decent search volume.
The ideal practice is to use Google Keyword Planner because it gives a number of search volume based on a particular geographical location.
Moreover, Google Keyword Planner is free to use and easy to navigate.
Also, take note of smart keyword mapping.
It is a process of mapping a specific set of related keywords to a particular page.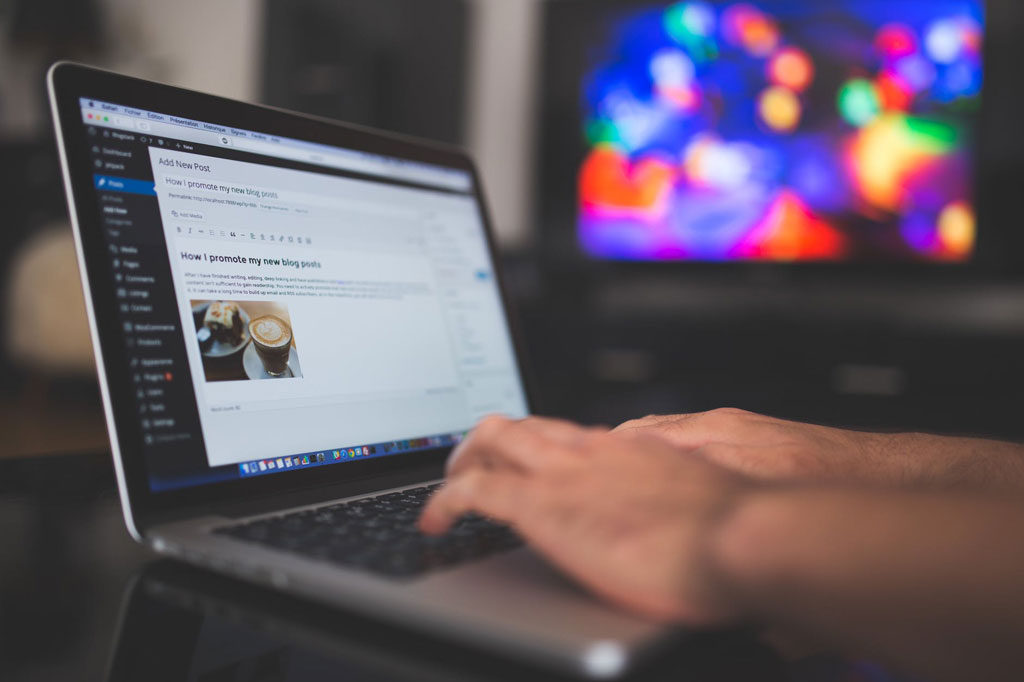 Use long-tail or LSI keywords a couple of times in your webpage content in order to ensure that your webpage grabs the eye of the search engine and get more sales in the end.
7. Encourage Your Customers to Write Online Reviews
A genuine review in your local listing would create a huge impact on your rankings.
Because if there are more reviews from real users for your business, Google thinks that your business has high customer engagement as more people are visiting and talking about your services online.
For example, if your competitors have more reviews at some point and ranking above your website.
Gradually, if you too manage to grab more genuine reviews then your ranking improvement rate will be higher than your counterparts thanks to better engagement on your business over the web.
8. Optimize Social Media Profiles
Social media falls under off-page SEO optimization.
It holds a decent controlling factor for local businesses to rank higher in SERPs.
To optimize your social profile, make sure you have an engaging bio that describes your business properly.
You should mention your address properly along with other necessary details like phone number, working hours, working days, email id, website URL and so on.
Also, mention the relevant URL in your social media posts.
If Google observes that people are visiting your website from 3rd party resources like Instagram, Facebook, Twitter, Pinterest, etc.
It would take that as a strong signal and improve the ranking accordingly.
9. Implement Schema Markup
On any website, there are some important elements that provide specific information about an individual or a business.
To tell the search engine bots about that special information, we use schema markups.
It tells Google that certain text is not another normal content of the website.
It represents a specific type of information that should help the users understand the website properly.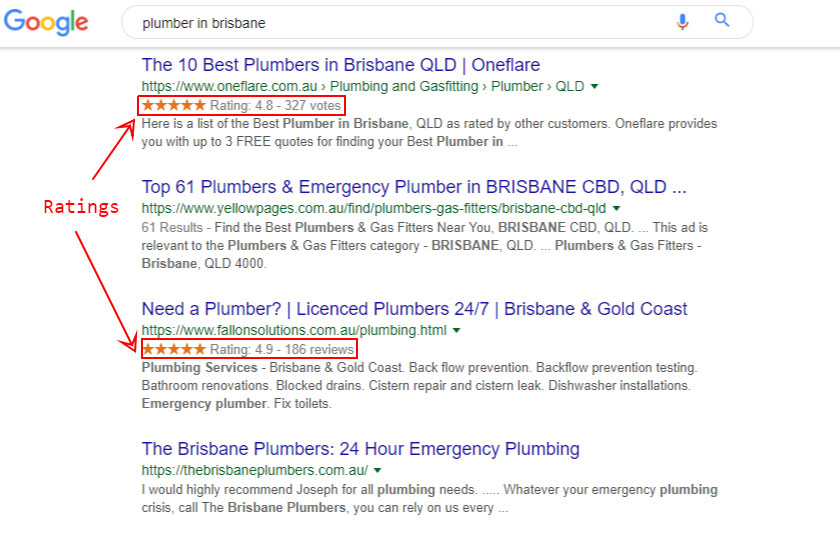 The image above shows the example of schema markup to show ratings of the business.
It could be either
Address
Phone Number
Email Id
Event Information
Business Logo
Ratings
Reviews
Testimonials
Product Prices, etc.
Through schema markup, users can know more about a business without visiting its website.
So, if users found the business relevant, he will visit the website to find out more about the services offered and that the user is highly likely to get converted as a customer.
10. Consistent NAP Settings
NAP is a term used by search engine marketers and stands for Name, Address, and Phone Number.
As a part of your SEO strategy, you will submit your business details to many websites.
Make sure you add the same details everywhere.
Try to be as consistent as possible in submitting details.
Like, including punctuation marks in the address, spaces in address and name, capitalizing specific words and so on.
Say if you used a Name: Phil Evans Marketing in Facebook and Phil Evans marketing to another listing website.
Although it seems the same name to humans, to machines, however, i.e. Google, they both are totally different.
Hence, Google might get confused about which is a more accurate representation of the business.
11. Connect with Local Influencers
Say if you are running a cake shop and want to optimize your website for search engines.
One of the ways to increase your SEO value is to connect your business with local influencers.
For this particular example, suppose there is a renowned food blogger of your neighborhood who is generating good number of traffic on a location-based keyword of your area.
Here, you can contact the blogger and ask for sponsorship or partnership.
This way, Google will know that the relevant website of your niche mentioned your website.
So, your website's ranking will get a major boost in SERPs.
12. Optimize Your Website for "near me" Keyword
As more and more people are coming from mobile devices, their usual behavior is including "near me" phrase in their search query.
Like they search for "plumber near me" or "chicken restaurant near me".
Hence, it would be highly profitable for your business if you include near me keyword naturally to your meta title, meta description and content.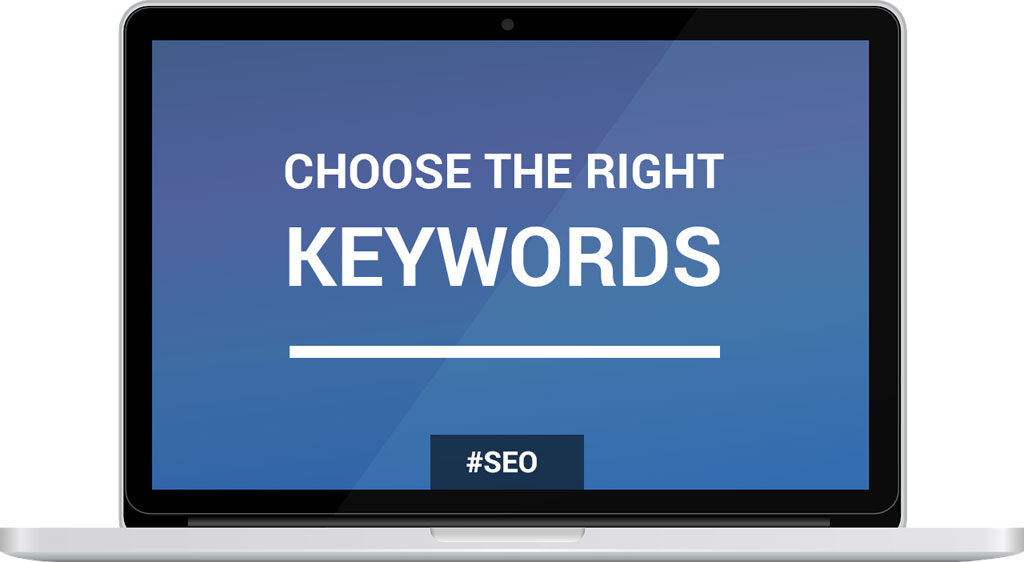 13. Create Location-Specific Web Pages
This one of my favorite tips.
It is advisable to include location-specific service/product pages on your website.
Adding location-specific keywords in your content, meta title, description, etc is a good start.
For example, you are covering two states of the United States in providing plumbing services.
One is California and another one in Los Angeles.
Now, all you need to do is create two separate web pages with the same content except replacing locations in respective web pages.
So, you can rank for multiple keywords just by adjusting location-based keywords.
This way, you won't have to work extra to optimize your web pages to rank on different geographical locations.
Moreover, you can customize and create dynamic web pages for people who are sharing different cultures and geographical locations and sell the same services.
14. Study Your Competitors
Studying competitors is one of the old school marketing methods.
Thanks to some of the versatile tools like Ahrefs, SEMRush, etc you should study your competitors initially to see how they are playing the game.
It will give you a rough idea of their SEO journey and where they stand in the competition.
You can decide and plan your strategy accordingly after having a clear picture of how much work you need to put in order to perform better in local SEO competition.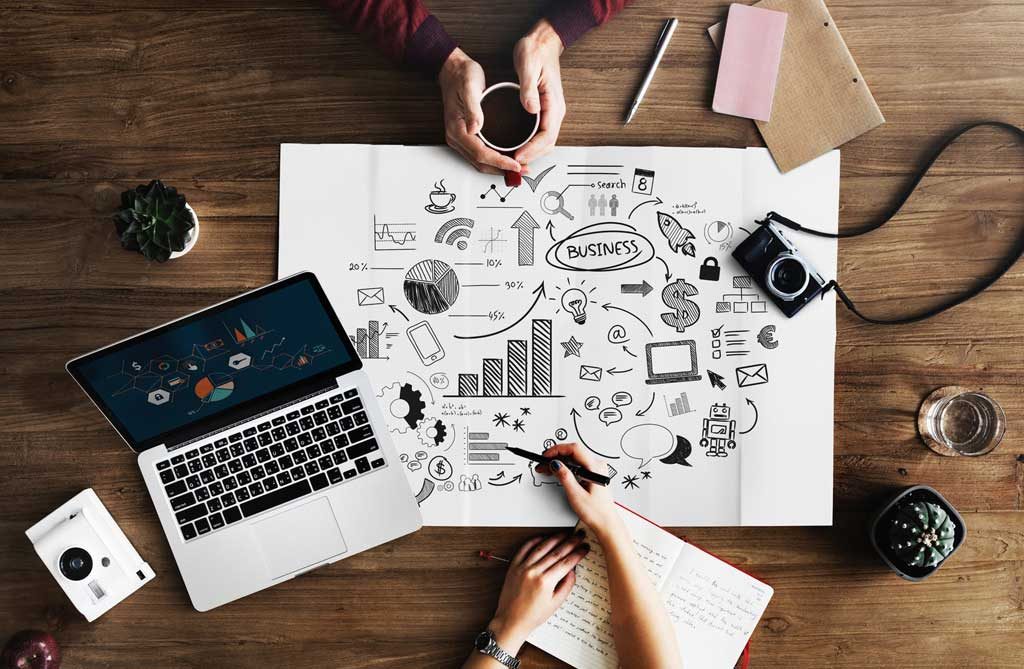 15. Features in Local Press and Media
You might have to put aside a few bucks to get the most out of this step.
Go to any local news website and outreach them asking if they can feature your work.
It would be great if you can convince them that you can contribute or write a related story or share experience with their readers.
You might have to cope with their quality of writing but after successfully executing this step, you can build transparent and healthy relationships with local media.
Concluding Note
Local SEO is sometimes undermined yet one of the most powerful ways of generating sales.
Keep in mind that these tips should be followed in balance in order to achieve the next level of online business success.
Search engine optimization is the backbone of online marketing.
It takes time initially, but once the ball starts rolling, the hustle is worth it!
Also, make no mistake that it is a dynamic marketing strategy.
So, even though you decide to go on with a pre-plan, be open-minded to making few changes down the line in your local SEO campaign in order to ensure maximum success.
Do let us know if you had any experience related to the tips mentioned in the story and your learning from the same.