In today's post, I'm going to show you how to sustain influencer marketing on the social media platform.
After reading this complete post, you will be able to understand how to use influencer marketing on the social media platform for your project.
So let's start without further ado.
The term 'influencer marketing' has turned into the most commonly used term in social media marketing.
Social media platforms have transformed into e-commerce platforms where brand promotions, purchases, and other commercial activities take place.
It is predicted that globally renowned brands will have 70% of their sales through social media platforms by 2022.
Thus, social media platforms are evolving into the epicenter of sales and marketing.
Meanwhile, 'influencer marketing' has become the most sought after strategy to convince people to buy products on these platforms.
If you choose to go with influencer marketing to promote your business, note the factors that are given below, which avail you of a huge benefit.
1. Choose The Right Social Media Platform
Influencer marketing is widely regarded as a successful marketing strategy.
You can turn it into a flop if you hire an influencer from a social platform that is irrelevant to your business.
The foremost essential factor that you should consider in influencer marketing is finding the right platform that suits your business.
Conduct sufficient research to find at which social media platform most of your target audience is present and where you could find your target audience easily.
Trollishly is a well-known service provider that will help you to find your prospects effortlessly on any social media platform.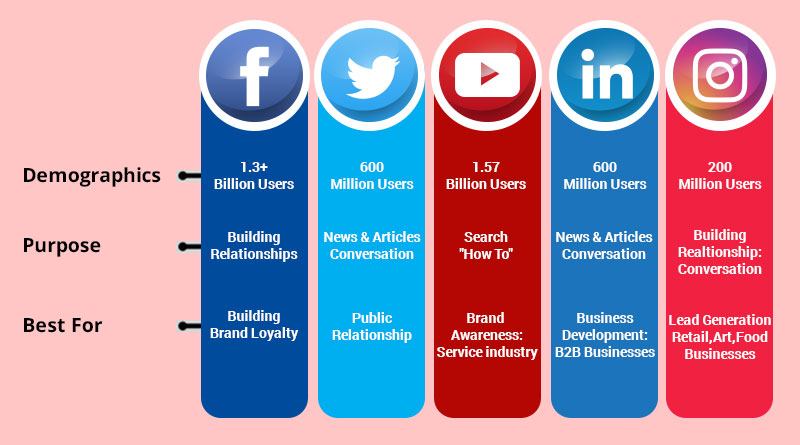 Five years back, Facebook and Instagram are the commonly used social platforms for promotions.
Brands cannot look further beyond these platforms because they were the only social application with a global presence.
But things are different now.
We have a handful of social apps with a consistent user base.
For instance, if your product is for teens, you can go with TikTok and Snapchat.
These platforms have teens as their prominent user base.
If you are looking to endorse beauty and fashion products, it is better to go with Instagram, where 58% are female, and 42% are male.
If you are into the video gaming industry, you can try 'Twitch,' the platform that is completely dedicated to avid gamers.
Thus, people are spread across various platforms based on their interests.
So, have in-depth knowledge about a social platform such as user base and demographics before hiring an influencer.
2. Be Wise in Choosing Your Influencers
You have to consider multiple factors before choosing an influencer.
Let me bring out some of the points you should consider before choosing an influencer.
(i) Know About His Userbase
Having a large number of followers alone is not sufficient in choosing an influencer.
If you pay a large sum of money to an influencer who has a huge fan following, chances are there for you to have a very fewer sales value compared to the money you spent on him.
The reason behind this is that the influencer could have a very meager of your target audience as followers.
So, before collaborating with an influencer, ensure whether he has a consistent number of your target audience as followers.
(ii) Ensure Whether The Influencer Fits-in With You
Confirm whether the influencer you choose correlates with the characteristics of your brand.
You are going to ideate concepts and create promotional videos that would revolve around the influencer.
So, the influencer should ideally fit in those videos.
Let me give you a simple example.
Just assume that you are looking out to endorse muscle grower powder through a social media platform.
Some people rose to fame on social platforms by showcasing their singing ability.
If you collaborate with one such person who is underweight or oversized, people will not be convinced to buy your muscle growth powder.
At the same time, if you collaborate with any athlete or an acrobat, it will be much easier to convince people.
Moreover, ideating concepts using them to create promotional videos will be much easier for you.
So, try to join hands with the influencer who could align with your 'brand tone'.
3. Take Advantages of Videos
Today, all the major social platforms have turned into video-dominant platforms.
Facebook has a section that is entirely dedicated to videos, and Instagram has its very own IGTV.
TikTok is a complete video platform.
People spend a larger part of their time on social platforms by watching videos.
They show less interest in scrolling through the images or posts that are rich in words.
It is predicted that 87% of online content will be in the form of videos by 2022.
So, focus on creating video for your brand by using the influencer.
Moreover, the video can be used across multiple social platforms and even on television and OTT platforms.
(i) Make a Note of Ephemeral Content
Ephemeral content is the next big thing in social media marketing.
These are short-duration videos that will disappear after 24 hours or at a particular time.
The engagement rate of these ephemeral videos is consistently increasing because it will last only for 10-15 seconds.
It won't even long for even a minute.
So, people always feel free to watch these videos as they consume much of their time.
A recent study showed that Instagram stories have a 4x higher engagement rate than standard posts.
So, create short-duration videos with the influencers for your brand.
Create such videos frequently at least three to four times a week and post them on the stories section of the influencer account.
Such a measure will increase the visibility of your product.
4. Influencers 'The Effective Tool' for Hashtag Challenges
Hashtag challenges are always considered as one of successful marketing campaign tactics as it has the potential of elevating the reach of a brand at a quick pace.
Usually, in a hashtag challenge, people are asked to perform a particular task.
If the 'task' is intriguing, many people will come forward to participate in it, which will turn the campaign into a massive hit.
If hashtag challenges are introduced using influencers, many people will come to know about it instantly.
For instance, Samsung made its smartphone launch Galaxy A popular in Germany by collaborating with famous TikTok influencers Selina Mour and Falco Punch.
As part of the campaign, people are instructed to draw the letter 'A' in their hand palm and teleport it to another person's palm through the phone's transition effects.
The campaign was ideated in such a way to communicate the product's message 'communicate with your friends'.
It was received well among the people since the videos that are created for the hashtag challenge received around 30 million views.
So, influencers can be utilized as a medium to launch hashtag challenges.
5. Beware of the Budget
Due to its increasing importance among marketers, influencer marketing has turned into one of the costliest means of marketing.
In recent times, many influencers are charging a hefty price.
Just enrolling an influencer for your brand promotion will not do wonders and uplift your sales.
So, ensure whether the influencer is worth the money he is demanding from you.
At least, you should achieve the sales profit of double the money you spent on the influencers.
So, be cautious about the money you spend on them.
Let us look at how the influencers are categorized based on the followers they have:
Nano Influencers– 1K – 10K followers
Micro-Influencers– 10K – 50K followers
Mid-Tier Influencers– 50K – 500K followers
Macro Influencers– 500K – 1M followers
Mega Influencers–  1 Million and above
(i) Test The Waters Through Micro-Influencers
If you are doubtful about the way influencer marketing will work, join hands with micro-influencers who have 10K-50K followers.
They charge a meager amount when compared with macro or mega influencers.
It would help you to gain deep insights and practical knowledge into the way influencer marketing works.
Moreover, tying up with micro-influencers is considered as an efficient measure in recent times.
Renowned global brands like Adidas and Dairy Milk have followed this strategy and achieved impressive results.
One of the common characteristics of micro-influencers is that they will have a strong follower base in a particular region.
If you feel that the people in Louisiana do not know your product, check out for the influencers who are famous and collaborate with them.
6. Collaborate With An Influencer For A Long-Time
Today influencers are enjoying a massive fan-following as the same that of traditional celebrities.
So, fix an influencer and make him the face of your brand.
Stay with him for at least 3 or 4 years.
Changing influencers constantly for your brand will not be an ideal move.
Moreover, you have to ideate new concepts in accordance with the characteristics of the influencers.
Chances are there for the new influencer endorsing your brand may not be accepted by the people.
So, collaborate with an influencer for the long term.
Final Words
A recent survey shows that 70% of teens find influencers more credible than traditional celebrities.
Many influencers have garnered a good name among their followers by delivering intriguing content and interacting with them consistently.
So, businesses are looking to use these influencers as a medium to reach out to people and to drive people towards them.
It is expected that influencer marketing might reach $13 billion in worth by 2023.
Since the demand for influencers is consistently growing, don't rush up and choose someone randomly.
Keep the factors in mind that are given by me and pick an influencer accordingly to take your business to the next level.