Today, you will learn about 15 insanely actionable Twitter marketing tips.
So whether you are a beginner or an expert, I am sure you will definitely like these powerful Twitter marketing tips in this guide.
So let's start with few basics.
What is Twitter Marketing?
Twitter has grown to be one of the most powerful platforms to market your brand in the last few years. Marketers have used Twitter to get the most organic engagement compared to other social media platforms. Over the last few years, there has been a drop in the monthly active users but still has 326 million active users to its name.
Not only can one promote their brand by posting relevant content on Twitter, but can also promote their brand through posting ads with the help of Twitter ads. According to The Balance Small Business, 1.6 billion unique visitors per month see tweets on third-party properties, which corresponds to 500 million tweets per day and around 200 billion tweets per year.
With that kind of engagement and reach it is more than obvious that Twitter is a great platform to build your business and its reputation and also helps to turn future prospects into customers and build a better relationship with the existing customers by providing them quick feedbacks on their inquiries and deliver messages at once to a larger audience.
Importance of Twitter as Marketing Platform
In the recent few years, Twitter has grown from being just a social media site where you could follow celebrities to a social platform where you can grow your brand's image simply by engaging with the huge amount of Twitter users by just using the right hashtags. Nowadays each of the big brands uses social media to promote themselves, be it the launch of a new product or sharing valuable information about the brand or reaching out to the audience in order to attract engagement.
Benefits of Twitter Marketing
Reach
Twitter has a huge audience with almost 326 million active users. Whenever a brand markets its products and services on Twitter in the form of tweets, it is highly anticipated to get engagement and even traffic on the website.
Two-Way Communication
As Twitter is a social networking site it allows you to connect with your audience and communicate without any barriers. It helps a brand to get information from its followers directly with the help of polls, questionnaires, and feedback links.
Lead Generation
With posts regarding your new products and services, you can generate leads as well as convert them into sales. Followers on Twitter often get attracted to new products by viewing tweets and tend to seek further information via the tweet.
Cost
One of the biggest benefits of doing Twitter marketing is that it is absolutely free. You only need to have a Twitter account in order to do marketing on Twitter. While there is an option to use paid advertisements, many brands seek benefits from organic traffic and interactions.
Brand Identity
Most of the brands nowadays focus on enhancing their brand identity and goodwill through social media platforms. Twitter gives you the chance to build your brand image and personality and attract more followers by giving them an insight into your business.
15 Insanely Actionable Twitter Marketing Tips
Here are the top Twitter marketing tips to create a strong Twitter strategy for business:
1. Build an Attractive Profile
The most important tip to be successful in marketing on Twitter is to create an appealing and attractive profile. In order to get more recognition, you need to use the right profile picture that complements your profile or the brand logo if you have one.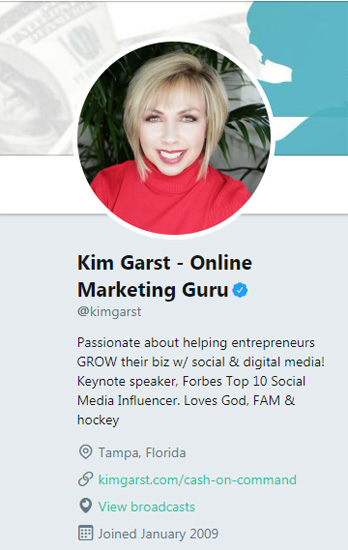 One of the most important steps in creating a great profile is by writing a bio that helps people understand your brand. Twitter allows you to use 160 characters for your bio.
A bio should be short and effective like a bullet which gives a quick insight to your profile. An attractive profile not only helps you get followers on Twitter but is also helpful in building trust and connecting with the audience on a real-time basis.
Another important feature to complete your bio is to have a unique Twitter handle which is easy to remember and short so that you get more mentions from the audience and other brands.

Add a geographic location if relevant and a call-to-action to make the profile more trustworthy and easily communicable. If you have a website always have its link featured in the bio in order to get more organic traffic.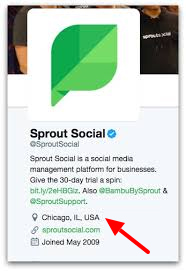 2. Setting Up Goals
One of the most important steps is to decide what goals you want to achieve before deciding your marketing strategy.
In order to achieve the predefined goals, you need to generate leads from Twitter by directing your followers to the landing page of your website.
With the help of Twitter build awareness about your brand and the latest additions in it. In order to reach the goal, you need to create a positive opinion about your brand by using Twitter as a PR tool.
Providing support to your customers through valuable information in the form of a tweet helps to grow the relationship with customers.
3. Identifying Target Audience
In order to get more recognition, one needs to know that the information shared is being shown to the right audience. Twitter has a huge number of monthly active users and so it is necessary to know whom to address your content to.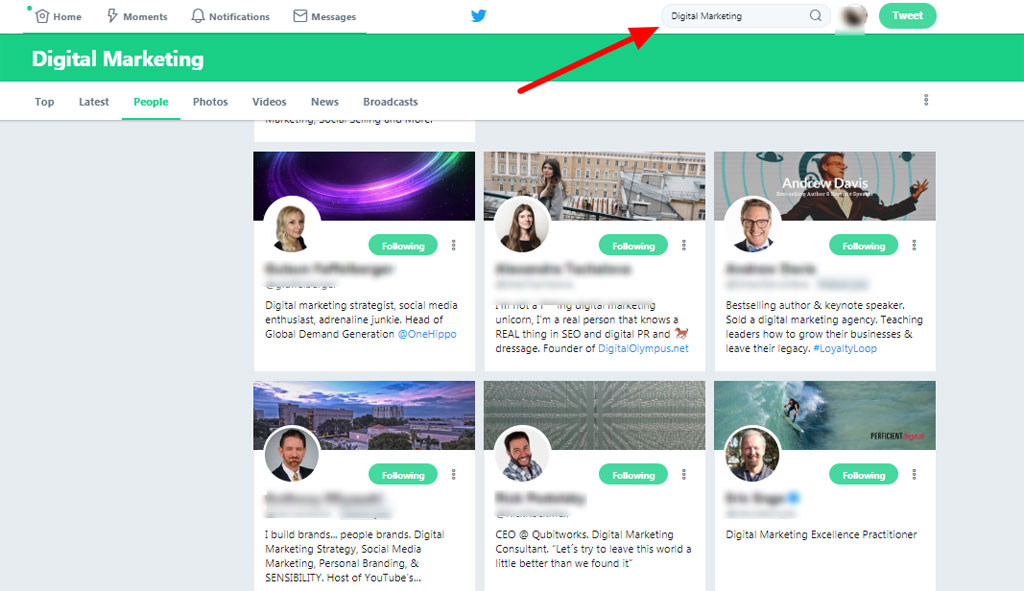 By using the right keywords you can showcase your content to the people interested in the particular keyword or hashtag. For example, if you are looking forward to targeting Digital Marketing Influencers, you can search for #DigitalMarketing in their profiles.
4. Make Your Tweet Short and Effective
Twitter allows its users to use 280 characters in a single tweet. In order to be more engaging one should keep in mind that the tweet is not lengthy and has the important and effective words used so that the content is useful to the users as well as short so that it does eat up much time of the reader.

Although Twitter allows you to use 280 characters in a single tweet, it is not necessary to use all the characters as keeping it short and sweet is still the trend on Twitter.
5. Appropriate Content
Even though Twitter is a platform that is known for fewer usage of words, one should still try to write efficiently as it has an impact on a large audience. The content you write on twitter must be easy to read and understand by all the sections of your audience. It is necessary to mix up the length of the tweets to keep the audience engaged.
The URL included in the Tweets should also be shortened with the help of different tools in order to use the least space and keep the tweet to the point.
6. Use of Hashtags
The use of hashtags was first introduced on Twitter by Chris Messina.

Since the arrival of the hashtag in the world of Twitter people have used it to be distinctive from others. With the help of hashtag people nowadays create their own campaigns and drive engagement for their brand.
The use of hashtag should be at the right place and at the right time in order to get the most engagement. The hashtag has been omnipresent everywhere and so its use in Twitter is extremely efficient to get more engagement. When a hashtag is added to a post, Twitter indexes it and so it becomes searchable. Posts with the use of a hashtag get double the engagement as compared to post without one.
7. Best Time to Tweet
A tweet will only get more engagement when the targeted audience or the followers of the brand are online. According to Wiselytics, a tweet has a half-life of just 24 minutes and reaches 75% of its potential engagement in less than three hours. This means it is necessary to post at the right time in order to attain maximum engagement.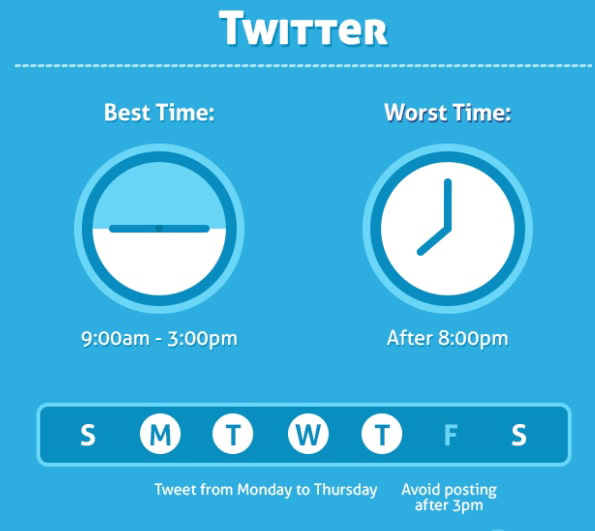 8. Tweet Regularly
It is necessary to tweet according to the need of the brand. Tweet at least once a day to attract and engage more followers. It is also recommended to not have too many tweets in a single day as it can have negative effects. There should not be a set path followed for tweeting as more and more experimenting is likely to unveil more opportunities with the data provided by Twitter.
9. Scheduling Tweets
There are certain times in a week when your post becomes most active. After identifying those times you need to schedule posts accordingly. Generally, tweets posted on Friday, Saturday, and Sunday have higher CTRs than those posted during other days of the week.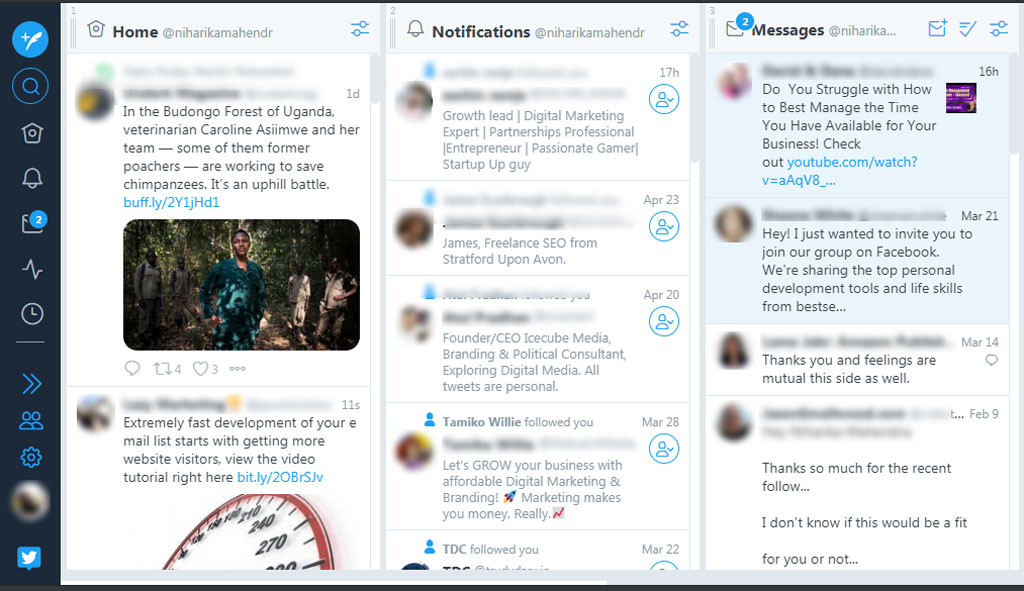 You can use Hootsuite, Buffer or Tweetdeck to schedule your tweets ahead of time and automatically post them at peak hours to get the most engagement.
10. Use Images
Humans have a tendency to get attracted to anything which is pleasing to the eye. Adding an image to your post is the best way to get engagement and increase views on your post.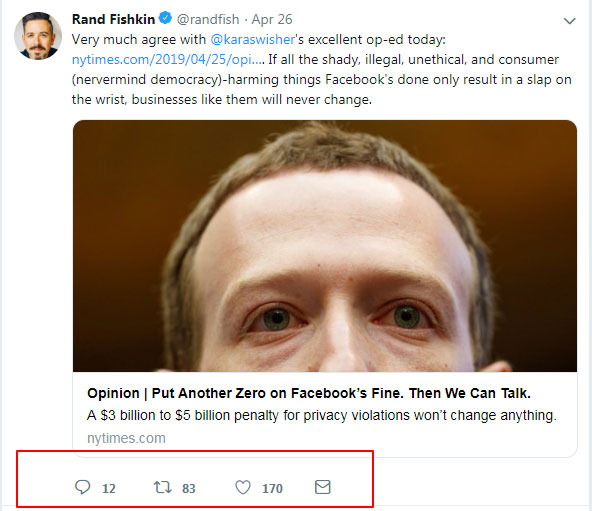 Adding a relevant image to your tweet enhances the chance of a tweet getting more likes and retweets. According to Adweek, tweets with images get 18% more clicks, 89% more favorites & 150% more retweets. Adding an image also increases your limit from 280 characters per tweet as you can convey or add more text in an image.
11. Use Twitter Videos
Adding images to your post surely gets you more engagement, but adding a video to your post further increases the chances of your post to receive more attention.
Wyzowl's State of Video Marketing 2019 report found 45% of video marketers have used Twitter video and out of those, 71% say it's been successful for them. Videos are a better way to share information and help to give the tweet a longer life-span.
12. Keep a Check on Competitors
One of the easiest ways to monitor your competitors is with the help of social media platforms. Twitter allows you to follow your competitors and see what kind of content they are posting and the kind of engagement they are receiving on their posts. Twitter also helps to check what the audience is saying about them.
13. Engagement With Followers
One of the most important tips to market your brand on Twitter is by communicating and engaging with the audience. One of the easiest ways to engage with the audience is by conducting a Twitter poll.
Creating Twitter polls is one of the best ways to initiate engagement with your followers. Creating a poll also helps in feedback and can also lead the followers to drive sales with the help of appropriate CTAs attached with the polls.
14. Twitter Ads
The best way to market your brand is by creating and posting ads through Twitter ads. With the help of Twitter ads, you can target a specified audience and show them your advertisement.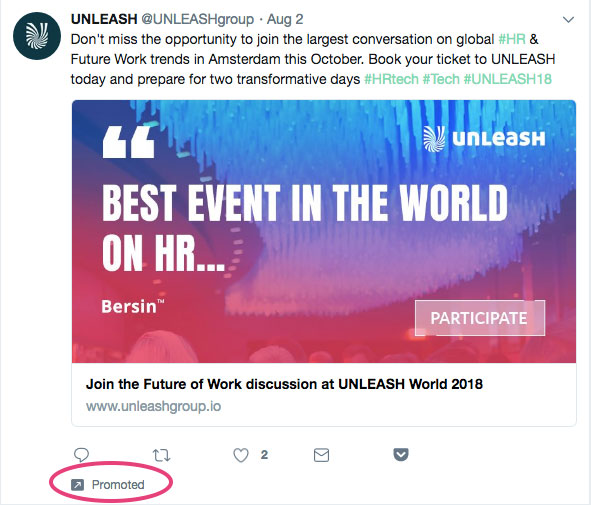 The only setback is that you need to pay to Twitter to post ads. The best thing about Twitter ads is that you can easily measure the performance of the respective advertisement with the help of Twitter Analytics. Conversational advertisements are one of the most helpful ads as they boost the engagement and also helps your organic posts to drive engagement.
15. Evaluate and Elevate
Twitter Analytics provides insight into how your posts are performing. With the help of the reports provided by Twitter Analytics, you can understand what kind of tweets are performing well and where you need to change the type of content.
It also gives you an overview of where you need to change your marketing strategies. It also helps to track your audience's activity, interests, and demographics.
To check the analytics, click on your profile pic on the top right side to see the drop-down menu.
Click on "Analytics" as shown in below image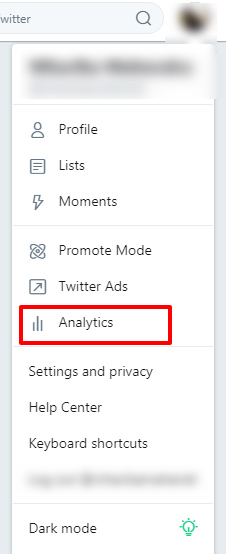 Here you can check your twitter account's insights.

Conclusion
It is true that digital marketing has gone beyond Google and Facebook, it has expanded its wings on various other channels so that it is omnipresent everywhere.
Twitter is one such channel that has gained one popularity over the years. It is one of the most in-demand channels for online marketing.
Hopefully, the above-mentioned Twitter marketing tips have given you a clear vision to create a strong Twitter marketing strategy for business.
So, what are you waiting for?
Get set and go!