Majority of people have heard about SEO in relation to optimizing websites. However, do you know that you can also optimize your landing pages in order to increase visibility on search engines?
If you are new to the concept of optimizing landing pages then you have come to the right place.
Here we are going to provide you a comprehensive guide to Search Engine Optimization for landing pages which will ensure you an overall higher organic traffic.
People come to search engines with their unique queries. If you are the one that can offer them the valuable answer through your landing pages then you can be sure to leave a big impact on the particular user.
Who knows these same users might return your favor by becoming your follower or subscriber.
What are Landing Pages?
A landing page as the name suggests is a page that first appears as a result of clicking on a search result, marketing email, marketing promotion, or online advertisement.
The landing page is also known as lead capture page, destination page, and static page.
It harbors pieces of information that are published on it to target a particular group of people.
Landing pages have a huge role in providing visitors a sense of direction.
If visitors land right on the home page first they will definitely be confused on how to find the answer to their question on the various pages of the website.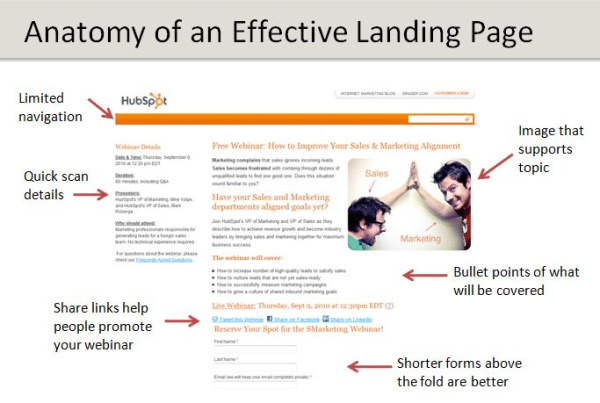 Image Source: HubSpot
Optimization of landing pages is done with the following motives…
To attract visitors to click.

Getting sign-ups and registrations from visitors.

Encouraging visitors to share the information present on the website with their network.

Persuading visitors to buy.

Having the goal of educating visitors and prompting them to leave a comment or give feedback.
In any digital marketing campaign, landing pages play a vital role.
They not only constitute the first point of experience of the user, but they also make the task of analyzing and tracking user activities on a website easy.
Lead generation is one of the prominent goals of a landing page.
To achieve this goal, landing page often offers something to the visitors in exchange for their contact information.
Usually, these free offers and products are online courses, free product trials, ebooks, industry events, community memberships, and email newsletters.
Why is SEO Important for Landing Pages?
Optimization of landing pages shouldn't be neglected because SEO optimized landing pages play a huge role in improving the page ranking or the overall visibility of the website.
Following are some of the points highlight why SEO optimization is necessary for landing pages:
It will improve the chances for your website to rank higher since the search engine will get a better idea of what your website content is about.

With a well-optimized landing page, you have a greater probability of securing a good page quality rating.

Visitors turn to search engines to find answers. When you are the one providing what they are seeking. It leaves a good impression on your target audience and bestows a good user experience.
Landing Page SEO Checklist
10 Best Actionable Tips to Build SEO Optimized Landing Pages
1. Custom URL
Choosing a custom URL can boost up your SEO game.

While creating a website, people who choose a CMS often are tempted to go with the easy path of letting someone else host their website.
This initial comfort in letting someone else host can rain on your parade in the long term SEO game.
Why?
That's because when you publish your page with the domain name of the CMS it interferes with your brand image and consistency.
Moreover, it also leads you to lose on the website authority.
The best SEO practice is to publish content on your own custom domain or URL.
Custom URL is the foremost thing you should focus on while implementing SEO on your website.
The importance of custom URL lies in the fact that it enables a person to know what a web page or website is about without actually their need to go to them.
This is a vital point that your URL must have.
When people understand what your website and a web page are about through a good URL, it naturally increases your traffic levels.
There are 4 parts of a URL
Protocol
Subdomain
Domain
Extension
Having a structured URL makes your URL compelling, relevant, and accurate.
This, in turn, plays a role in securing good ranking.
Points to Consider While Creating a Powerful URL
The URL should be brief: You need to find the sweet spot between conveying the relevant message of what your site is about along with keeping the URL as short as possible.

Use dashes: URLs contain multiple words. To separate out these words from each other use dashes over underscores.

Keywords: The URL must contain your keywords. Try to use the keywords on your URLs and also see that they are relevant to the page content.

Do not use Capital letters: Many people have similar URLs that have capital letters in one and small letters in the other. Try not to do this, as search engine bots are not case sensitive and they might deem the URLs as being duplicate content.

Do not include spaces and symbols: Avoid using percent signs, commas, hashtags, and equal signs. These symbols have specific meanings when used in a URL and therefore, should not be included while creating a normal URL.
2. Keyword Research
Keyword analysis starts with doing some research.
You should dig out information on your industry, potential customers, and competitors.
After that, you need to come up with a list of keywords that your potential customers might be searching.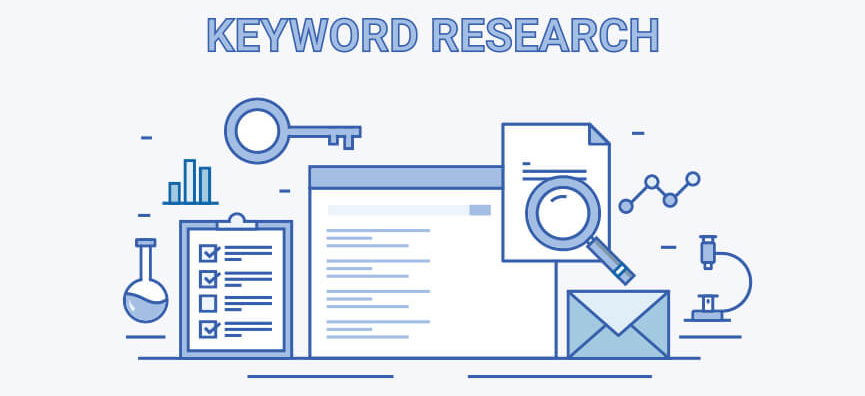 You may take the help of Google Keyword Planner, SEMRush, KWFinder, SEOprofiler, SECockpit, and Google search suggestions for finding valuable keywords for your products.
Asking people what phrases or keywords they put in to find your product or services is another thing that you can do.
The next point that will benefit you while choosing keywords is observing what the competitors are doing.
To gain insight into the competitor's keywords game plan you can make use of keyword research tools like SEMrush and Ahrefs.
When SEO is being done for landing pages you should focus on the same keyword groups and one specific offer.
Another vital point to consider here is to determine if your chosen keywords are coming close to the searcher's intent.
Further, look into additional page elements and take the necessary steps such as adding or deleting them to carry out the page optimization.
3. On-Page SEO Optimization
With Google getting smarter day by day, you need to keep yourself updated with the latest changes made in the On-Page SEO optimization.
Today search engines focus more on understanding user intent, rather than finding the exact match for the keywords.
With the latest algorithms changes made such as Panda, Hummingbird, and Rankbrain, you need to level up your On-page SEO optimization game.
What do We Mean by On-Page SEO Optimization?
On-Page optimization is adopting several steps or practices to optimize individual web pages.
This improves the page rankings as well as increases the incoming traffic to individual web pages.
On-Page optimization focuses both on the HTML code of a page along with its content.
Note that it is different than Off-Page SEO optimization that includes external signals and links.
Some of the main elements of On-Page SEO are:
• SEO Friendly URL
You need to create URLs that are both optimized for search engine bots and the users.
The main points to focus here are creating a URL that is relevant to your page content, has your main keywords, and is short.
Search engines have been found to give more preference to shorter URLs than the longer ones.

Therefore, you should avoid using many words in your URLs that will make them longer.
One possible reason for short URL preference by search engines may be due to the fact that long URL seems more complex to them.
The shorter the URL of your pages the better it is.
Shorter URL not only aids in securing high rankings, but it also enables search engines to find your website and crawl your web pages.
Moreover, it has been found that shorter the URL the more is its chances of getting shared on social media.
Further, when your URL contains multiple words choose to go with using hyphens to separate them out rather than using underscores and slashes.
Hyphens are the standard word separators for search engines.
• Meta Title
Meta title or meta tags are text that is used in the HTML code source of a webpage to give an idea to search engines and users about what the page contains.
They must contain your desired keywords.
These elements are placed in the <head> section of the HTML code document.
The meta title is not that important as it was once in the past.
However, paying attention to it does improve traffic levels and ranking.
While writing the Meta title, remember to focus on providing relevant information to the bots and users.
Further, also pay attention to achieving user satisfaction.
When Meta titles are optimized and written properly they have the potential to increase the click-through-rates.
• Meta Description
The meta description is the text that appears on the search engines below the blue highlighted text links.
These can be said to be a short summary that conveys to the people what the web page or website contains.

Similar to the Meta titles, Meta descriptions are also included in the HTML document of the web page.
Meta descriptions have a 155 character limit.
Meta descriptions do not directly impact the search engine rankings of a page.
However, they do play a great role in user click-through-rates.
The meta description can range from 50-155 characters.
Whatever be the length, Meta description provides a good chance for website owners to convey what the site contains and attract the target audience.
Remember to make your Meta description compelling, readable, and persuasive so that people visit your pages.
It is a perfect way to advertise your page and website content.
Also, do remember to add some relevant keywords in the Meta description.
• H1, H2, H3 Tags
Header tags are one of the most important On-Page SEO elements.
Similar to other elements Header tags too communicate to the search engine about the content of the page.
However, unlike the rest, the header tags are given the most important among the rest of the elements of On-Page SEO.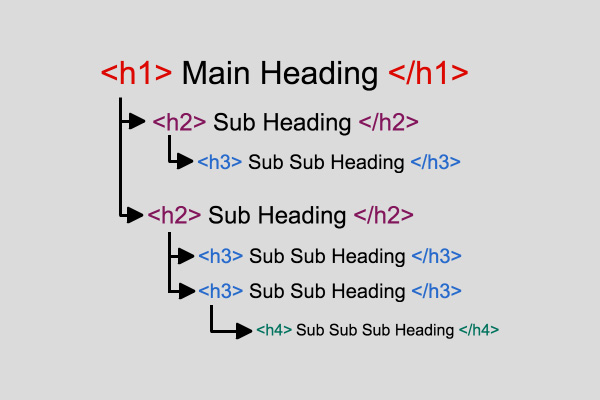 There are 6 header tags in total, but you need to mainly focus on the first three tags the most: H1, H2, and H3 tags.
Header tags cannot be just placed anywhere you like in the page.
They must be placed in proper locations and should have a proper order in them.
The H1 tag must contain your most important keywords as this header tag carries the most SEO weight.
H2 is the subheading of the H1 tag.
This should contain similar keywords that you use in the H1 tag.
Again, H3 is the subheading of the H2 tag.
This again should have keywords that complement the H2 tag.
While writing the header tags, do remember to use grammatically correct and readable lines.
Also, avoid doing keyword stuffing in these tags.
• Image and Video Optimization
You have to cover all the SEO practices if you want to gain an edge over your competitors.
This includes optimizing both image and video for search engine and users.
The first thing that falls under Image optimization is using an image that is relevant to the text.
Second, the image should be placed at a proper position along with a caption.
Here the caption is required to describe the image as specifically as possible.
Note that search engine bots cannot read images and videos.
Therefore, the captions and the alt text you use are going to tell the bots what the image is about.
They also serve the purpose of telling visually impaired people about what the image is about.
While using images give it a proper file name, DMI545.jpg type of file name just won't do.
Also, use the right file size for the images because using large images may slow down your loading time.
Similar to images, videos should also be loaded on the pages that are relevant to it.
The next thing you need to consider is adding transcripts.
It has been found that most of the people on Facebook watch a video without the sound on.
Adding a transcript will also help with the bots.
Meta tags and title tags are important for videos.
Therefore, invest time in adding titles and description of videos in a concise and relevant manner.
Lastly, the most important thing for optimizing videos is adding the most relevant and attractive thumbnails.
4. Content Optimization
Based on the recent algorithm changes made by Google, you may have realized that content is the main focus for Google now.
Therefore, optimizing the content is one of the most important feats for successful SEO implementation.
Writing great content makes up the core of content optimization.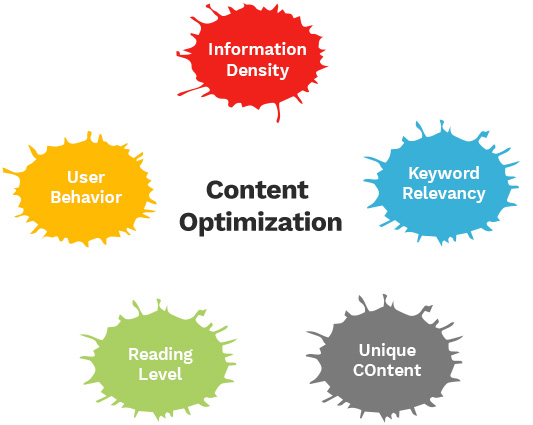 While writing your content, keep in mind your niche and target audience.
Use a writing style that your audience enjoys and make them ask for more.
When it comes to content remember that you are writing for your audience and not just for the bots.
Give a proper structure to your content.
People have the habit of once scanning an entire page before they start reading a post.
Therefore, use headings and subheadings wherever necessary.
If you think an image or video will more clearly explain a given point then go ahead and upload.
• Organic Use of Keyword
Use relevant keywords in the content in a natural manner and avoid doing keyword stuffing.
When you see your content working, you should be consistent with your publishing of posts.
Organic use of keyword in heading and subheading is also an important practice here.
• Content Length
Landing pages are meant to be short and crisp to attract the audience and drive conversions.
So, now the question is how can we increase the length of the landing page without turning off the readers?
First of all, the concept that long content is essential to rank higher in the SERPs is not totally correct.
That's because Google algorithm doesn't favor a page or website because it has long content, rather it just takes into account the relevancy and the value a page or website offers.
In simple words, long length content often ranks higher because in most of the cases they contain more information, showcase more research, and in turn appear to provide more value.
That doesn't mean that short and crisp landing page content can't secure a good rank.
5. Use HTTPS and Not HTTP
HTTP stands for 'Hypertext Transfer Protocol'. When HTTP, contains a Secure Socket Layer (SSL), the HTTP turns into HTTPs.
The main difference between HTTPs and HTTP is the presence of encryption.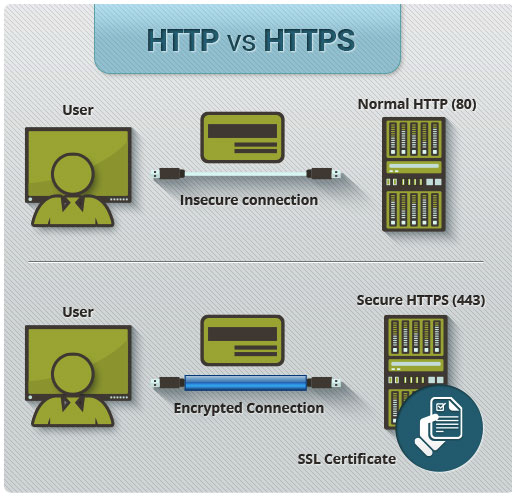 In the case of HTTPs, the SSL provides encryption to the normal requests and responses in HTTP.
This makes the whole process secured.
The presence of SSL or the HTTPs has been made compulsory by Google nowadays.
With HTTPs users are basically informed that the website or the webpage they are entering is secure.
Further, they are also informed that their personal information is safe and not going to be stolen in such sites.
To gain the trust of your audience and to show that your web pages are secured you must opt for HTTPs.
6. Responsive Page Design
In the simplest terms, having a responsive page design means the creation of your landing pages in such a way that they fit the screen size of all the different devices out there without losing out on any content.
A responsive page design also ensures that the page design and content look good on every device irrespective of its screen size.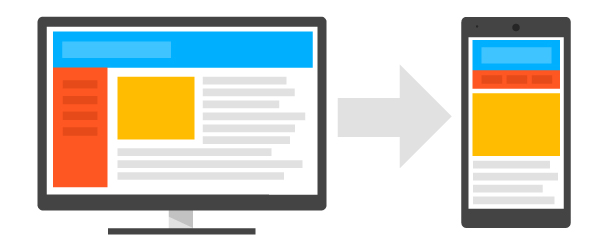 The necessity to create a responsive page design stems from the fact that more and more people just use their mobile phones to surf the net.
Apart from mobile phones, other devices are also used like tablets and some wearable device.
To create such landing pages HTML and CSS are mainly used.
Further, it is also ensured that the landing page designs and the landing page templates are such that they do not lower down the loading time on mobile devices.
7. Schema Markup
Schema Markup is a semantic vocabulary or code.
This, when used in a website, helps the search engines to display the website in a particular way as dictated by the Schema Markup.
The ratings and the date shown below website links in the SERPs is one example of Schema Markup.
Schema Markup helps to give some meaningful information to the users on the SERPs itself.
This increases a website's click-through rates.
It also helps the websites to stand out from the rest of the websites generated for a search query.
This is relatively a new SEO practice but plays a huge role in providing value to the audience and increasing one's traffic.
Some other forms of Schema mark-ups are displaying the different pages of a website and showing upcoming events on the SERPs.
8. Page Speed
Page speed is one of the important factors that dictate user experience.
Moreover, it turns out that this is also one of the crucial factors based on which search engines like Google decides the ranking.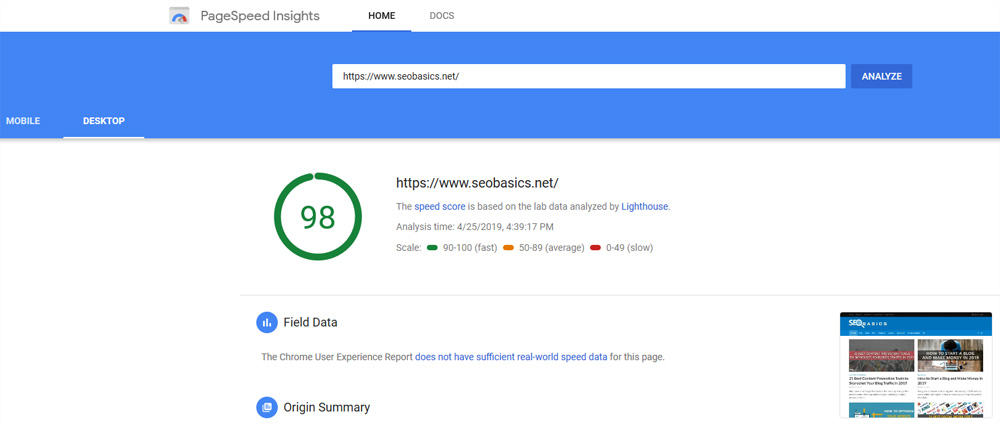 According to reports, page loading time is tied to having a good user experience.
The figures tell that around 50% of people want their pages to load within 2 seconds and any page that takes more than 3 seconds of the loading time is skipped by the users.
This demonstrates how important it is to speed up the loading time of your landing page.
If you want to check whether your landing page is loading at the desired time you may make use of Google's PageSpeed Insights.
If the reports say that your loading time is more than the desired time, you may resort to using smaller images, shutting unnecessary plugins, and ultimately choose a web host that is faster.
SiteGround is the best web hosting company that will do wonders for your page speed.
When improving page speed is the main focus you may also resort to using CDN.
CDN stands for Content Delivery Networks.
This delivers the content to users through various distributed data centers.
This reduces the website's latency period and shortens the time to process and transfer user requests.
9. Internal Linking
Internal linking is linking of different pages belonging to the same domain.
In other words, internal links connect one web page of your website to other pages.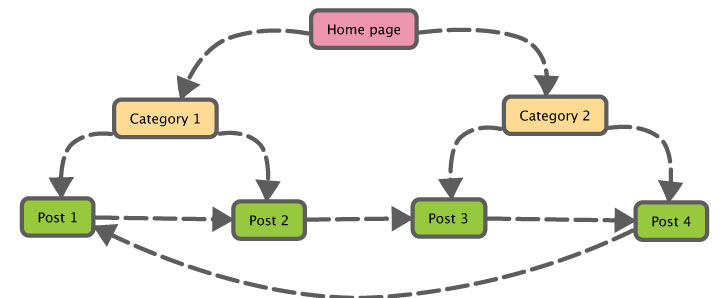 Internal linking serves three purposes when done right:
Internal linking gives more value to users.
It helps users to navigate the website.
It distributes link equity across the website.
One of the most ignored SEO practices, internal linking is not something that you should skip.
When internal linking is done right with proper usage of anchor text, it has the potential to increase traffic, reduce bounce rate, and increase the number of page visits in a session.
While creating internal links, remember that home page of any website has the most authority and possesses the most link equity.
Therefore, internal linking and site structure should be created in such a manner that each page is at most 3 clicks away from the home page to have a good flow of link juice.
10. Link Building
Backlinks are synonymous to votes for your website; while choosing backlinks, go with the 'quality over quantity' philosophy.
Backlinks play a huge role in off-page SEO. Therefore, aim to secure highly relevant and quality backlinks for your landing page.
If you have the scope of using backlinks do not skip it.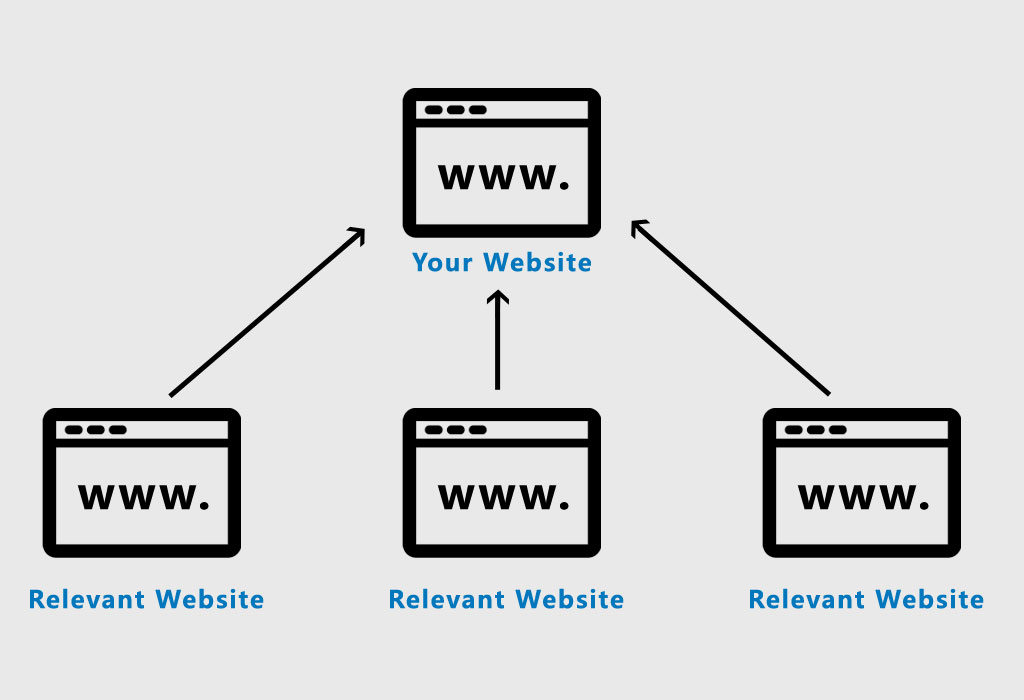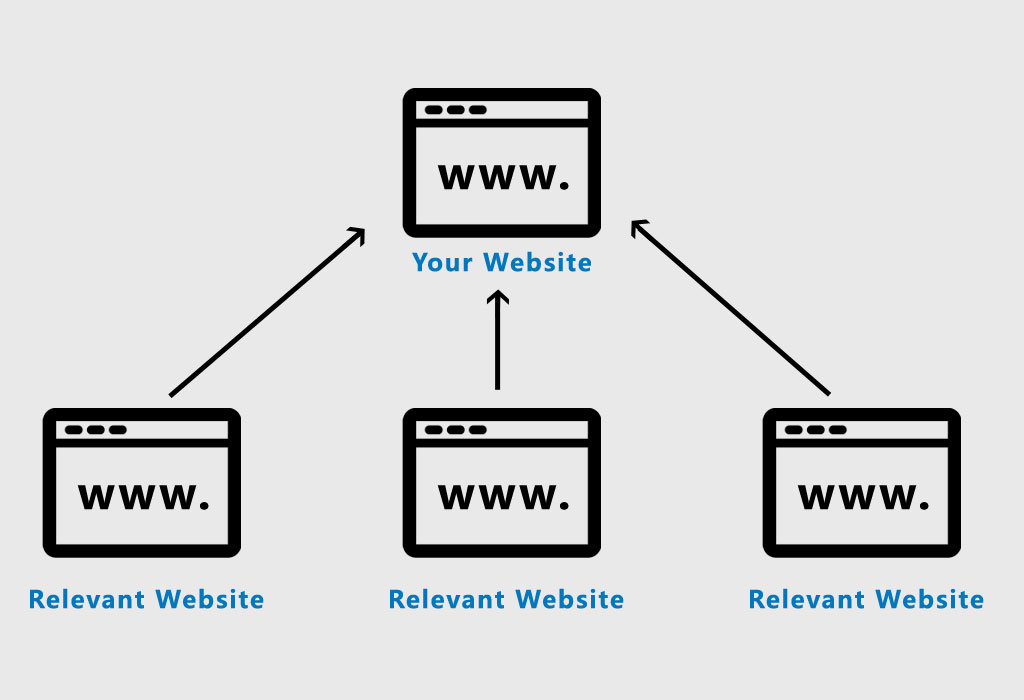 However, if you want to use it but are unsure of how to get relevant backlinks you can start by exploring your contacts.
Always choose to go with a few high-quality links over several low-quality backlinks.
As low-quality backlinks may not only be ineffective in achieving anything for your landing page SEO, but it possesses a very real chance of hurting the landing page SEO.
For backlinks, you may get in touch with some of your niche websites or join relevant forums and discussion platforms to share your content.
You may also want to look into your competitor website to see from where they are securing their backlinks.
Lastly, you can also use social media sites to amplify your awareness, although social media links do nothing for your SEO.
Wrapping Up!
On the concluding note, we hope you would have understood the best ways to SEO optimize your landing pages.
By incorporating the aforementioned strategies, you will be able to reach more relevant audiences and convert them to land on your landing pages and perform the desired actions.
Want to know more about the right strategy for optimizing your landing page?
Then share landing page details in comments and our experts will guide you in the process.