Are you looking for the best social media automation tools to make your social media promotions easy in 2020?
Here in this post, you will get information about 10 best social media automation tools (free and paid) to make your social media marketing automated.
Let's dive right in.
We live in an era where social media has become an influential platform.
From networking to being aware social media has become a massive part of people's life.
Businesses and companies have been using social media platforms to advertise and make their brands known to a larger audience.
This is where automation tools come into action.
There are several automation tools, but choosing the best social media automation tools is a massive task.
Before getting to know more about the best social media automation tools to use, let us take a look at some of the benefits of social media automation tools.
1. One of the major benefits of automation tools is it assists in boosting customer interaction.
These tools are very useful to decide when to post to optimize the chances of having a maximum impact on your content.
2. Social media automation tools help in developing a brand image of the company.
3. One of the biggest advantages of social media automation tools is it assists in saving time which can be used to produce better content.
Best Social Media Automation Tools to Use in 2020 (Free & Paid)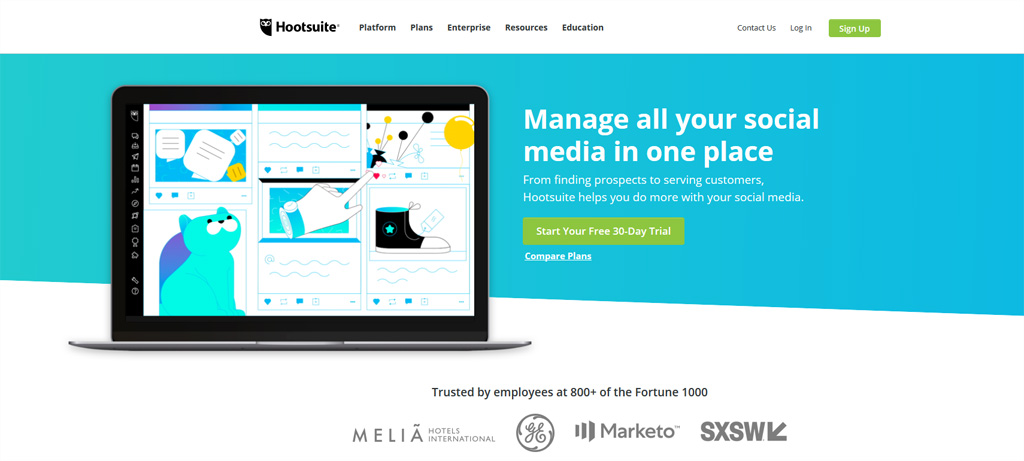 One of the best free social media automation tools is Hootsuite.
Hootsuite is an easy but effective tool for social media automation that lets you schedule posts to be published on different platforms beforehand.
This tool provides real-time notifications of all the activities that take place on social sites, such as when your company was mentioned and what was exactly said.
This can help you know what consumers want and prevent possible disruptions.
Hootsuite has over 10 million users as this platform provides a single dashboard for social account holders from where they can easily run all their accounts.
With over 35 social media APIs including Twitter, Google+, Facebook, LinkedIn, Instagram and the rest, the app integrates well.
It supports Google Analytics too.
Hootsuite is inexpensive and thus suitable for typical advertisers in social media.
Starters should take advantage of the short free trial period and then choose a package from the available affordable options.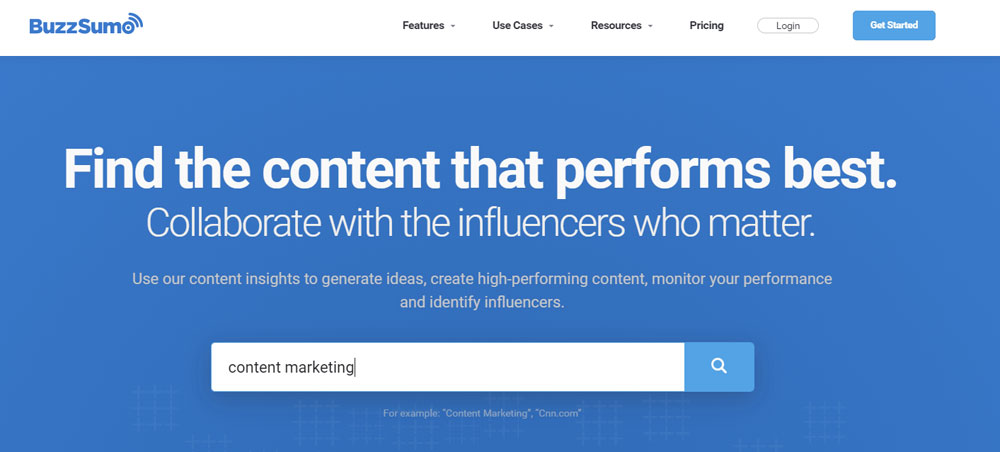 BuzzSumo is the tool you need if you want to have a greater understanding of your social presence and build smarter marketing strategies.
Instead of wondering what content inside your niche gets a lot of eyeballs, this tool using keywords helps you to discover the most popular posts as well as the influencers who wrote them.
BuzzSumo helps to develop powerful marketing strategies by identifying trends, keywords, and influencers.
BuzzSumo has become very popular among marketers because of its ability to generate deep insights and help improve the output of the content.
This is the reason it has become one of the best social media marketing automation tools.
BuzzSumo is principally a research tool with a search bar where you use a keyword or sentence to scout for something you want.
You can filter the results, by location, domain, platform, duration, etc.
This tool gathers data from major social media networks such as Facebook, Twitter, Pinterest, Linkedin, and a few others.
It is also able to offer statistical data.
BuzzSumo also has lots of other apps such as a content analyzer, a Facebook analyzer, and more.
It assists you to do all this at a very affordable price.
It's something we recommend to small businesses that are trying to make a name in the market for themselves.
It is a profoundly valuable tool.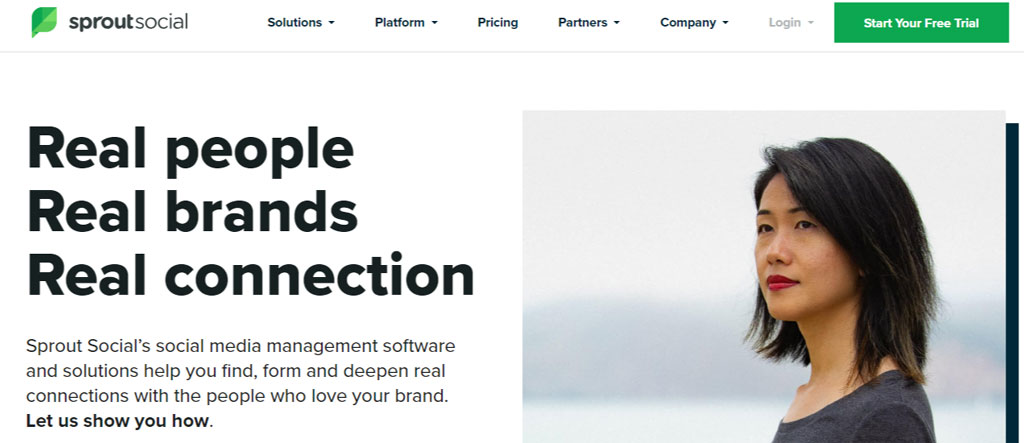 If you're looking for a robust social media toolkit with tons of amazing features, try Sprout Social.
This is one of the best social media automation tools providing all the necessary features.
Sprout Social is an all-in-one social media marketing platform designed to help managers track their activities better.
It offers multi-level control so managers can easily organize and assign tasks to team members.
The tool also comes in handy for those looking for ads on social media.
Sprout is a little bit limited in terms of the number of social platforms supported.
It also comes with full post scheduling capabilities, a detailed platform for analytics and even a tool for social listening.
Sprout Social is user-friendly, accessible, and serves small businesses, organizations as well as businesses.
The free trial period is brief, and no credit card is required.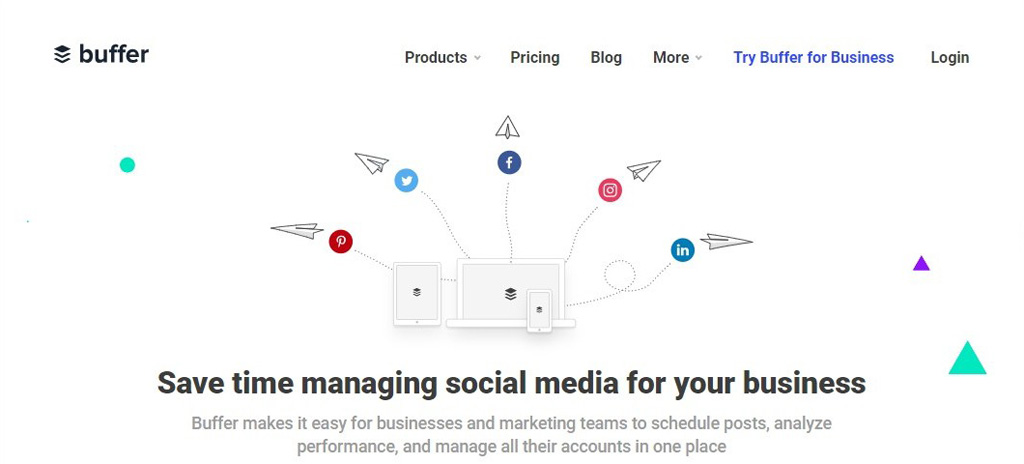 Buffer is the ultimate social media scheduler for anyone struggling with a lot of content and some management of social media.
Using its user-friendly interface, you can easily put your posts in a loop across different platforms.
Buffer is one of the best social media automation tools that help marketers plan their Facebook, Twitter, Instagram, etc. social media posts.
One of the best tools for social media automation, Buffer is the go-to scheduling method for a lot of marketers out there.
It makes scheduling relatively easy and can help you monitor the output of the content in real-time.
Customers love the simple interface and user-friendly dashboard.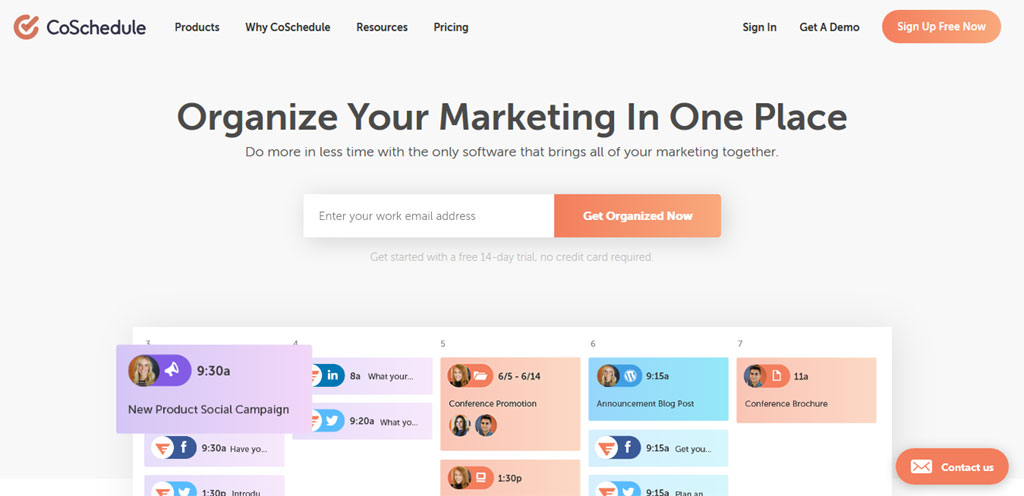 CoSchedule is another tool that is very useful for content marketers.
As the name suggests, the app can be used very easily to schedule posts on various social media platforms.
CoSchedule usually has all of the standard publishing functions as well as something called "ReQueue".
This is a smart piece of software scheduling only the top posts in your social history.
This will help you track multiple accounts at a single place.
With its digital interface, it is possible to schedule more than 60 posts at once.
It can also be used to create your social media calendar or to address questions directly from its interface.
It has many outstanding features, such as re-queue, compatibility with WordPress, personnel management, etc.
The tool can also be used fairly easily to provide customer support.
It is easy to use, and also cost-effective in comparison with other solutions.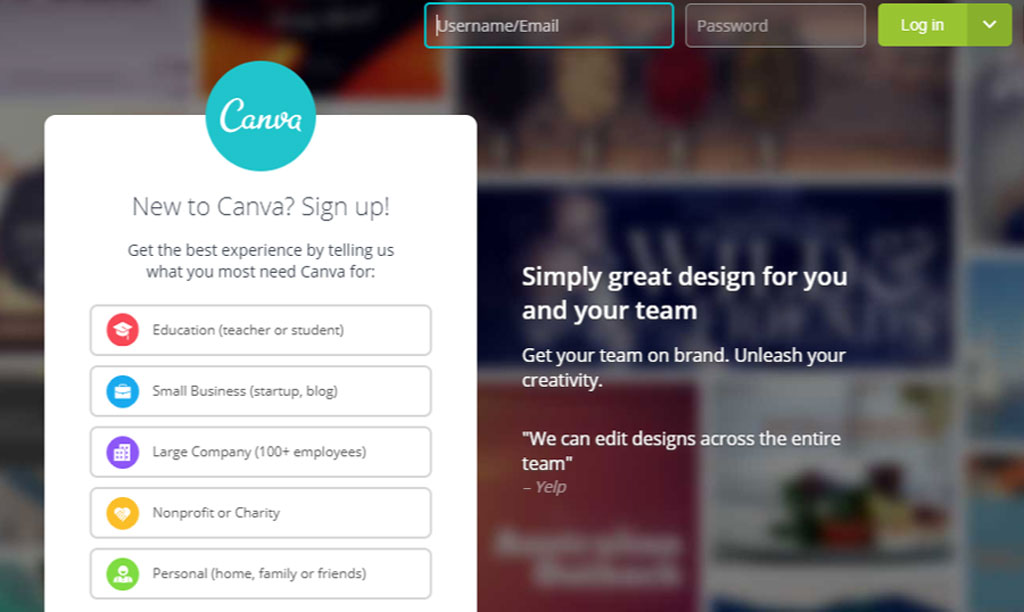 One of the best free social media automation tools to design images for posts is Canva.
Before Canva's development, graphic design was a work that was for graphic designers solely.
Canva changed that by encouraging users to create their designs, such as business cards, social media posts, book covers, logos, etc., using its comprehensive theme and templates collection.
It comes with plenty of ready-made models and the use of fun graphics.
This means that you can create a picture in minutes that will attract your eye as well as your audiences.
It allows you to create beautiful photos for your campaigns.
Use it to make your content engaging, so that more users like your posts and share them.
It is user-friendly and fun-filled too.

Socialbakers is a highly innovative tool that enables users to use Artificial Intelligence to tap into the maximum potential of social media.
It is a collection of decision-making methods based on data from your followers.
You can assess your success against rivals, then use those observations to optimize your content.
This tool helps you personalize your content to connect and develop your customer base.
Save time by allowing the control of all social media channels by one unified dashboard.
Statistics of your social media success are regular and automatic.
It can be used to budget more efficiently, while also improving the acquisition, retention, and development of customers.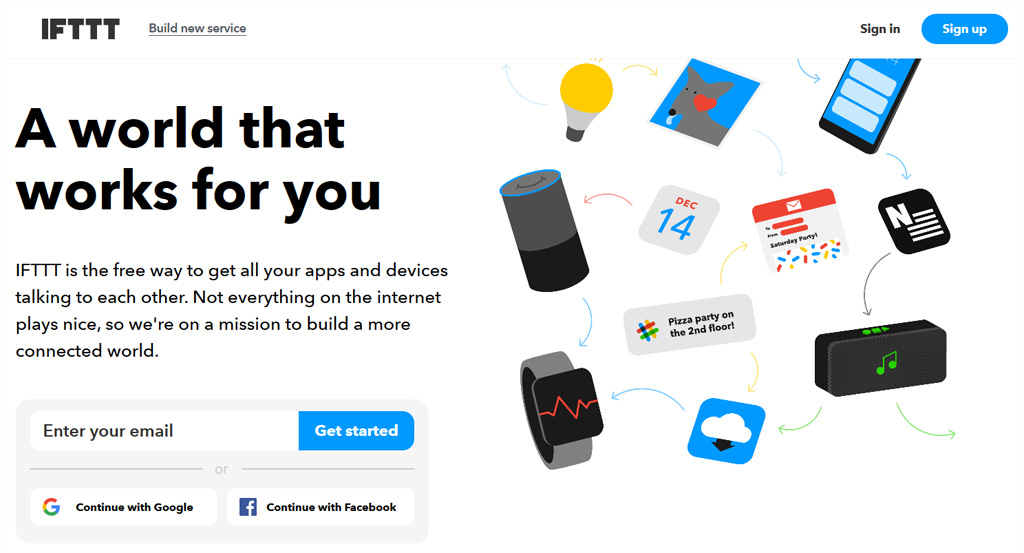 The best way to scale up the efforts to automate social media is through IFTTT.
Essentially, once a certain condition/command has been met, automation kicks in.
It is the one platform that links you to a lot of devices in one go.
The tool is an efficient, automated program that connects all of your apps and services to automate multi-step tasks in any way you want.
IFTTT helps to back up your call logs, photos, and videos to Google Drive automatically.
It also sends daily and social media activities e-mail reminders.
Fully automated tasks to curate content.
Automated content set-up on scheduled time, including blog posts, and Tweets.
Now you can simply do the task and IFTTT will do all it takes before and after the task is over.
IFTTT is one of the best free social media automation tools.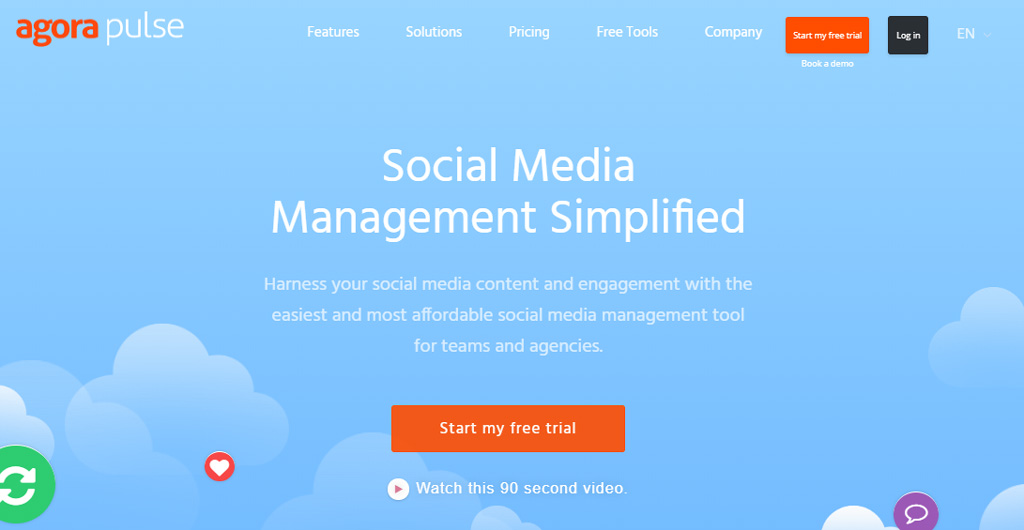 Here comes a tool that allows users to monitor their social media accounts as effectively as possible.
AgoraPulse is a tool that will tap into your social media to do it for you.
AgoraPulse has several truly useful apps.
These include social engagement, writing, listening, reporting, and collaboration among teams.
AgoraPulse has the Social Inbox function where every follower and message can interact in one place.
You can also view every single profile.
It does have social tracking and keyword checks.
It even lets you see how your strategy for social media marketing is stacking up against your rivals.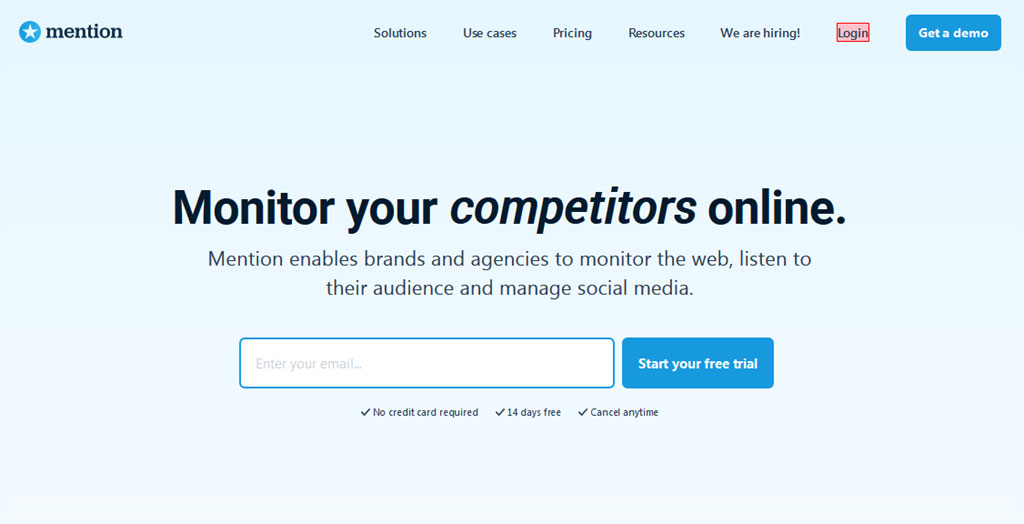 Mention is among the best social media automation tools that assist in interaction with users and customers on social media platforms.
Whenever someone mentions the name of your brand (or any other keyword) from this dashboard you can get to know about it immediately.
In this way, you can conveniently track your brand, evaluate your competitors, and so on.
You can also use it to get in contact with your clients and answer their on-the-go questions.
The tool will also help you find and reach out to influencers.
You can use real-time tracking of your keywords.
Analyze your rivals and create more leads by finding their dissatisfied customers.
Bonus Tool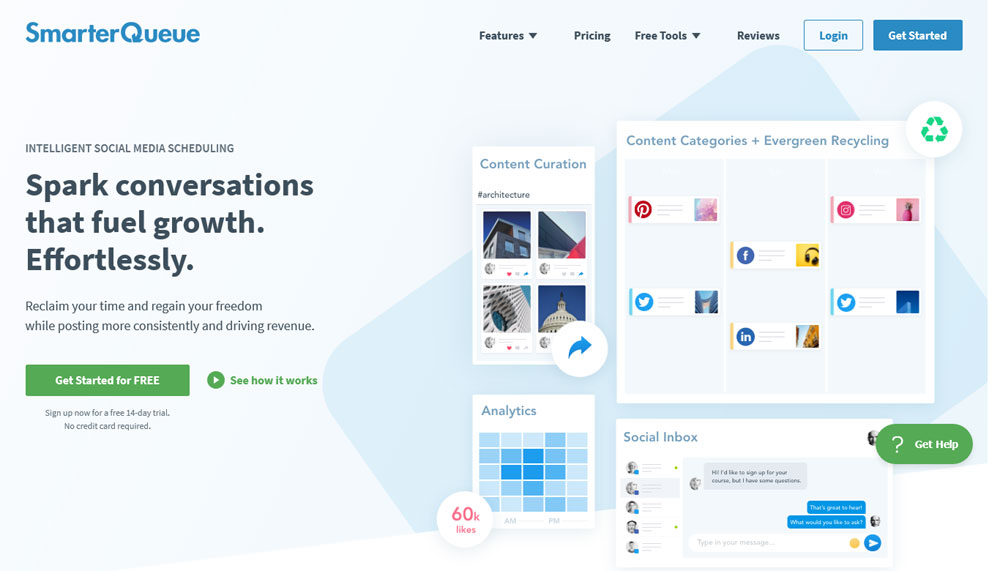 SmarterQueue is also a popular social media tool for small companies, marketing departments, and social media administrators to improve interaction and save hours of time per week.
SmarterQueue intelligently automates social media scheduling through queues, posting plans, content categories, evergreen recycling, content variations, and a visual calendar. Users can schedule and publish to Facebook, Instagram, LinkedIn, Pinterest, and Twitter.
SmarterQueue's every specification has been carefully crafted to streamline and simplify the daily social media activities.
They take care of the fine points, through regular, high-quality social material, helping you develop a dedicated following.
It comes with 4 packages.
First is Solo which costs $16.99/month when paid annually and $19.99 for a month to month.
Second is Business which costs $33.99/month when paid annually and $39.99 for a month to month.
The third is Agency which costs $67.99/month when paid annually and $79.99 for a month to month and fourth is Custom which starts at $16.99/month when paid annually and $19.99 for a month to month.
Conclusion
The main aim of automating processes is to get rid of boring routine tasks off your plate and have some more time to deal with the real issues that your company is facing.
The above-mentioned automation tools will be of huge assistance in the year 2020 and will also be useful in the coming years.