In today's post, I'm going to show you why digital marketing is important for your business in 2020.
After reading this complete post, you will be able to understand the importance of digital marketing and why you should use digital marketing to promote your business online.
Let's start.
With the technological advancements in the past decade, digital marketing has grown massively.
There has been a transformation in the digital world, with the majority of people getting access to use the internet.
The main question is why digital marketing is important?
Business organizations have been focusing on building a strong online presence, and hence have been using different digital marketing strategies.
With the introduction of e-commerce, the importance of digital marketing has become a major talking point.
Marketing is all about interacting in the right place and at the right time with your audience.
This means you have to find them today where they're spending time already.
That in today's day and age is the internet.
There has been a huge evolution in the field of marketing since the introduction of digital marketing.
Before knowing why digital marketing is important, let us define it.
Digital marketing covers all marketing strategies using an electronic device or the internet.
Businesses use digital channels to communicate with current and potential clients through search engines, social media, email, and other websites.
The importance of digital marketing is visible in the definition.
But there is a lot more to know why is digital marketing important for any business.
Compared to traditional marketing channels, digital marketing is far more accessible.
The most cost-effective way to meet prospective buyers has been demonstrated by digital marketing tactics.
Digital marketing strategies and technologies provide business owners with the best prospects for competition, sustainability, and even business development in the digital world in which company and industry are heading.
There are still many organizations that try to avoid digital marketing strategies and are only focused on traditional ways of marketing.
Businesses need to invest some time and resources to know why digital marketing is important.
10 Reasons Why Digital Marketing is Important for Your Business
1. Digital Marketing Equals the Competition
The difference between the financial backing of different business organizations plays a huge role in marketing schemes and techniques.
The large organizations instantly gain a strategic advantage and capture a huge chunk of the market.
The main reason why digital marketing is important is that it equals the competitive field.
Digital marketing provides the ability to hold a top-ranking spot to medium and smaller business organizations.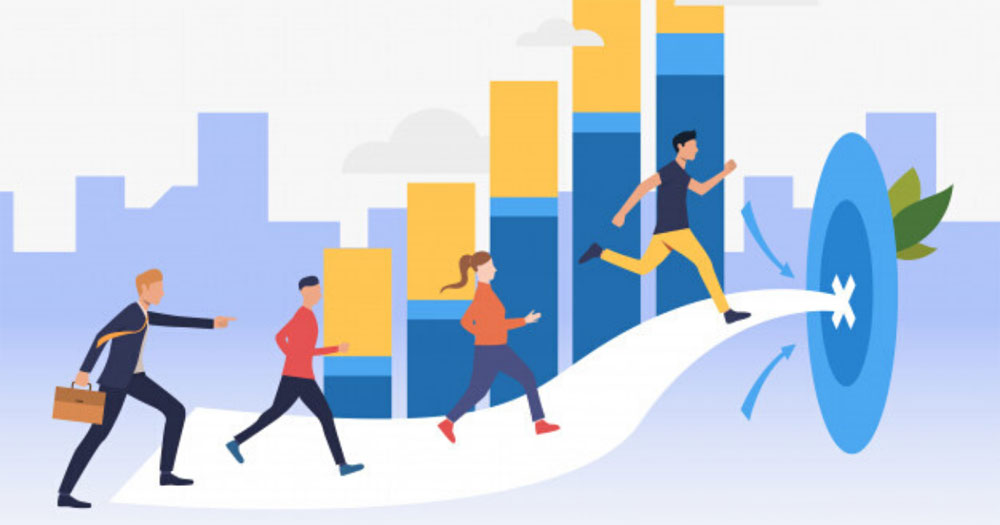 Due to limited budget and manpower, small businesses often find it difficult to compete with their larger counterparts.
Digital marketing, therefore, helps level the field of play by enabling smaller brands to stay competitive online.
Traditional marketing techniques such as print ads are expensive and require the effective allocation of large business budgets.
Digital marketing strategies, therefore, are more effective, giving digital access for businesses of all sizes.
Any business organization can market its products and services on a national or even international scale with digital marketing.
If your business is not limited to a specific location you can reach globally with the help of digital marketing.
2. Customers are on Social Media
The majority of people now use different platforms of social media.
You will certainly reach a limit in scope and size when using traditional marketing strategies.
Print ads are restricted to a specific location, market and time.
Digital marketing helps to reach out to a larger audience.
Irrespective of the business you do, your potential customers are surely going to be on different social networking platforms.
Out of 7.7 billion people in the world, 3.5 billion people are on social media and Facebook alone has 2.4 billion users.
Social media is a major component showcasing why digital marketing is important.
Digital marketing assists brands to reach out to these huge numbers of potential consumers who use social media.
Not only can you publish and promote unique content on these social sites, but also through ads, you can connect with customers.
The importance of digital marketing is massive for social media advertisements.
Social media also provides an effective platform for your target audience to communicate and engage with you.
You can have real-time one-on-one interactions that give you valuable insight into your product.
3. Digital Marketing Helps You to Target Audience
Another point that validates the importance of digital marketing is that it allows you to target the ideal audience, unlike traditional marketing.
There are some ways to increase the chances of success with traditional marketing, but it does not deliver the same targeting skills as digital marketing.
Through digital marketing, you can ensure the content you are delivering, is consumed by the right audiences.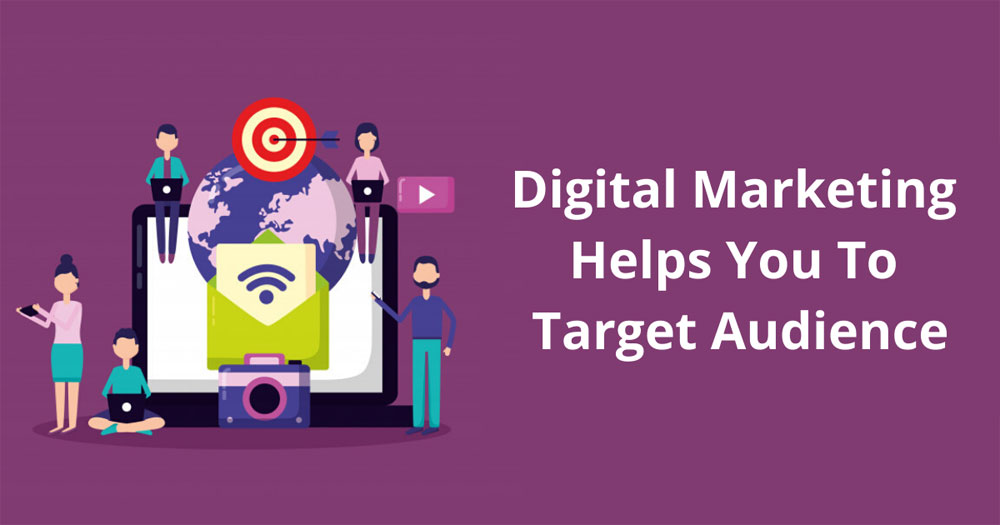 SEO helps you to target those customers who search the internet for content and topics that are relevant to your brand.
PPC and social media marketing help you to target those users who are more likely to purchase your product and service.
Based on different aspects such as gender, demographic information, and general attribute you can target the users.
Digital marketing strategies allow you to be confident in knowing that your advertising efforts are focused on strategies that work effectively.
Not only does targeting customers help in saving time, but it also helps to reduce the expenditure on marketing.
4. Buyer's Journey Starts on the Internet
The internet has been a primary source of information for some time now.
For every question in the mind of a consumer, Google is the first source of information.
Every customer seeking to purchase a product starts to research online to solve their problems.
They go to search engines to find answers to their questions and learn more about their problems before customers even know what product or service they want.
67% of the buyer's journey is now done digitally.
Consumers prefer to first search multiple channels before deciding to contact a brand.
Such platforms include all of the company's electronic social media profiles, email and online ads.
Another factor showcasing why digital marketing is important as it gives small companies a tremendous chance to connect with prospective customers and educate them during the initial stages of the purchaser's journey.
Through producing meaningful and engaging search-engine-optimized content, you can maximize your online exposure and attract consumers when it matters most.
5. Digital Marketing is Cost-Effective
Cost-effectiveness is one of the most vital features of digital marketing.
The importance of digital marketing is massive concerning the budget of different business organizations.
Small businesses have very few assets and capitalization as well.
That's why digital marketing gives them a better and more cost-effective marketing tool that produces results.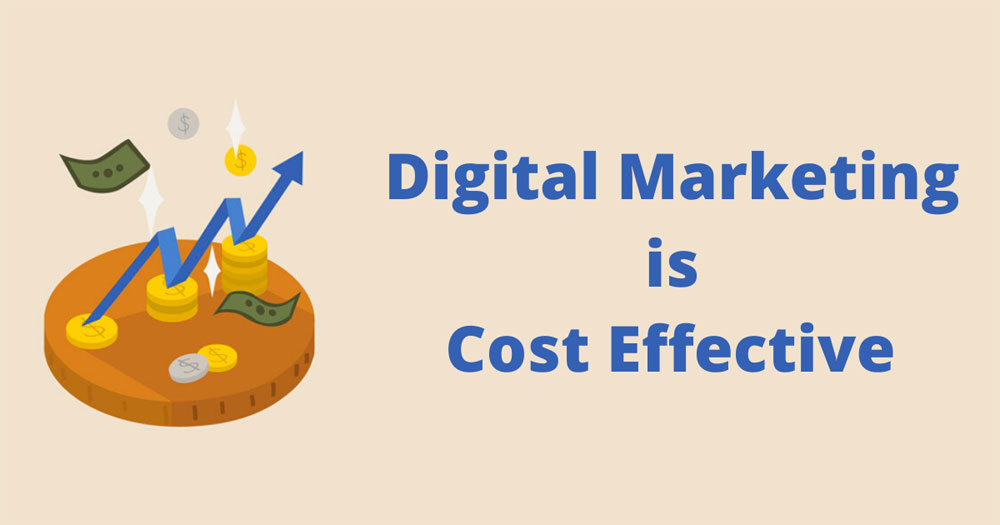 While traditional marketing strategies also come with different additional costs as well, time seems to be the only expense of digital marketing.
SEO, social media marketing, content marketing, etc take time to deliver results.
Digital marketing strategies such as pay-per-click ads, display, and social media advertisements are still available that can deliver faster results.
The benefit of getting a lead factor in its value; traditional outbound marketing is more costly than inbound methods of marketing.
Not only does inbound marketing cost less, but when using high-value keywords to find a product or service, consumers are also further along in the purchasing process.
In addition, digital marketing plans offered by specialist digital marketing firms can prove to be extremely cost-effective and have the ability to reach an infinite number of customers.
6. Digital Marketing Provides Better ROI
Digital marketing can provide a better return on investment (ROI) than traditional marketing platforms with higher sales and better branding.
In traditional marketing, the expenditure is too steep for small brands and the results acquired are imprecise and difficult to analyze.
On the other hand, digital marketing can be easily tracked and analyzed, and outcomes can be realized and calculated immediately as soon as targeted customers receive contact information, subscribe to a newsletter or training program, or make a purchase.
Nonetheless, the key to success in digital marketing is to produce a constant flow of directed traffic that turns into leads and sales.
The more traffic created by your company, the faster your ROI can be realized.
Email marketing is the best way to get more conversions.
This is done most often by integrating social media marketing with content marketing.
Nonetheless, these advertising strategies have their own remarkable ROI.
As a small business, the primary goal is cost-effectiveness.
You must be able to stretch the budget as the business grows.
Each dollar that you spend is important.
You have to know that it will provide you with an ROI.
7. Digital Marketing is Measurable
Measuring and analyzing marketing tactics is one of the most important features of digital marketing.
It is necessary to know if your marketing tactics are working well.
Although measuring the effectiveness of a traditional marketing campaign such as a radio advertisement or mailer can be challenging, any digital marketing strategies you use can be measured.
This is a huge factor affecting the need to invest in digital marketing.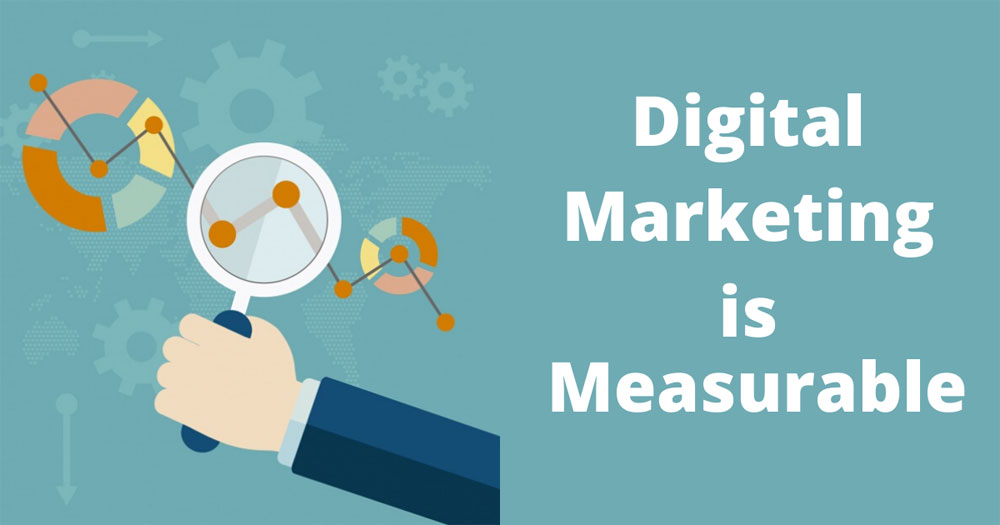 Digital marketing analytics removes the assumption to determine if your advertising actually works.
You can see which strategy is working and which are not by testing the digital marketing campaigns in real-time.
You can tailor the campaigns to be more effective and also take the experiences from the method that you have learned to improve future campaigns.
You can see with social media analytics which posts have been the most popular with your targeted audience and which have powered the most conversions.
Then you use this experience to seek to recreate this performance in future campaigns.
Digital marketing analysis enables you to use your resources more efficiently and distribute your marketing budget.
You can avoid unnecessary spending and concentrate on tactics that are most likely to increase the return on investment.
8. Quality Leads Through SEO and Local SEO
SEO is one of the most important aspects of digital marketing.
It is a very powerful tool to gain a variety of advantages.
You can work to attract more customers online by optimizing the web content for the search engines.
Use specific keywords to identify your product or service offering will help you attract more targeted traffic to your page, increasing sales over time.
Most buyers are online looking for local businesses, and these searches eventually lead to a buy.
Local SEO, or optimizing the website for local search results, can also be a valuable digital marketing tool for businesses operating in specific geographic areas such as brick-and-mortar stores, restaurants, and other service-based businesses.
SEO provides brands with the opportunity to provide customers with customer-centered content at each point of the conversion funnel and lower churn rate.
9. Digital Marketing Connects with Mobile Customers
Digital marketing enables you to communicate with customers who use their mobile devices to browse and consume content.
People use their mobile phones more and more as a kind of virtual reality layered over a firm.
While in your store, they look at feedback and product information.
They could place an online order and communicate with customer care on the way.
Mobile devices have grown from just replacements for laptops and computers to something that affects the consumer's buying decisions.
Digital marketing can assist you to connect with people on mobile devices, tablets, laptops, and computers.
Now maybe the ideal time for digital marketing campaigns targeted at mobile users, opening the way for them to thrive and spread faster.
10. Digital Marketing Establishes the Reputation of the Brand
Digital marketing has the ability to transform the way you connect with your consumers and engage with them.
Having a better way to communicate builds trust which in turn leads to an increase in the goodwill of the brand.
Delivering what you have committed will help you build a stronger relationship with your target audiences.
This will be helpful to your brand reputation because satisfied customers are most likely to tell others about their company, product or service experience.
The importance of digital marketing in growing your brand's reputation is immense and this will develop better business opportunities for your firm.
Conclusion
Every business in this modern-day and age requires digital means to promote and sell their products and services.
With a huge number of customers online, it is important to use digital marketing to bridge the gap between the firm and the consumers.
Digital marketing is the best way to communicate with your consumers when they are most likely to be looking for products like yours.